Posts: 302
Location: Seattle, WA, USA
2
posted 4 years ago

What kind of bug is this? I'm hoping it's beneficial, because I see lots of them - mainly on my sunflowers, corn, and asparagus.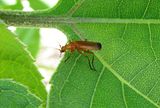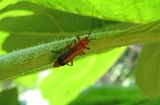 Posts: 302
Location: Seattle, WA, USA
2
posted 4 years ago

I have decided it is a common red soldier beetle
http://bugguide.net/node/view/89507
Adults eat insects; and I've noticed that the leafhoppers quickly disappear once the solider beetles arrive ... so I count them as beneficials.