I also struggled with the effort and mess involved with collecting the worm compost.
My aim is to reduce the amount of waste I send to landfill, I don't go out looking for compost so I guess I would not have such a need for speed.
I decided to place my worm farms directly on the ground and forgo collecting the leachate. I place new food items at one end of the worm farm and build upwards as the food is consumed and turned into compost. When I get to about 3 stacks high I let the worms finish the food in the stack and I start placing the food items in the bin next door. The worms are free to travel under the bins as they please.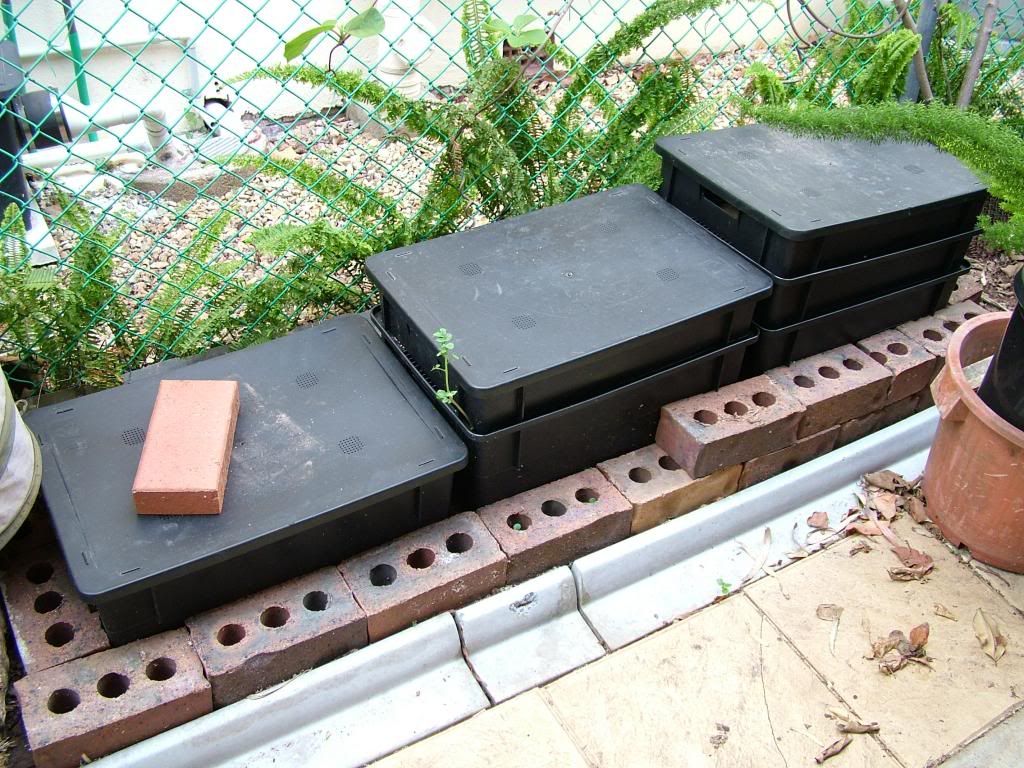 Once most of the food in the stack has been consumed the worms will move on looking for new food sources. I imagine they leave a lot of eggs in the compost as well. With three stacks on the go I am hoping that the eggs have plenty of time to hatch and the baby worms will leave looking for food before I get around to harvesting the compost.
My original plan was to build the bins at waist height so I wouldn't have to bend over, that way I could also collect the leachate. But it meant I would have to find a way for the worms to communicate between stacks, which meant building a common lower floor. It seemed a lot easier to place them directly on the floor. The bricks around the base are to stop cane toads and rodents from getting into the bin. I have no issues with
ants
in the compost bin yet but that may change. I intend to empty the full bins on the right and place them on the left. That way the garden doesn't get a build up or concentration in any particular area. I guess it is a worm
tractor
I have Kiwi vines above the worm farm which gives them some shade in the summer and allows them to heat up in the 'winter' when the leaves drop.
In your case with your indoor bins I would be tempted to do something similar, have two towers
side by side
with a communal lower level to allow the worms to move from one side to another as you change the feeding side. If the bins have a lot of wet veg in them they tend to get very heavy so I wouldn't stack them too high. You would probably need to have them raised so that you would be able to drain the leachate easily. I don't think you will every get the area completely worm free but I guess you could aim a lamp at the top layer so it warms and dries up making the worms retreat to the lower level.