Ok, a few months ago I decided to dip into marinade sauces. Specifically, I grew up eating dishes prepared with Mojo Criollo. It was not anything particularly special in regards with preparation, my grand mother bought it from the store and it was good. However, now that I am older, I have more ambitious tastes. I scoured all over the internet looking for a recipe that closely resembled the flavor profile of what Mojo Criollo tasted like. My problem, the ingredients are unattainable here in North Carolina. Specifically, sour orange. But there is a vinegar based version which is equally good. My goal was to find or craft a recipe where I can grow the ingredients here. This allows me to control every element of the preparation from growing to mixing. I finally got a break and found a recipe from an obscure part of the internet.
When I read the recipe I got a bright idea. This HAD to be fermented! I played with the idea in my mind, theorized on the basic chemistry and drawn conclusions. I made my first batch which took two weeks to develop and it was very good. Using my wife's hound-like sense of smell on sequential experiments, I narrowed down the changes and finalized what I liked. So I took a picture and I am sharing my recipe.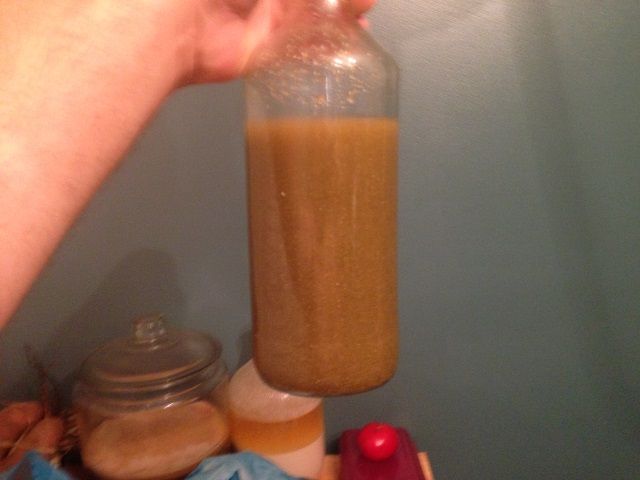 MOJO CRIOLLO (Pronounced "mo-hoe cre-oyo")


3 3/4 cups water
1/2 cup cider vinegar, with mother
1/2 cup onion, diced
Whole head of garlic
2 tablespoons salt
2 bay leaves, ground
2 tablespoons cumin, ground
2 tablespoons oregano, ground
2 tablespoons thyme, ground
1 tablespoon coriander seed, ground
1 teaspoon black pepper, ground
Use an immersion blender and thoroughly blend all ingredients.
Give at least one week for the flavor profile to develop and occasionally shake.
Do not refrigerate, put it in a shelf for months, it does not go bad! This stuff is great on pork,
chicken
or steak. There is a really great meld of flavors, slightly smokey-earthy from the cumin, sweet tang from the vinegar, slightly citrusy from coriander with a bitterness of garlic and spices.
Umami
is achieved! If you have traveled to Miami and are acquainted with the cuisine you will remember this smell!
I then decided to experiment by formulating a brand new recipe of my making. Inspired by my success with the Mojo Criollo, I attempted to mix up a bit the flavor. Particularly when it comes to those who do not like cilantro specific aromas, whether by genetics or personal preference, I went with a paprika dominant blend using the same principles. The coloration was also pleasing in the final result. I gave this recipe a pass and its own unique name keeping true to some heritage.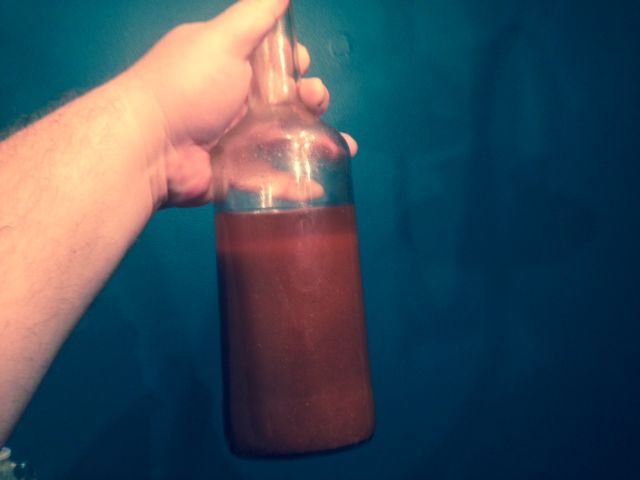 MOJO ROJO (Pronounced "mo-hoe ro-hoe")


3 3/4 cups water
1/2 cup cider vinegar, with mother
1/2 cup onion, diced
Whole head of garlic
2 tablespoons salt
1/4 cup paprika, ground
1 tablespoon cumin, ground
1 tablespoon thyme, ground
1 teaspoon black pepper, ground
Same principles apply to this recipe as in Mojo Criollo. The end result visually is reddish, more mild but equally good. My wife prefers this variation as it is slightly more agreeable to her palate. Both marinades in my opinion are very good blends that add some degree of variation to the dinner table.
Cooking (used Mojo Rojo in pictures)
I used
chicken
breasts pounded with a meat tenderizing hammer. I then soaked the meat with the marinade for a minimum of a half hour. If left marinating in the fridge for the night the flavors really penetrate the meats. While marinating I sliced up some onions for later.
After marination, i pulled my trusty iron
skillet
which is almost essential. Pored olive oil and spread it on the skillet at high heat. When the oil begins to produce a good smoking, I slap a marinated breast on it. The heat retention of the iron skillet allowed me to achieve an excellent caramelization of the meat as seen below. Do not at all concern yourself with any residue that will stick on the skillet so do not scrape, it will make an excellent sauce towards the end!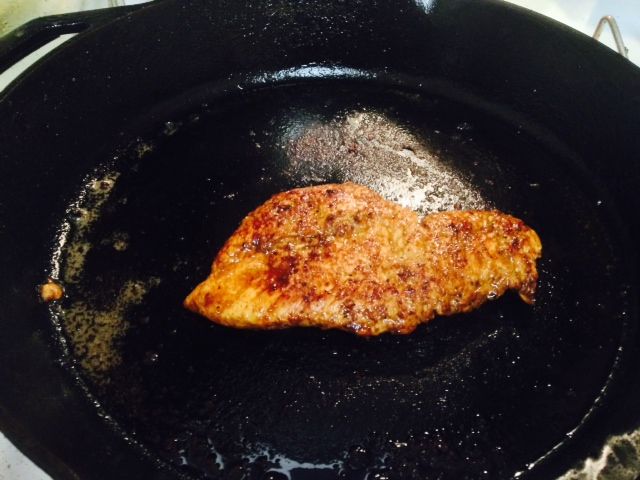 When the breasts are done, there
should
be a charred residue on the skillet and this is good! Soften it up with some of the onions. When the onions are slightly transparent but still crunchy, turn off the skillet and poor a moderate amount of fresh marinade. Do not reuse the marinade used for soaking meat unless you do not mind hardened bits from the blood.
Beef
or pork are usually better for that. I prefer the more uniform sauce so I use fresh marinade. The evaporation from the marinade should cool the skillet to the perfect temperature. If too much marinade is applied, the sauce will be more soupy with little caramelization negatively affecting flavor. When done, the skillet should be mostly cleaned of the residue as it dissolves into the sauce. A simple wipe with a cloth and running water will suffice in cleaning.
Here is my a picture of my dinner I had this evening. I pared it with some black beans and rice. Ideally I would include sliced
tomato
salad, salted and peppered with olive oil and lemon juice but they are out of season at this time. My wife really enjoyed this dish and she is an incredibly picky eater.