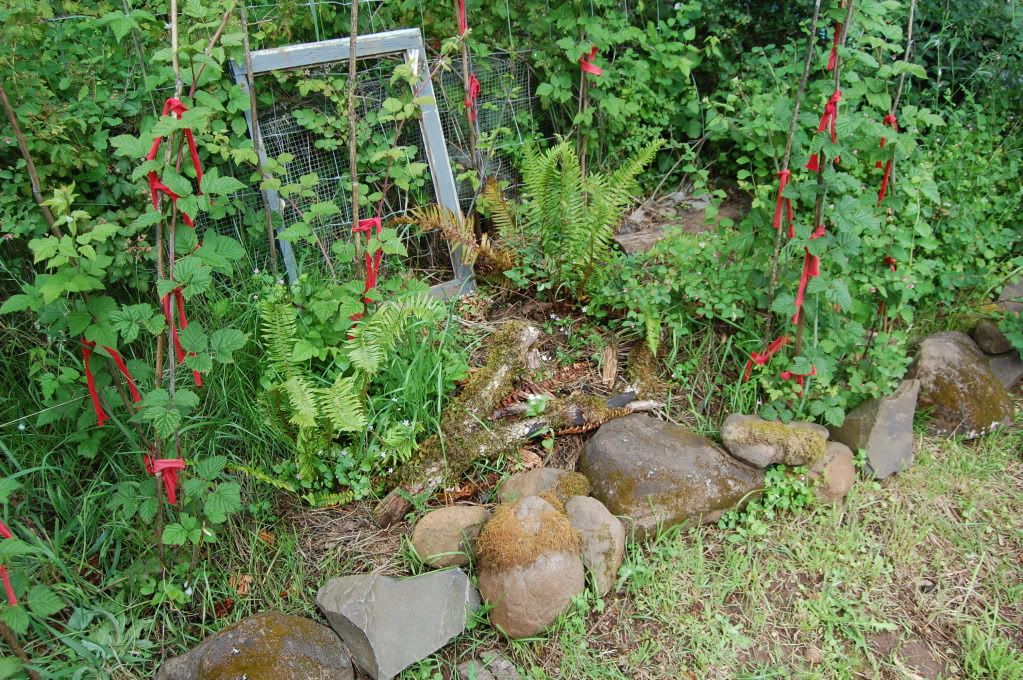 Here is a bed where I put a couple sword ferns. This is a "new" bed, it was a spot whre I would throw slash for a few years, small branches, corn stalks etc, and had built up a good layer of soil. I noticed the berry vines coming up and tied them to some sticks. I'm not sure if they are my red raspberry, or a native blackberry or black raspberry--doesn't matter, whatever is good! I will plant some more raspberries into this bed. And some strawberries when my plants send out runners later.
So you can see with the ferns came some Miner's Lettuce/SPring Beauty(the tiny pink flowers). ALso snowberry already in there(it spreads in there from behind the
fence
). Above it on the
fence
(two rolls high) there are grapes(small white table). I threw some rotten
wood
on there because that's how it is in the woods
My question about ferns is what do they do. I see their fronds make
mulch
, was curious what the ferns contribute to the mix. I want to transplant a few lady ferns into here, once I see what kind of berries those are.
one more thing, the photo is taken form the south, there will be corn planted in front of this bed (like a king sized
mattress
worth)
My Blog, Natural History and Forest Gardening
www.dzonoquaswhistle.blogspot.com
"Listen everybody, to what I gotta say, there's hope for tomorrow, if we wake up today!" Ted Nugent
"Suck Marrow" Henry D Thoreau