Posts: 1783
Location: Kent, UK - Zone 8
posted 1 year ago
Hi Folks,
I've made batches of
biochar
at various points, using various different methods.
Periodically I like to look around and see if any new ideas have come up in kiln designs, as I have yet to be satisfied with the methods I have tried. They make batches that are too small, or too labour intensive, or require nicely dried
wood
(which I don't have). Basically I've been looking for something that can take big chunky prunings from our 6+ acres - a mix of hedge trimming,
fruit
tree prunings, heavier branches, general pruning waste, etc... without needing complex
tools
, or lots of labour. Most especially, I don't want to have to cut everything down to nice 6 inch lengths to stack in a kiln, given most of it is woody stuff a meter or so long.
I have used open fires and pit - they meet the need for minimal processing of fuel wood, but are inefficient and tend to be a bit smokey.
The cone kilns which were first appearing two or three years ago looked promising, but a lot of our wood is long and would still need cutting to fit into a reasonably sized cone.
https://www.biochar-journal.org/en/ct/39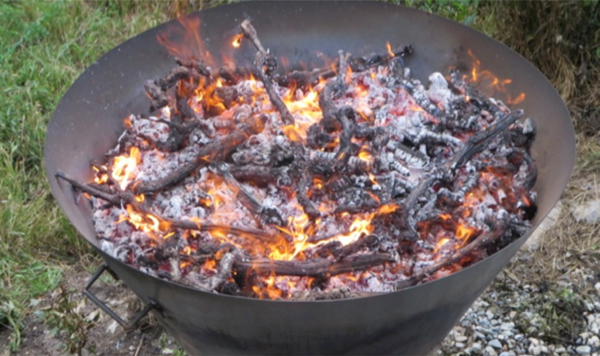 Today I came across these ones:
http://warmheartworldwide.org/new-type-fc-biochar-production-unit/
They use the same principals as the cones but are a rectangular cross section, and substantially longer in one direction, so you can fit your long logs without the whole thing being excessively oversized. Given that I haven't already gone ahead and had a cone made, i think I might go for something like this.
Moderator, Treatment Free Beekeepers group on Facebook.
https://www.facebook.com/groups/treatmentfreebeekeepers/
Posts: 1667
Location: Cincinnati, Ohio,Price Hill 45205
posted 1 year ago
Neat! I wonder if this could be made from sheet metal or even plywood and lined with
concrete
?
Tempatures
should
not be high enough to need refractory materials.
Maybe just sheet metal would be enough,thus keeping it light.
If I understand the way this and the cones work, a carefully dug trench can do the same job.
I am just starting my biochar journey, so I will watch this subject with great interest.
Posts: 1783
Location: Kent, UK - Zone 8
posted 1 year ago
These designs are made to be hand portable, so you can carry the kiln to the work area. Important in developing countries where access to heavy machinery like tractors is unavailable.
As I understand it the raised metal construction does have benefits when it comes to clean burning and consistency of product; air outside the kiln is preheated by the contact with hot metal then is sucked into the flame front as it rolls over the lip of the metal. Preheated air burns more consistently, with fewer smoke problems. There are also advantages when it comes to quenching as a leaky dug pit will need a lot more
water
to guarantee a full quench than a sealed metal tank.
Moderator, Treatment Free Beekeepers group on Facebook.
https://www.facebook.com/groups/treatmentfreebeekeepers/