Posts: 146
Location: St. Louis, MO
posted 7 years ago
My 1lb. of red worms(~$30 shipped) came today, so off to Target to get some bins(putting it off for weeks). For $15 I got 3 bins, 2 shallow and 1 deep. The second shallow is only for transferring worms once the one shallow is full. I used metal screen for the 4 bottom vents, which I melted holes for with an old bb gun tin with some handles(screws) screwed in. Then I melted the screen in with some short bursts of heat followed by pressing with some thick paper to embed them in the plastic. The shallow bin sits in the deep one, which has holes in the side to allow ventilation up through the small bin. Top holes were made with copper tubing heated for use as a punch. Then some paint(not finished) for decoration, and it's ready to sit by the kitchen for daily use. Yet one more permie-project completed!
Tools
;
Screen bottom holes;
Showing stacking feature to keep debris/stray worms contained as well consistent ventilation;
Mostly finished(details on worm paintings to be finished yet).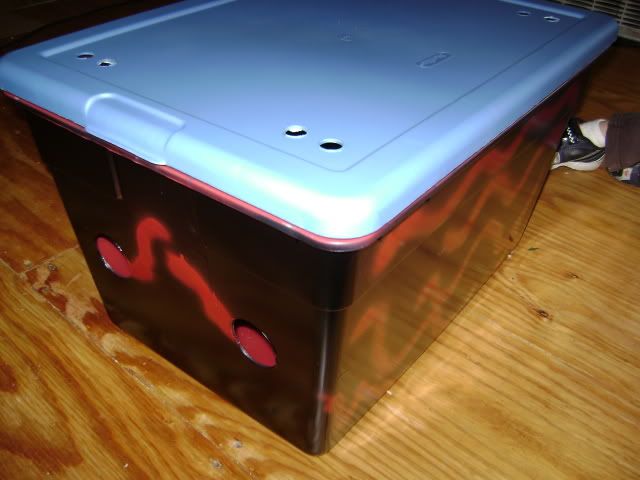 posted 7 years ago
I bought some worms and a worm bin once. It worked well. The next bin was a very simple homemade affair. Even the worms were homegrown. I just grabbed a few worms that were living under the rotting leaves on the patio and put them in it. My latest worm bin is just a dustbin with the bottom cut out of it and some slits cut near the top for ventilation. It stands in the garden. I didn't put any worms in it. I am just hoping that some have found their way into it through the gaps around the bottom. A lot of insects have found their way in so I think the worms will too

Posts: 308
Location: long island, ny Z-7a
posted 7 years ago
Cool nice job. i need to get my worms soon. i thought of posting on craigslist for a trade/exchange even. i did find a source online of 5lbs for $82 shipped.something like the 3rd page on google results.alabama maybe.

i've been scoping out a lot of good designs at vermicompsting.com forums , those people are super helpful,like many here.

here's a design i'm still playing around with in google SketchUp .
the 2nd is getting a lil carried away maybe ,incorporating grow-shelves into it.
it's a flow-through bin,so self-separating compost. which falls into the seeding flats customized to fit underneath and on the upper shelves.
gotta modify the length as it's  determined by the actual length of the fluorescent lamps.

sorry the pics came out so big, wish there were a way to shrink with grips on here.
Worm-Bin1.jpg
Worm-Bin2.jpg
Worm-Bin-with-seed-flats.jpg
Worm-Bin-with-seed-flats2.jpg