Posts: 67
Location: Mille Lacs, MN
posted 7 months ago
A while back I posted a new topic "Grazing a Flerd- Feeding minerals without allowing sheep to ingest copper?", and somehow the discussion became a debate about how much copper sheep can ingest.
So I'd like to try and get back to my original conundrum.
I have
cattle
and sheep and want to rotationally graze them together (as a flerd).
I need to build a DIY mineral feeder that meets the following requirements:
1) Portable. Since it will be moved daily, I want it to be moved by hand- not by
tractor
.
2) Durable. Cattle and sheep are hard on equipement, so it can't easily tip, etc.
3) Weather-resistant. It will be ON PASTURE, so it needs to keep most elements off the actual mineral.
4) Dual-chamber. Since sheep mineral and cattle mineral have different levels of copper, I believe I need to make this feeder so that the cows get mineral (high) and the sheep get mineral (low), so that the sheep don't consume the cattle mineral containing higher levels of copper.
Any photos of DIY mineral feeders out there? Any suggestions for feeding mineral to a Flerd of combined Sheep and Cattle?
Thanks!
Posts: 722
Location: In a rain shadow - Fremont County, Southern CO
posted 7 months ago
here are some pictures of a mineral feeder that has rubber flaps to keep the mineral dry.
you can make them in various sizes.
hope this helps.
here is the best picture i could find - i wouldnt add wheels to it - just drag it along the ground.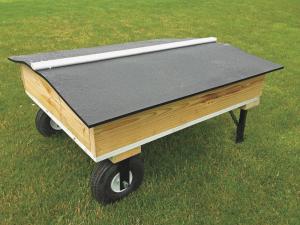 http://www.cloud9farms.com/ - Southern Colorado - Zone 5 (-19*f) - 5300ft elevation - 12in rainfall plus irrigation rights
Dairy cows, "hair" sheep, Kune Kune pigs, chickens, guineas and turkeys
Posts: 471
Location: Missouri Ozarks
posted 7 months ago
I've seen plastic (food grade) 55-gallon drums used as mineral feeders. Cut a hole in the side, near the bottom, and put the mineral inside. With a lid/top, the barrel keeps the contents dry.
I'd think you would need a really rather tall container to keep sheep out, if you're relying on height to keep them away. Anything cattle could reach, I'd assume sheep could jump up with their front feet and reach too. Perhaps an all-purpose mineral out 24/7, and hand
feed
the sheep what they need?