Posts: 13
Location: Uganda
posted 10 months ago
Does Permaculture really matter?
I have struggled with this question and have addressed it several times to our team and Board. Can
Permaculture
end all our food deficits around the world and save millions of starving children? The causes of the food deficits 'bad' soils, pests, and
land
grabs, to mention a few. A deeper look at the three above, points to human-behavior as their cause. Would a shift in human-behavior for the better lead to more food secure communities? Renowned
permaculture
trainer Warren Brush, helped us kick-start the
permaculture
movement here in Uganda back in 2010, I have keenly followed his works and teachings and, admired his approach to rejuvenating dry lands and deserts into food producing areas. I think the works of folks like Warren could help undo effects of human-behavior that has drained our lands the capacity to produce even the smallest vegetables.
Can we build a critical mass of small-scale farmers if we only focus on food, and food alone? Throughout our permaculture works in different communities, we have learned that working with communities to grow and share healthy food can help cultivate healthy communities. We are using a broader approach that addresses food, farmer's livelihoods and the future of the land. I don't think a perfectly-designed food project can address food insecurity if women who are backbone of our food production here in Africa continue to suffer domestic violence or are denied access to property? I think we would be safer if we use a model that caters for food, environments and rights.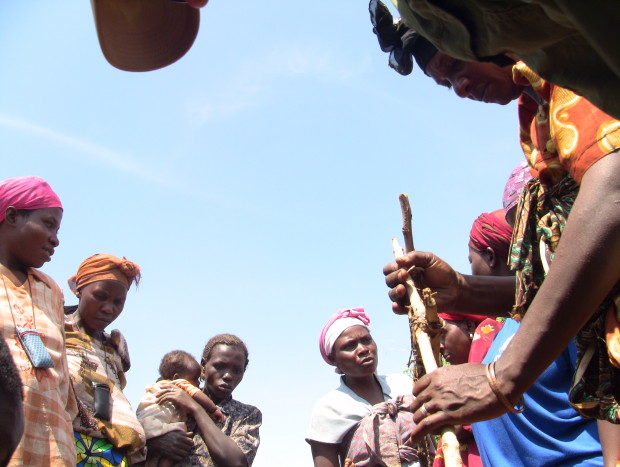 The Canady Foundation, LUSH Manufacturing, Project Focus, Warren and hundreds of individual donors helped us kick-start our food security and permaculture projects. I think their efforts would have gone to waste if we had only focused on the few hundred women. We have replicated our impact through five #WomenClinics. This amazing team of 500 women donate 10 hours a week each, to help other women thrive through community Women Clinics. Women Clinics aren't the ordinary clinics we all know. Women Clinics are centers of innovation to women's most pressing problems. Every Women Clinic works with 100 women to address a specific problem affecting women.
WomenClinic #4
is leading training of women farmers to grow food in an ecologically sound manner and use the newly acquired skill to advocate for women's issues when men come to their farms for training. Men want the food grown by women, and they want the skills so they can be able to grow their own food. Women of Clinic #4 discuss women rights issues with men whenever they come to be trained by women.
As we move forward, we hope thousands of small-scale farmers will be able design their own environments and build increasingly self-sufficient food production systems and regenerate the ecosystems that provide for their communities.
If you want to support women and permaculture,
please support their 30 days campaign. Its a good cause we
should
all support. Back the women through this link
https://www.indiegogo.com/projects/women-clinics-health/x/639146#/
You will find more information about our work here: www.icodan.org
Michael Ahabwe Mugerwa
Executive Director -
ICOD Action Network
Author -
Tears of Resilience