posted 6 years ago
I'm in Zone 5 on silty clay loam, on anything from a flat to 7 deg south facing slope. Around here we have a problem with Peach
trees
wanting to start growing again in the winter when it warms up again then freezing when it cools off and breaking the limbs.
I also got a wild hair to try some Almond trees. For this I was going to try making one of Paul's 6 foot high Hugelkulturs. Half buried in the ground shaped in a semi-circle around the Almond's.
My idea is to try and shade out the Peach during the winter so it doesn't want to grow but to let sun in during the summer months. On the Almonds, well I really don't know just wanting to try something.
Anybody know if this sounds feasible? Any suggestions? I'm mainly concentrating on edibles, but am trying to keep open to everything (other attractant plants, nitrogen fixers and whatnot).
This is what I've kind of envisioned so far.
I also just realized I labeled the sunrise line wrong it should say South of East not West
.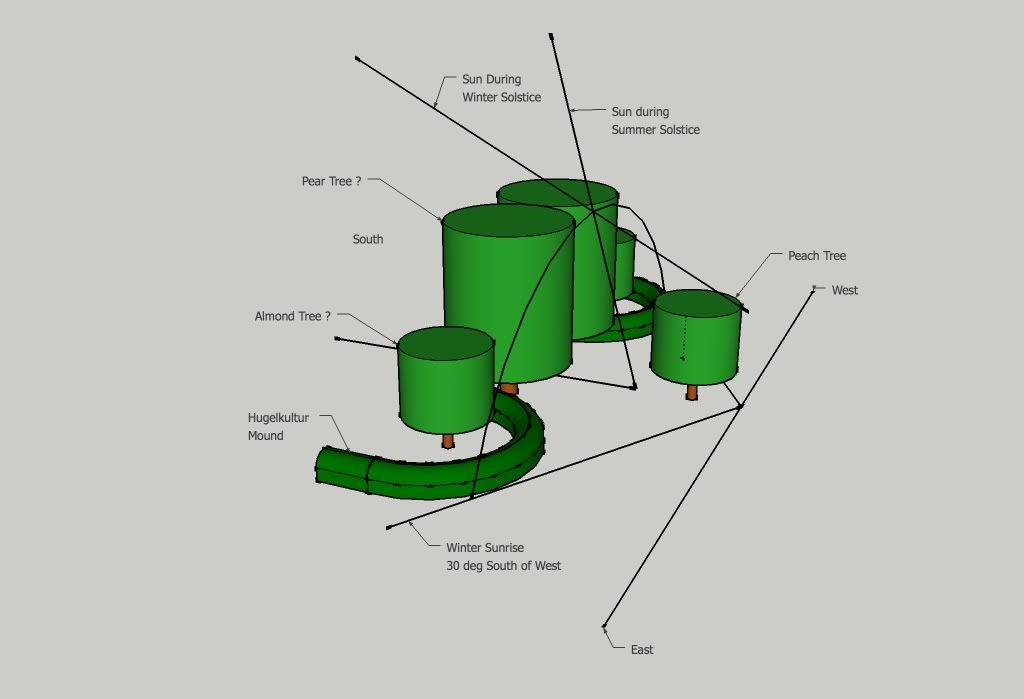 posted 6 years ago

Keeping the trees the right height to do the winter protection but leave summer sun will be tricky. Remember too that April 21 has the same sun path as does August 21. And you may want the late summer sun.

Peaches are trees that have a chilling requirement that varies by cultivar. You want a peach that has a greater chilling requirement so that it doesn't break bud as soon in spring. You also may have some effect by painting the ground white around the tree. (Use whitewash in a backpack sprayer) This will reduce the ground warming and may buy you another week.

If your tree is small enough, set up a couple poles SE and SW of the tree, and hang a tarp there during the spring weeks. Set it to shade the tree for the 4 middle hours of the day. You can let the bottom edge fly free. It's calm days that warm the tree too much.

Note that I don't grow peaches. Advice worth everything you paid for it.
Posts: 471
Location: Jackson County, OR (Zone 7)
posted 6 years ago
I would suggest taking the tarp idea one step further and use it to not just shade, but cover the peach tree during late winter/early spring. Don't wrap the tree tight, just use some supports to keep the sun and moisture off the tree, but still allow air flow.
If you have issue with peach leaf curl in your area, covering the trees during this time is recommended to help eliminate the need for any peach leaf curl sprays.
The genetic dwarf varieties are all pretty susceptible to curl as far as I know, but can be easily covered to avoid the issue. They stay very small but
fruit
heavily, starting the first year.
"Limitation is the mother of good management", Michael Evanari

Location: Southwestern Oregon (Jackson County), Zone 7