gardener
Posts: 318
Location: Buffalo, NY
posted 4 years ago
Hello fellow permies,
I thought of this idea some time ago but finally took the time to post it on the forum. I take a powerful magnet and collect magnetite from the ephemeral stream beds all around. The ephemeral stream beds in my area are loaded with the stuff. I got the idea one day when I put my hand into the black magnetite of the stream bed and quickly jerked it out. It was
oven
hot!
I use the magnet in a plastic bag and transfer the magnetite into another plastic bag. After finishing the delicious juice from a glass bottle, I rinse, let dry, and then put the magnetite inside. I let it sit in a sunny location (southern facing window) and collect some heat.
I used to put the bottles on a southern facing window sill, but they were so heavy that it was causing the sill to sag. Each bottle weighs about 10 pounds when full.
I've also added
water
in addition to the magnetite. Yet, I start to grow green and brown algae in the bottles. I could see lots of gas bubbles in the bottles. The algae produced enough oxygen that I had to 'burp' the bottles. The gas would hiss out and I would repeat once a day.
Being the mathematical type I wanted to know how many bottles I would need to replace a 1 KW electric heater. My calculation showed I would need 44 bottles.
The bottles are warm to the touch and stay warm for about 3 to 5 hours after sundown.
Note
I have
energy
saving windows throughout the house. This idea might work enough better without the low-e coating on the southern facing windows.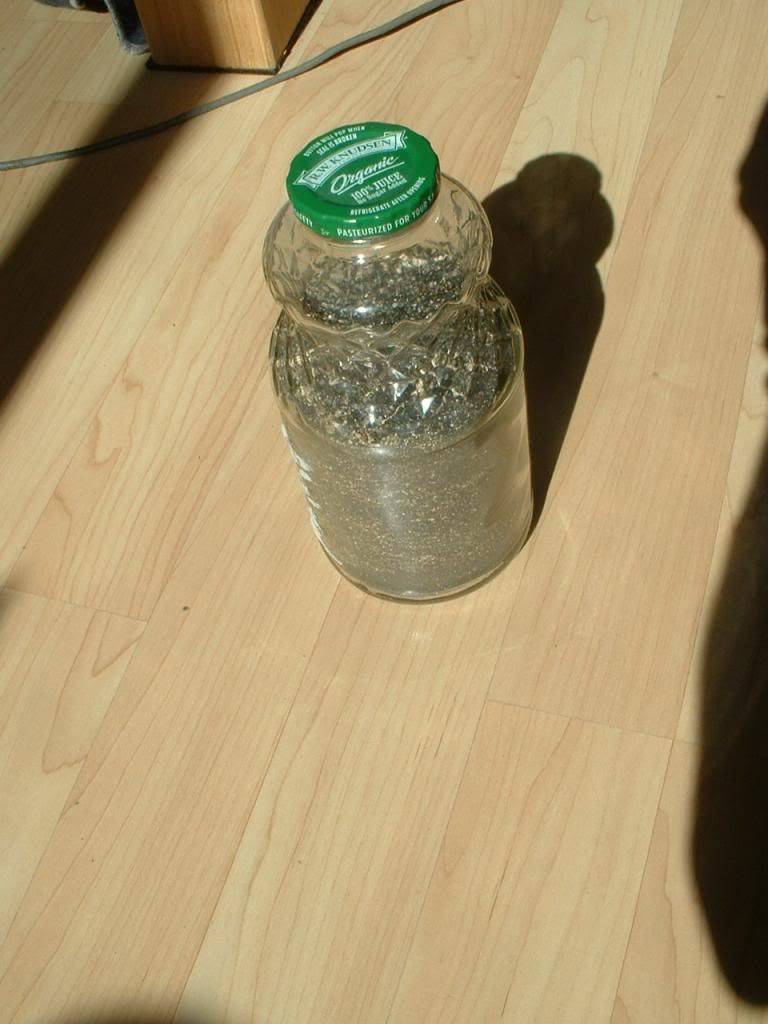 I thought it was a good idea, waste bottles and magnetite that just makes the river beds really really hot. What do you think?
gardener
Posts: 1201
Location: Okanogan Highlands, Washington
posted 3 years ago
I like it a lot!
You could also line them up along where the sun hits the floor, to reduce the sagging-windowsill problem.
I think there's some additional calculations you can do for penetration depending on how thick the mass is. Thicker mass takes longer for light to penetrate, but also gives off heat longer. If it's too thick, the interior may never really play a role in heating up with sun (though your added water probably helps a lot with that, increasing the conductivity and providing some slight heat circulation flow from warmer to cooler areas too.)
You might be able to use them in a dark natural plaster on a wall, smoothing out the
solar
absorbtion and reducing the algae potential.
We had a
workshop
participant who brought in a
bucket
of iron ore pellets from the railway siding by his house, wondering what to do with them. Thermal mass seemed an obvious
answer
.
Given enough water exposure for long enough, you may end up making a corroded magnetite-rust pigment.
-Erica W