growing strawberries ABOVE the plant. Which species has loooong stems?
posted 2 years ago
Birds and slugs are the main pests in my garden. I use nets over my strawberries against the birds, and that works fine, but the slugs get a lot of the strawberries. Thats why I have this fantasy about growing them above the plant, rather then laying on the soil.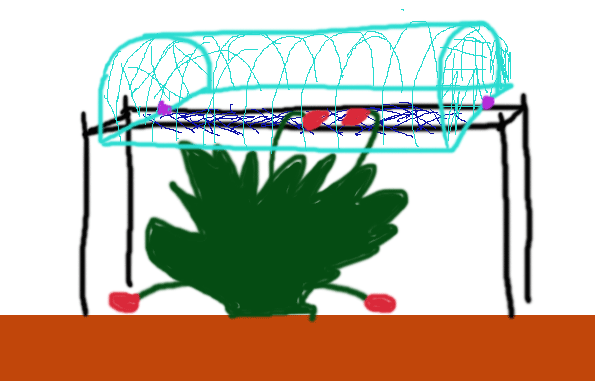 Black are bamboo sticks forming the frame.
Darkblue is some netting to put the strawberries on when green, so they can ripen and get delicious way above the ground.
Light-blue is some wire-cage to protect again birds, with hinges at the purple dots.
WHY:
- keep strawberries away from the soil (I got better things to do then wash sand of of strawberries)
- keep strawberries away from slugs (or at least make it much harder for them to get to)
- protect strawberries from birds without covering everything with a net (so I can grow something else in between the rows, like Hablitzia)
- less going around the garden on my knees each day
How this would work:
When I would spot a nice green strawberry in the making, I can open the cage, add the strawberry on the net, close cage. When strawberry is all red, lift cage and harvest.
I'm not sure how much effort slugs will make to climb all the way up the stems.
Why this currently does not work:
The stems of the strawberries are not long enough to reach above the plant.
I had a look at 'Mount Everest' but that produces strawberries on the runners, as well as on the ground (and I read somewhere they really don't taste that nice).
Which strawberry species have really loooong stems, so this could work?