Grow an indipendent family farm Crowdfunding
This is a friends project I'm sharing, and I think it is interesting it can generate a new way of thinking how to make small farms grow, and create connections.
This is a crowdfunding project and the
philosophy
on which it is built is great.
Mark Shepard has for years tried to explain why national subsidy is killing farmers, Nicola Savio is trying to launch the same idea focusing on small and micro farms.
Nicola is from Italy I'd like to share his project here in my community, hoping you will want to ask questions, dicsuss the project, and sustain the crowdfundning.
I'll get Nicola to hop in to permies so he can see what an awesome community we are.
Lets leave it to the video:
Visit the crowdfunding page at scroll to the bottom of it, you'll find the english translation
Grow an indipendent family farm indiegogo page
The are interesting perks that go from 20 euro's to 8000!
Seems a lot? go and see what you can get from this project.
There will be updates that will be posted here, stay tuned!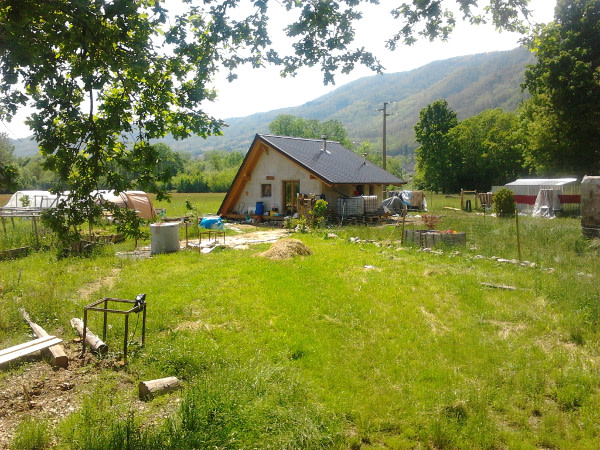 "Grow nutrient rich food for our family and the local community in an ecological, sustainable and oil-free way without depleting our lives and our planet"

This was our core concept ten years ago when we started our journey in the micro-farming world. After ten years of studies,
books
, trials and errors, learning, dirty hands and bruised knees on rented plots we have reached two of our main goals:
we now own 2.7 acres of fluvial plain in Lessolo (To). In the north-west Italy
we have collected a shareable 'microfarm-toolbox' filled with design, plan, business and hand tools
In the last three years, the first on the property, we have applied our farm model with good results in the fields and on the local community and we are more and more persuaded that
locally rooted, organic, ecologically designed microfarm could be one powerfull answer to the social, economical and environemental crisis
. (Well...
FAO thinks quite the same
...)
Now we are splitting our activities: we are building an "entrepreneurial" microfarm through the work of Noemi and Nicola (Officina Walden) and we are setting up a
no-profit organization (OrtodiCarta)
to share and teach all the technique, instruments and planning skills we have acquired in the last 10 years of regenaritive agricolture.
But... to be more effective on both missions (provide local healty food to our community and to disseminate a change in the way we produce food) we need infrastructures in order to be more efficent in our farming operation and to host students, groups and open-field classes. In the last 3 years we had more than 300 people attending our
gardening
and farming winter/early spring lectures hosted at the Professional Nursing University in Ivrea (To) and countless visitors at the farm...

But why a crowdfunding campaign? Because we are an indipendent micro-farm. That means that we can't (and we are not interested in such entrepreneurial model...) access banks loan or EU financial aid because we are "legally" considered "peasant", too little to be AgroEnterpreneur. But That's good.
That's what we wan to be little, local, natural and rooted in a network of 'peers'
and free from
mortgage
or debt.
We believe that an indipendent family microfarm could be economically self-sustained and
should
find social engaging way of funding it's own startup.
So, join us in growing the farm with a real house and facilities!

Yes, that's our problem and the biggest limits to our operations: we manage the farm and the no-profit association from what should be the storage room, office and facilities... It's quite comfortable and cozy but we need to leave it.
Nicola and Noemi's starting budget gave us the opportunity to move on the property, to build the tiny strawbale house and to start working, but to reach the full farming and social potential more space is needed.
The good news is: the tiny strawbale house is a scaled model of the future home, so we had the opportunity to test the structure, the building specifications, the technologies involved in building it and... it is functional, easy and cheap...
Taking part in the crowdfunding you'll be able to share part of our own path
We have chosen a Flexible funding system in order to collect the perks even if we don't reach the goal. All the money you'll invest will be used and your involvement will be focused on building secondary infrastructures and tools in order to make the farm and the teaching/research projects more efficient and effective.
The goal has been calculated on the big strawbales house's estimate building costs. The big house should host the farmers and the social activities so to clear the actual little house/warehouse/office and use it just for farming activities. If we can't reach the crowdfunding goal of 80.000€ all your investments will be focused to build an outside working shed where to prepare the veg-boxes, host classes and meetings and in a coold storage room. Your effort will be at any rate of help to develop and to strengthen the open source microfarm toolkit project. One step a time.
We have studied a series of unique perks from sharing some time at the farm, to a complete market garden operation set up and tutoring, 'till the blue print of both the tiny and bigger houses! You will be able to live in a tested comfortable strawbale house!
So visit the page, scroll down and read what perks have been studied for the backers!
grow an indipendent family farm indiegogo page
There are different way, others than 'Perks', you can get involved and contribute to our project and, in the future, at the developement of other similar micro-farm. Involve your friends, thematic groups, families spread the word in the internet, through the social networks or just talk to others about what we are doing, about OrtodiCarta's aims and how a micro-farm model can make a change. Micro-farms are an old deep rooted model of life and grow food, we are giving them new suits with tested techniques, tools and meanings.
To grow healthy, local, fair food is the new revolution! Join us!