steward
Posts: 3422
Location: Kingston, Canada (USDA zone 5a)
posted 4 years ago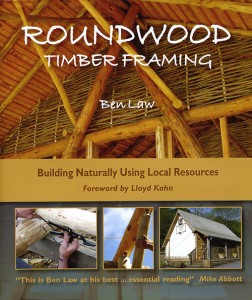 Source: chelseagreen.com
Summary
Publisher:
Permanent Publications
In this book Ben Law covers the basic of building with roundwood, the management of woodlands for timber framing, the wood species to use, the
tools
, and the timber framing techniques. He also touches on the rest of the building such as roofing, flooring and walls. The book contains extremely nice pictures of all types of timber framed buildings.
Where to get it?
Amazon.com
Amazon.ca
Amazon.co.uk
green-shopping.co.uk
Powell's
Related Videos
Related Articles
A Visit to Ben Law's Woodland House Article
Related Threads
Woodland Forum at Permies
Roundwood and timber framing Forum at Permies
Ben Law's books and permaculture philosophies thread at Permies
Roundwood (Log) Furniture
Related Websites
Ben Law's website