posted 3 years ago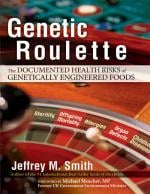 Source: Chelsea Green Publishing
Publisher: Yes!
Books
, distributed by Chelsea Green
Summary
Eating genetically modified food is gambling with every bite.
The biotech industry's claim that genetically modified (GM) foods are safe is shattered in this groundbreaking book. Nearly forty health risks of the foods that Americans eat every day are presented in easy-to-read two-page spreads. The left page is designed for the quick scanning reader; it includes bullets, illustrations, and quotes. The right side offers fully referenced text, describing both research studies and theoretical risks. It is presented in the clear, accessible style that made Jeffrey Smith's Seeds of Deception the world's best-selling book on genetically engineered foods.
The second half of Genetic Roulette explores why children are most at risk, how to avoid GM foods, false claims by biotech advocates, how industry research is rigged to avoid finding problems, why GM crops are not needed to
feed
the world, the economic losses associated with these crops, and more.
This book, prepared in collaboration with a team of international scientists, is for anyone wanting to understand GM technology, to learn how to protect themselves, or to share their concerns with others. As the world's most complete reference on the health risks of GM foods, Genetic Roulette is also ideal for schools and libraries. Consider some findings:
Animals fed genetically modified (GM) foods developed bleeding stomachs, potentially precancerous cell growth, damaged organs and immune systems, kidney inflammation, problems with blood and liver cells, and unexplained deaths.
Soy allergies skyrocketed in the United Kingdom after GM soy was introduced.
Genes from GM crops transfer to human gut bacteria. This might transform our intestinal flora into living pesticide factories.
(I copy/paste the summery from the same place as the image)
Where to get it?
Amazon.com
Amazon.co.uk
Related Videos
Related Podcast
Related Threads
Related Websites
seeds of deception
template edited in by moderator. jbrowning
Mods, feel free to change anything
posted 3 years ago
I give this book 4 out of 10
acorns
.
This book questions the notion that genetically engineered (GE) foods pose no known risk and focuses on both health and
political
results that come from accepting this idea. Absence of proof is not proof of absence; especially when there is now proof that GE foods do indeed pose unacceptable risks.
This is what I call a Scare Book. It comes on heavy and fast, and it does it in a way that is one sided and designed to frighten the reader. As someone who is already nervous about GE foods, I found this book to be disappointing. I cannot feel confident that this book is accurate when it's so excessively one sided.
The intended audience for this book is unclear. Attacking someone because you have proof that they are wrong, usually results in resentment. I can't see how this book could possibly win over someone who already subscribes to and promotes GE crops. Scaremongering someone who is hesitant to accept GE foods into their life, only works when done with a gentle touch, which this book does not have. If someone already avoids GE foods like the plague that they are (my opinion), then they are probably like me, and just want the details, not to be buffeted over the head by fear.
The things I like about this book are the layout, the citations, it is well indexed, and that the author took the time to gather the information in one place. The layout is really nice, because they put the main points of each section in bold, easy to skim through text. Once I've found what I'm looking for, I can stop and read about it in more detail.
Although this book makes some good points, there is no room for debate on the subject. There is no acceptance that GE crops are here and they aren't going anywhere. I also found no understanding of the consequences that GE contamination has on the future of how we grow our food. Even if we destroyed all GE crops today, there are still GE genes contaminating regular
seed
crops, which will probably be there for a very long time. If the author had better addressed these issues, I could see my way to giving this book a few extra acorns. It's all well and good learning more about why we may not want to eat or grow genetically engineered crops, but I would rather know proactive solutions to this problem, as it applies to my day to day living.
I wouldn't recommend this book to anyone, unless they are well versed in how to understand and evaluate an argument – separating the rhetoric from the actual premises, hypotheses, and conclusion. Basically, I would only suggest this book to someone with a minimum of 4 years university training in classical and modern
philosophy
. Even if everything the author writes is correct, the way this book is put together is designed to create fear.
For more insightful thoughts on why we
should
worry about GE crops, Carol Deppe has a section in her newer editions of Breed Your Own Vegetables that addresses both sides of the argument.