posted 3 years ago
Hi all. Here I was merrily collecting what I thought were tipuana tipu seeds all over the
city
to help build up my soil. Just on a hunch I decided to google some images of tipuana pods and they look NOTHING like what I've been collecting! I'm hoping someone will be able to ID the pod and seeds here and let me know if I've been wasting my time, or that I do in fact have something that may be of use to me anyway.
The tree appears to look for all intents and purposes like a tipuana tree.
Posts: 6499
Location: Arkansas Ozarks zone 7 alluvial,black,deep loam/clay with few rocks, wonderful creek bottom!
posted 3 years ago
I think it looks like a
locust
seed
pod but without one to compare I couldn't be sure. I don't know what a tipuana tree looks like though...maybe like one of the locusts? thorns?
"We're all just walking each other home." -Ram Dass
"Be a lamp, or a lifeboat, or a ladder."-Rumi
"When it is understood that one loses joy and happiness in the attempt to possess them, the essence of natural farming will be realized. The ultimate goal of farming is not the growing of crops, but the cultivation and perfection of human beings."
― Masanobu Fukuoka, The One-Straw Revolution
posted 3 years ago
No thorns at all on the tipuana, which is why I kinda prefer it to the locusts. And no spikes on the leaves either.

Also, the tipuana is a quintessential Australian street tree and very common, whereas the locusts are almost unheard of except in boutique nurseries.
posted 3 years ago
I've been googling Judith's locust suggestion, and came up with this: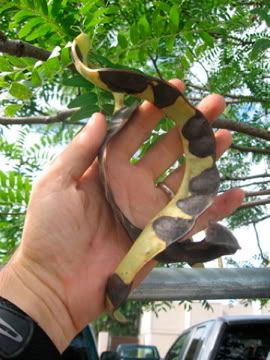 Which is an article on the dreaded
honey
locust! I say dreaded because of Bill Mollison's infamous story about the town taken over by honey locust thorns. I definitely don't want honey locust, so we may need to "gift" the dozens of honey locust seedlings and start again...