posted 7 years ago
The understory seems to be the most difficult place to place an edible plant. Especially for a dryland food forest, since most plants from arid regions often aren't found in forests, and almost all the plants need full sun. Even moderate sized
fruit
trees
often need full sun to produce a decent crop, and won't perform well in the understory.
I have things like Sauropus androgynous, and Gynura crepioides, but these generally need
water
.
Aloe vera is about the only thing that comes to mind off the top of my head.
What plants do you have in the understory?
pollinator
Posts: 10063
Location: Central Texas USA Latitude 30 Zone 8
posted 7 years ago
I've found in my hot, dry climate that many plants appreciate some shade and even some "full sun" plants like Yucca grow naturally under the oaks. So, in my opinion, anything small enough to fit under a tree might be tried as understory.
My new vegetable garden is in part shade in a small clearing surrounded by oaks, cedars, and elms, for instance. It's doing much better than the original "full sun" vegetable garden.
I would not plant most understory directly under the large trees, but instead out at the edge of the
canopy
, personally. In my case because I don't want to disturb the large roots of established trees.
Posts: 146
Location: St. Louis, MO
posted 7 years ago
I had great luck with Acorn squash one year. Lettuce and spinach too. The squash got about 1-2 hours of direct light, and the rest was shaded by pine trees and a medium red-bud tree(actually it was planted directly under the red bud about 6' from the trunk. I got about 4-6 squashes off each of the plants throughout the summer.
Things that did NOT work so well were
tomatoes
, broccoli, peas, carrots, corn, potatoes. Here were my "shade crops" that I joke about when I talk about learning how to garden(don't plant in almost full shade). It is still fun to grow things anywhere though. When I started at my new house 4 years ago, there was no sun, just all overgrown property.
Shade corn pics (planted under Large tulip tree and redbuds and honeysuckles);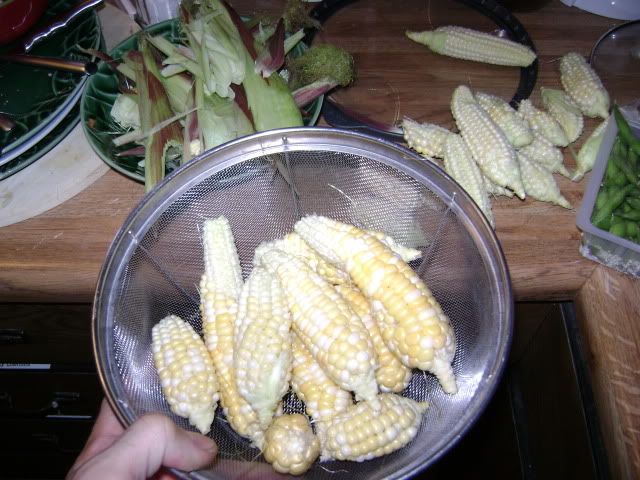 Shade potatoes(2 or 3 hills worth) planted under LARGE Tulip Tree;
Shade carrots(next to potatoes);
pollinator
Posts: 10063
Location: Central Texas USA Latitude 30 Zone 8
posted 7 years ago
The corn is cute! Mini-corn.