We've just bought our piece of
land
on which we want to start a
permaculture
project. I have some
experience
with
gardening
, but absolutely none with
permaculture design
, so I'd like to use this
thread
to think out loud. Needles to say that any form of feedback is more than welcome and will be rewarded with eternal gratitude!!
Location and area:
30 NNE of Lisbon, Portugal. It's located in between 3 cities (8000, 14.000 and 123.000 inhabitants) that are each within 12 minutes driving distance. I see these as potential markets for selling, but of course it's also possible that we'd
sell
in Lisbon. Altitude is between 29 and 45 meters above sea level. Located in the valley in between 2 relatively small hills. Latitude 39° N.
Total area is 17.000 m2. The plot can be divided in 4 areas:
-The first part (area A) is rather steep (estimate 30%, but with random terraces) and has a small forest (more or less 50
trees
, 15 of wich are cork). This area is the highest in altitude and contains the entrance to the property (with a small flat area to park cars).
-The second par t (area B) has the same steep inclination (30 %), but is just grassland. It contains a small
chicken coop
(20m2) and a shed (40m2).
-The third part (area C) is also grassland, but has a light inclination (5-10%).
-The fourth and by far the biggest part (area D) is completely flat grassland (max 1% inclination). For the last couple of years, it has been grazed by a horse and 15 sheep. In other words, it has been fertilized by lots of
poop
, but also compacted. As far as we know, no pesticides or herbicides have been used on the land for at least 30 years.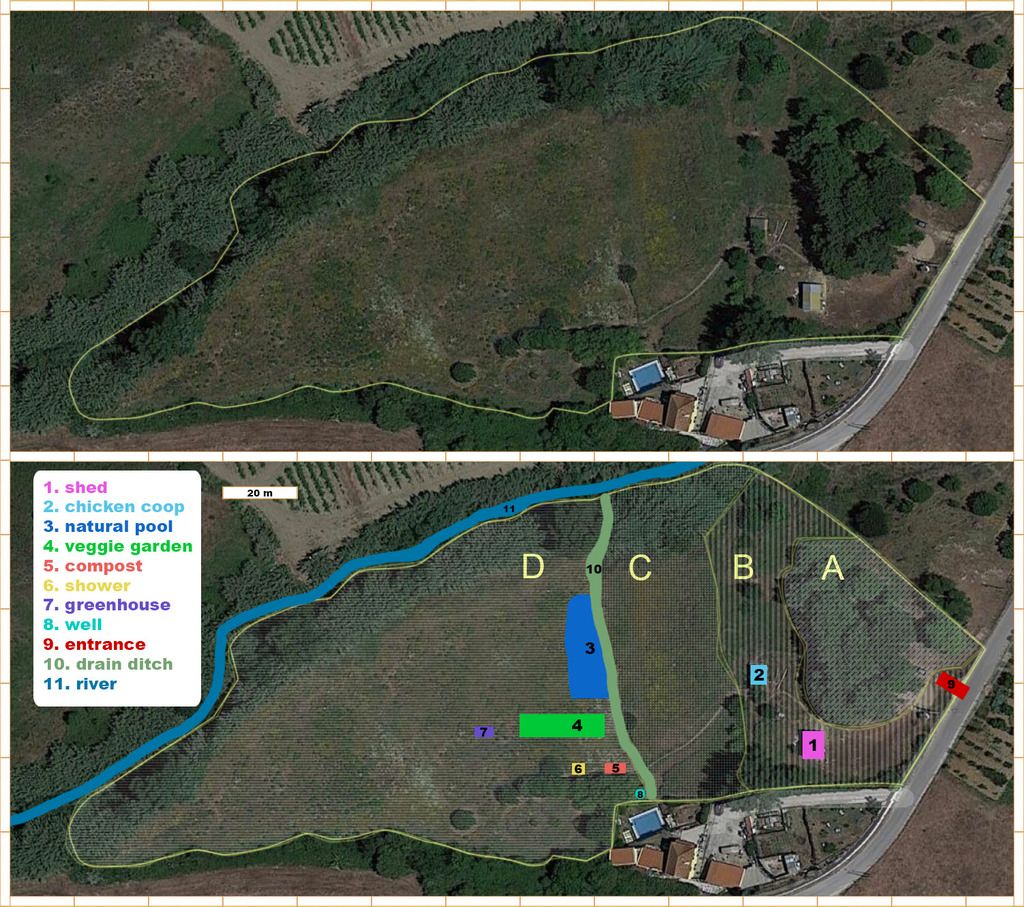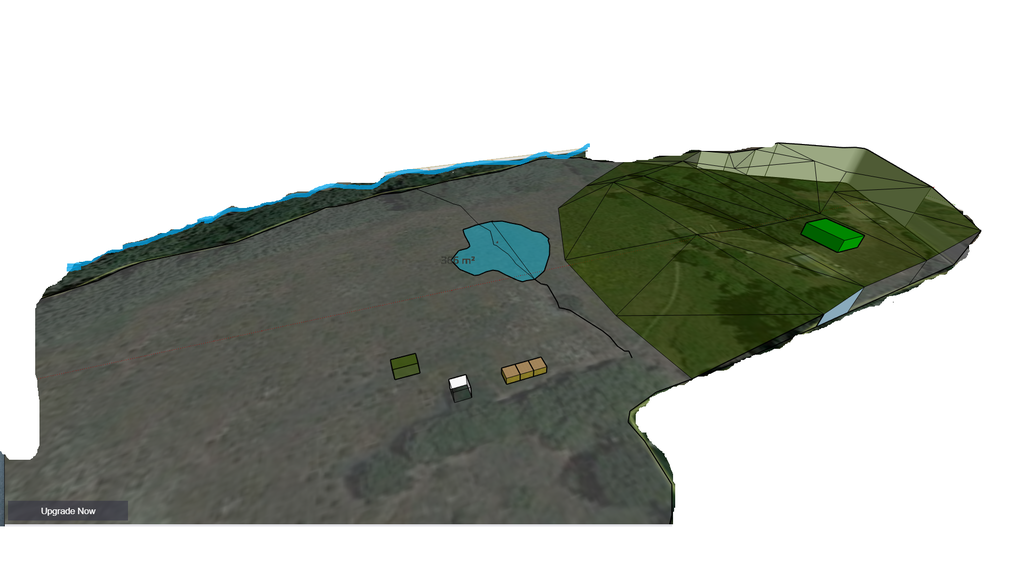 Climate:
Zone 9-10 (USDA plant hardiness scale)
Temperatures range from slightly below zero to 45°C. According to neighbors, it does not freeze every year and if it does, only for a couple of nights. I'd prefer it it always stayed above 0 of course since this will have an effect on which plants I can grow, but since the frequency is so limited, I'm hoping that it won't have a very significant effect.
Average daily temperatures go from 8-15°C in January to 20-28°C. Monthly hours of sun range between 150 (Jan) and 400 (July). % of sun between 45 (Jan) and 82 (July).
The area has dry summers (5mm and 1 rainy day in July) and wet winters (120mm and 14 rainy days in December). Total annual rainfall is 700mm.
Natural resources:
Besides the resources mentioned above (lots of sun, adequate rainfall, ...) there is a well with groundwater from the closest hill, on the S side. Supposedly, it is never dry. I still have to have it tested, but it is very clear and tastes good. Along the entire N border of the plot, there is a small river. Not sure if it is dry in summer. It does flow 3-4 meters lower than the land, so I'd have to use an electrical (or possibly a RAM)
pump
if I'd wanna use this
water
. There is a drainage ditch from the well that cuts all the way across the width of the property into the river. This ditch is basically the border between area C and D.
The small forest provides shade and produces some cork. We took some soil samples and although I still have to do a detailed analysis, it seems to range from sandy clay to pure clay. This is definitely a plus, since we'd like to build with
cob
.
We are connected to the electricity net, but would like to become
energy
independent.
Solar
seems the obvious way to go. Not sure how much difference in height the river would need for a water generator, but what we have might be insufficient.
Plants:
Besides the small forest, there are a number of trees and edible plants plants present on the property:
-6 orange trees (different varieties)
-1 lemon
-1 walnut
-1 bayleaf
-1 pear
-3 diasporo (a Portuguese
fruit
)
-a couple of m2 of sugar cane
-wild mint
-possibly raspberry bushes
Several neighbors grow a wide variety of edible plants, which we'll probably be allowed to clone.
Our goal:
To develop this plot into a
sustainable
agricultural project. We'd like to make (part of) it into a food forest.
Roughly speaking, we'd keep the small forest as it is. Maybe plant shade-loving plants. Area B might be where we live, with attached
greenhouse
(
permaculture
zone 0). The shed could be used to store but also to process harvests. Areas C and D will become agricultural areas/food forest. We might terrace area C (
permaculture
zone 1), but since we have such a large area D to start with, this is not our priority. Area D will become zones 2, 3 and 4.
First steps?
Some ideas on where I'd start:
-Start
composting
large quantities. Portuguese people love drinking
coffee
, so I can easily turn tons of their waste product into black gold. The composting area will be in the beginning of area D.
-Start working part of the land with the goal of already producing as much as possible this year. I'd aerate and work lose a patch at the beginning of area D, add finished
compost
and plant some annuals that I've already had good yields from (such as butternut, sweet potato, pepper, hot pepper,
tomatoes
, beet, ...). I am not sure yet how large this initial area
should
be (600 m2?). Any tips are welcome! I guess it depends on the available time and the
compost
. Since I am not sure how fertile the land is until I start growing, I'm not sure how much compost I should add per m2. Not sure how to determine the balance between covering it over a big area and spreading it thick?
-When to start fruit/nut trees and perennials? I'd like to start as soon as possible, but am I correct in assuming that I have to make sure the soil is fertile first? I was thinking about preparing random patches throughout area D with compost and fungal extract to plant trees.
-In the closest parts of area D I want to dig a swimming
pond
as a water catchment system. If area D is 7000 m2, my
pond
should be 700-1400 m2, correct (10-20%)?
-Keep 1 sheep and 1 goat in the areas that I will not work on in the first year to graze.