(this is really pic heavy, and the pics are big, so I apologize if this loads slow... I think the pics look better big and resizing everything gets annoying!)
I really like the threads that show pictures of other peoples yards/homesteads/etc, so I thought I'd start one of my own.
I'm still really new to permaculture- I just read
Gaia's Garden
last week in fact, but once I start learning something I devour it at astonishing rates (ask my husband- I have an addictive personality, and when I "discover" something new I eat, sleep, and breath it for a few months before I back down a little) son once I finished the book I started looking for more
online
and found this forum. I had actually resisted learning about
permaculture
because I was afraid it would totally upend what I know about
gardening
and I just spent two years working on my
raised bed
no till garden beds. But as it turns out I read the book at the perfect time- I don't feel the need to completely change the veggie garden I have already established (not yet, at least) and this concept of
permaculture
has finally given me some guidance concerning the rest of my
yard
.
We live on just under 3 acres in central MN. Our yard is probably 3/4 (maybe more) mature trees- an oak grove (obviously
native
and thankfully not succumb to oak wilt, which is a problem here), a walnut grove (don't think they were planted- they're black walnut, which is native, and are randomly spaced vs. planted in lines) and lots of, I think, Colorado Blue Spruce (or some large Evergreen) obviously human planted in windbreaks. There are also three
apple
trees
, a trellised grape vine (although I'm 99.9% sure it's just a trellised wild grape), a crab
apple tree
, and a plum tree that never fruits (pretty sure it just needs a pollinator, though) as well as a few briar
rose
bushes (or those loose petaled wild-ish roses, but not "fancy" ones) and of course Spirea bushes. But other than the trees when we moved in there was nothing but grass and lots and lots of the Minnesota state flower (not really...)- Hostas. I'm not really a fan of hostas. I dug up a bunch of the hostas that were in front of the house and moved them to a place by the coop, but other than that and expanding the vegetable garden I haven't done much to the yard until now.
This is the North side of my existing raised bed garden. It's fenced mostly too keep my free ranging chickens out, although I also like that it keeps out my dogs when they start to get crazy and tear around (and my kids when I want some alone time, lol!). The mess in the foreground is the
mulch
I put around some dwarf flowering cherry (obviously planted before I started learning about permaculture- I wouldn't have planted them here now!) that my chickens, ever dilligent, scratched all over the place. My immediate plan here is to sheet mulch the entire area and plant, well, more stuff. Fruiting shrubs probably, and ground cover.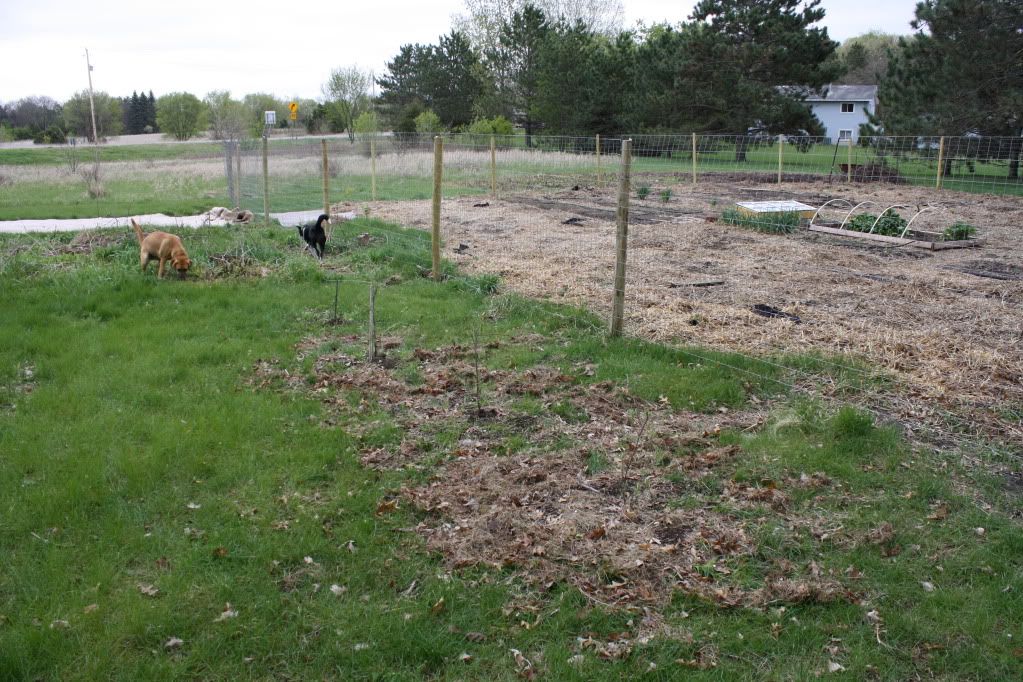 This is another view of the garden- it's about 50x60. Actually, right by this
fence
is now a two compartment
compost
bin made of
pallets
, but I'm tired of uploading pics, so I don't feel liking finding a more current one:)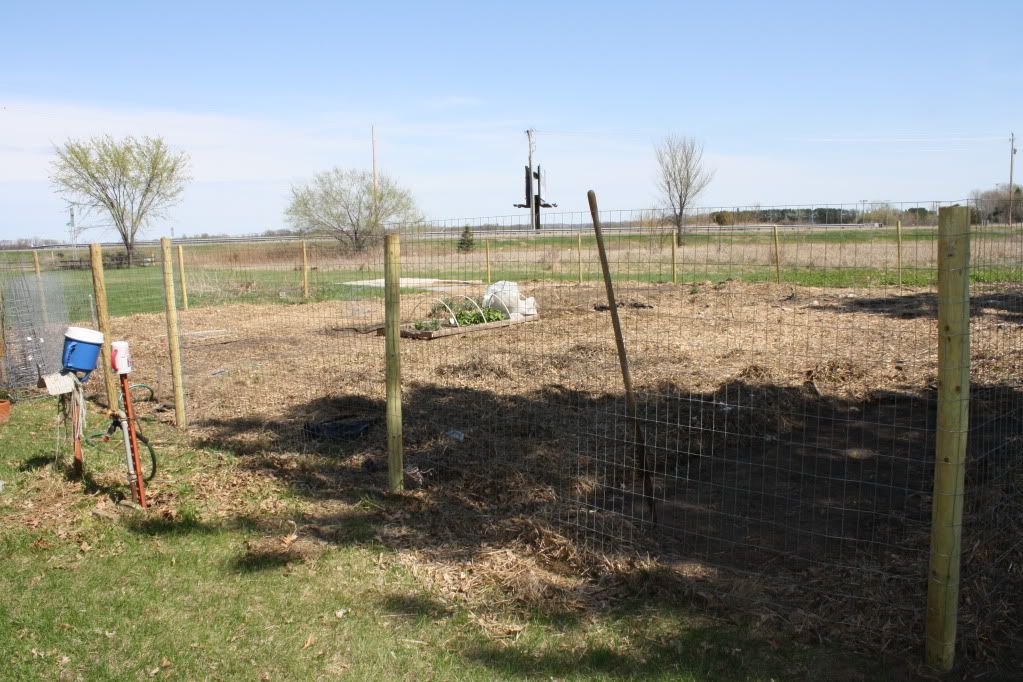 Last fall I put a little hoop house over some spinach and kale. I harvested from it until late November (both for us and for the chickens) then ignored it. Thanks to the mild winter I opened it up this spring (probably a little over a month ago) and found this growing kale and spinach! Next to it are onions I planted early last spring from
seed
and never got around to harvesting, mostly because they were still really small by late fall. They're now growing with a vengance! Also growing already (which is a big deal for MN) is the rhubarb and asparagus (not such a big deal), some romaine starts in a cold frame I made out of a broken glass door, some cauliflower starts, turnips, and a bunch of cover crops (oat/vetch/clover mix in two beds and winter peas in two beds).
Believe it or not this area is not tilled- last fall my husband mowed over a huge patch of sting weed, then this spring my chickens have, of their own accord, been working the snot out of this area. Then my husband and I pulled out a glut of wild grape vine. By hand. It sucked, but in the end we got most of it (in this area, its still all around this) cleared in about 4 hours. Note the pile of vines in the background... I used a bunch of prunings and deadfall to make a
hugelkultur
bed here, and I plan to do more as I have time and will grow potatoes and possibly some melons here. I plan to build more
chicken
pens right next to this area (I don't like free ranging full time- it makes me super anxious) and raise a small flock of guineas to help me with the potato bugs that I will let out on the plants for part of the day. (This is East of the garden)
Apple tree West of the Garden- I don't know if the laying over was an accident or if they did that on purpose, but it does make it a lot easier to manage. Of the three apple trees this one is the best, although it primarily fruits on the East side where it gets the most sun (the other side is pretty much always shaded by the oak grove). Partly I think I like it best because it's the only one of the tree that isn't red delicious- because seriously, red delicious are ONLY good for eating out of hand, so how many does a family need (I do make applesauce out of them and can it, but it turns pink)? I want
pie
and storage apples, so I'll probably plant another tree or two eventually. In the shade under this tree there is a blackberry growing I might encourage it.
This is where I want to plant a hedge to keep my chickens in my yard- right now I have mixed and matched pieces of garden fence and
chicken
wire to deter the chickens from wandering into the neighbor's yard. Also the
trellis
and grape vine, crab apple tree, and the
compost
pile (I did get a pic of it!) I want to sheet mulch a lot of this as well.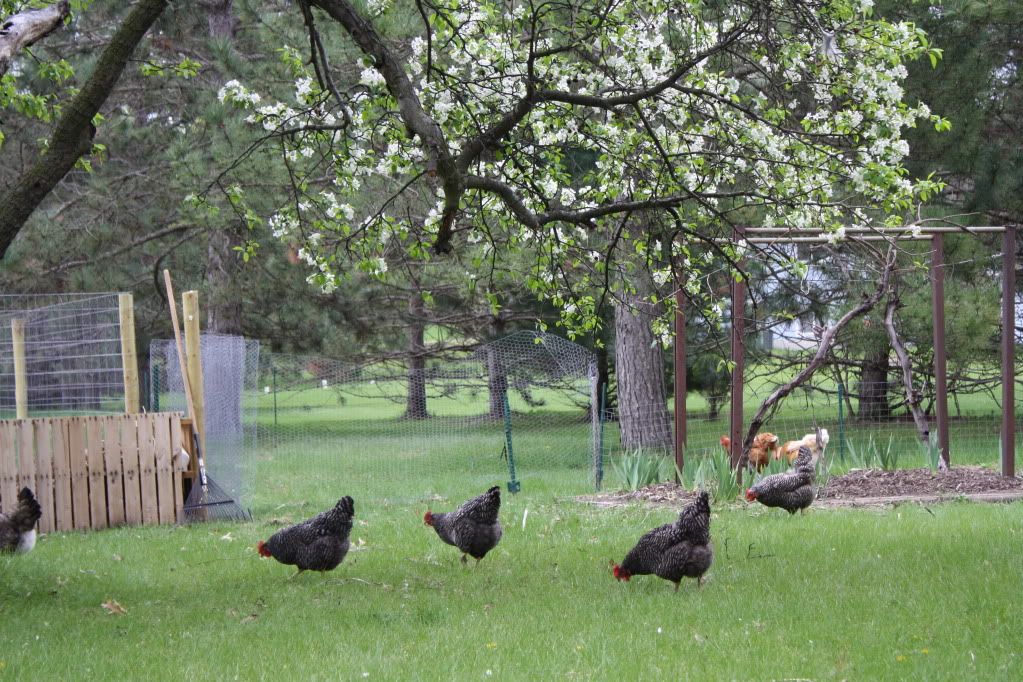 I'm going to post more pics in another post, this one's getting long!