Posts: 37
Location: Central Minnesota
posted 6 years ago
(this is really pic heavy, and the pics are big, so I apologize if this loads slow... I think the pics look better big and resizing everything gets annoying!)
I really like the threads that show pictures of other peoples yards/homesteads/etc, so I thought I'd start one of my own.
I'm still really new to permaculture- I just read
gaia's garden
last week in fact, but once I start learning something I devour it at astonishing rates (ask my husband- I have an addictive personality, and when I "discover" something new I eat, sleep, and breath it for a few months before I back down a little) son once I finished the book I started looking for more online and found this forum. I had actually resisted learning about
permaculture
because I was afraid it would totally upend what I know about
gardening
and I just spent two years working on my
raised bed
no till garden beds. But as it turns out I read the book at the perfect time- I don't feel the need to completely change the veggie garden I have already established (not yet, at least) and this concept of
permaculture
has finally given me some guidance concerning the rest of my
yard
.
We live on just under 3 acres in central MN. Our yard is probably 3/4 (maybe more) mature trees- an oak grove (obviously
native
and thankfully not succumb to oak wilt, which is a problem here), a walnut grove (don't think they were planted- they're black walnut, which is native, and are randomly spaced vs. planted in lines) and lots of, I think, Colorado Blue Spruce (or some large Evergreen) obviously human planted in windbreaks. There are also three
apple
trees
, a trellised grape vine (although I'm 99.9% sure it's just a trellised wild grape), a crab
apple tree
, and a plum tree that never fruits (pretty sure it just needs a pollinator, though) as well as a few briar
rose
bushes (or those loose petaled wild-ish roses, but not "fancy" ones) and of course Spirea bushes. But other than the trees when we moved in there was nothing but grass and lots and lots of the Minnesota state flower (not really...)- Hostas. I'm not really a fan of hostas. I dug up a bunch of the hostas that were in front of the house and moved them to a place by the coop, but other than that and expanding the vegetable garden I haven't done much to the yard until now.
This is the North side of my existing raised bed garden. It's fenced mostly too keep my free ranging
chickens
out, although I also like that it keeps out my dogs when they start to get crazy and tear around (and my kids when I want some alone time, lol!). The mess in the foreground is the
mulch
I put around some dwarf flowering cherry (obviously planted before I started learning about permaculture- I wouldn't have planted them here now!) that my
chickens
, ever dilligent, scratched all over the place. My immediate plan here is to sheet mulch the entire area and plant, well, more stuff. Fruiting shrubs probably, and ground cover.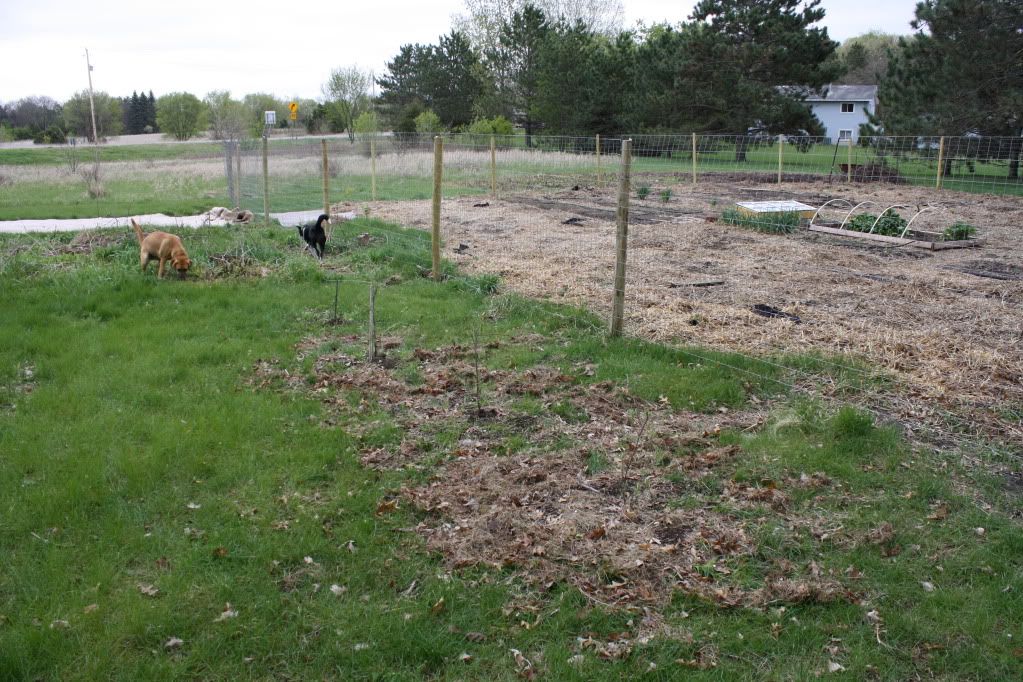 This is another view of the garden- it's about 50x60. Actually, right by this
fence
is now a two compartment compost bin made of
pallets
, but I'm tired of uploading pics, so I don't feel liking finding a more current one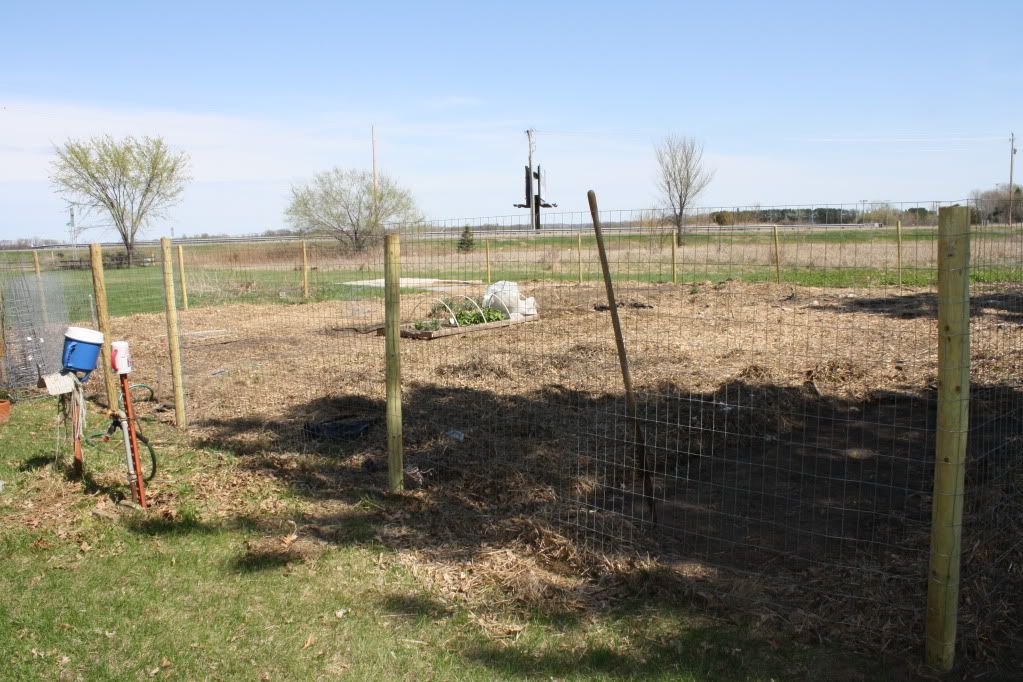 Last fall I put a little hoop house over some spinach and kale. I harvested from it until late November (both for us and for the
chickens
) then ignored it. Thanks to the mild winter I opened it up this spring (probably a little over a month ago) and found this growing kale and spinach! Next to it are onions I planted early last spring from
seed
and never got around to harvesting, mostly because they were still really small by late fall. They're now growing with a vengance! Also growing already (which is a big deal for MN) is the rhubarb and asparagus (not such a big deal), some romaine starts in a cold frame I made out of a broken glass door, some cauliflower starts, turnips, and a bunch of cover crops (oat/vetch/clover mix in two beds and winter peas in two beds).
Believe it or not this area is not tilled- last fall my husband mowed over a huge patch of sting weed, then this spring my chickens have, of their own accord, been working the snot out of this area. Then my husband and I pulled out a glut of wild grape vine. By hand. It sucked, but in the end we got most of it (in this area, its still all around this) cleared in about 4 hours. Note the pile of vines in the background... I used a bunch of prunings and deadfall to make a hugelkultur bed here, and I plan to do more as I have time and will grow potatoes and possibly some melons here. I plan to build more chicken pens right next to this area (I don't like free ranging full time- it makes me super anxious) and raise a small flock of guineas to help me with the potato bugs that I will let out on the plants for part of the day. (This is East of the garden)
Apple tree West of the Garden- I don't know if the laying over was an accident or if they did that on purpose, but it does make it a lot easier to manage. Of the three apple trees this one is the best, although it primarily fruits on the East side where it gets the most sun (the other side is pretty much always shaded by the oak grove). Partly I think I like it best because it's the only one of the tree that isn't red delicious- because seriously, red delicious are ONLY good for eating out of hand, so how many does a family need (I do make applesauce out of them and can it, but it turns pink)? I want
pie
and storage apples, so I'll probably plant another tree or two eventually. In the shade under this tree there is a blackberry growing I might encourage it.
This is where I want to plant a hedge to keep my chickens in my yard- right now I have mixed and matched pieces of garden fence and chicken wire to deter the chickens from wandering into the neighbor's yard. Also the
trellis
and grape vine, crab apple tree, and the compost pile (I did get a pic of it!) I want to sheet mulch a lot of this as well.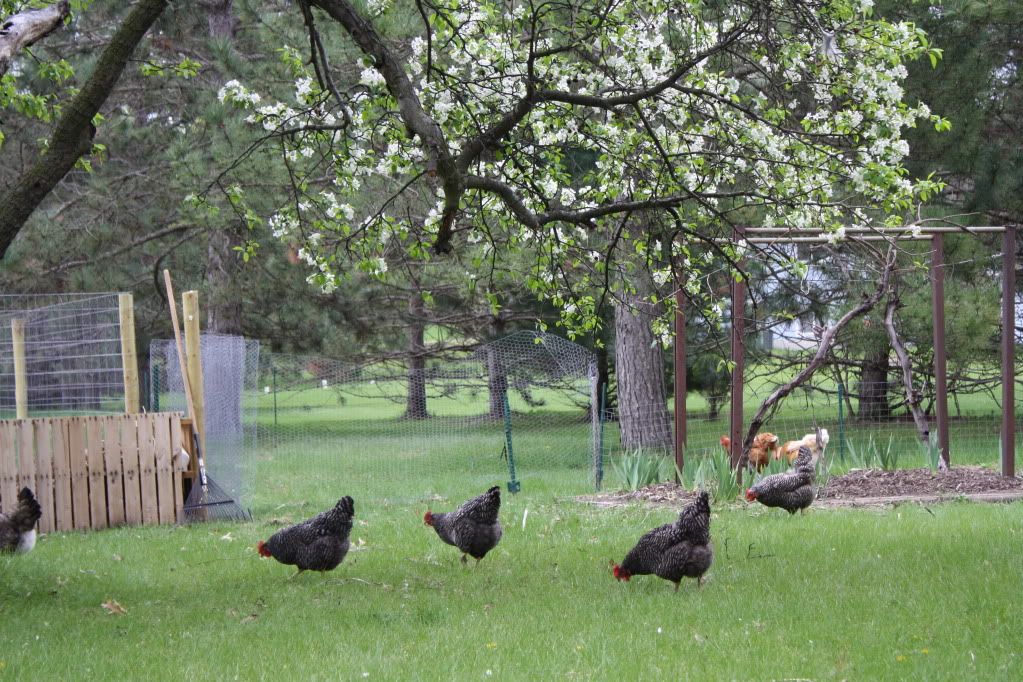 I'm going to post more pics in another post, this one's getting long!
pollinator
Posts: 10057
Location: Central Texas USA Latitude 30 Zone 8
posted 6 years ago
That's a nice big garden space.
Are those chickens Barred Rocks?
Posts: 37
Location: Central Minnesota
posted 6 years ago
More pictures... a lot of these (kind of like the last round, lol) are of places I want to do stuff, it kinda makes it look like I haven't done anything (although that's not how I feel!). My main hang up right now is money- a lot of the things I want to plant are pricey. I did just order a bunch of reasonably priced trees and fruiting shrubs though, and I don't really need a lot more trees than that. I need to start working on the understories. But first I need to kill a lot of this lawn
The back side of my chicken coop- I plan to put gutters on it that run into that rain barrel. I even had the stuff, but used the gutters in another project so I need to buy more. That ground is mostly hostas and some wild violets, which I love, but I would love to come up with something else to plant- perhaps a rain garden to catch the overflow from that rain barrel, since it's pretty small.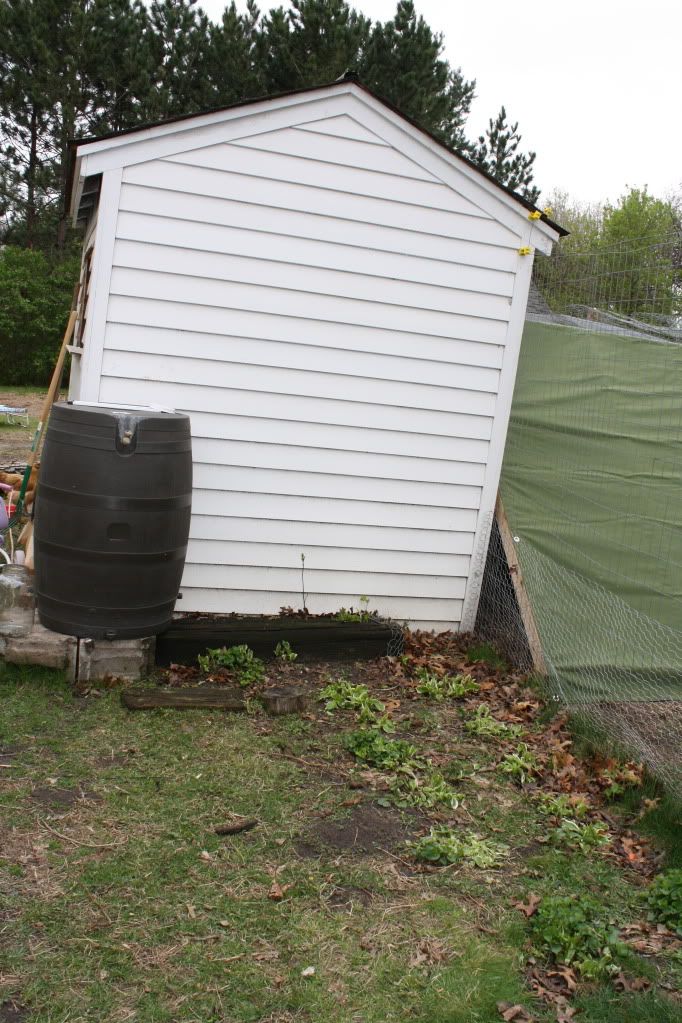 This is the back yard, next to the coop and run. The first year we lived here we really never came back here, but now the chickens have me back here all the time. The main problem is that there is no door out of this side of the house. This summer I plan to put a door out here and put in a small stone patio, screen the propane tank somehow, create some shade, and have some edibles planted out here. It's a really large area of grass, though, and not the top of my priority list, so may get put off until next spring.
Even though it's not terribly natural, I particularly like this windbreak behind the house. There are lots of different kinds of plants that grow under it- I'll probably just beg my husband to stop mowing it and let it go wild and see what happens. My chickens also really like this area.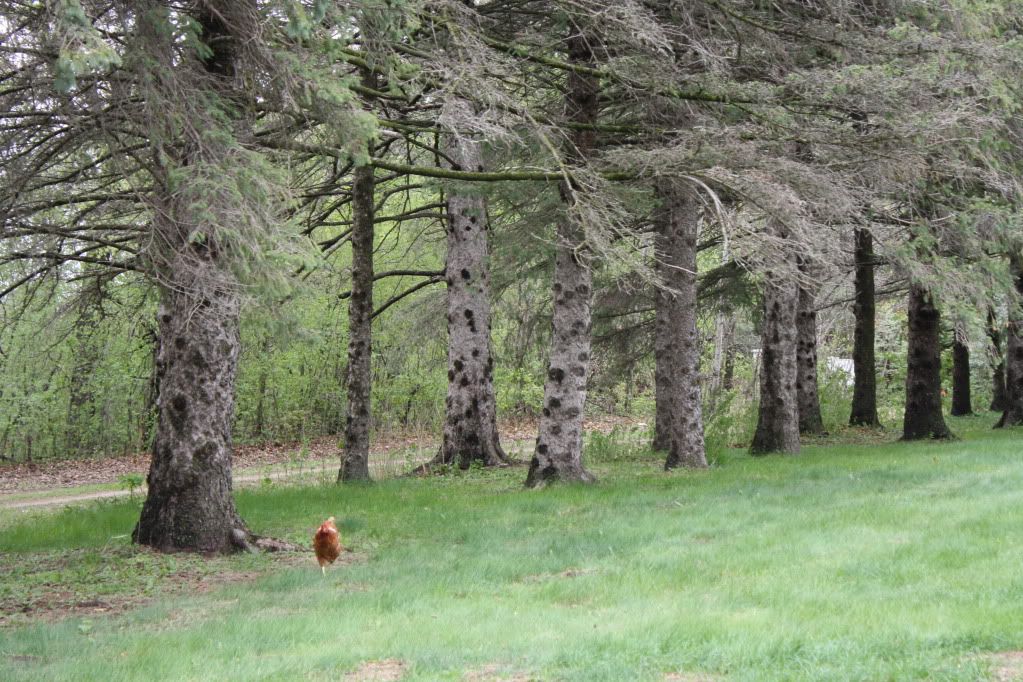 My Buckeye chicks
They're in an A frame chicken
tractor
I made out of a swing set that was here when we moved in (cemented in- grrrrr).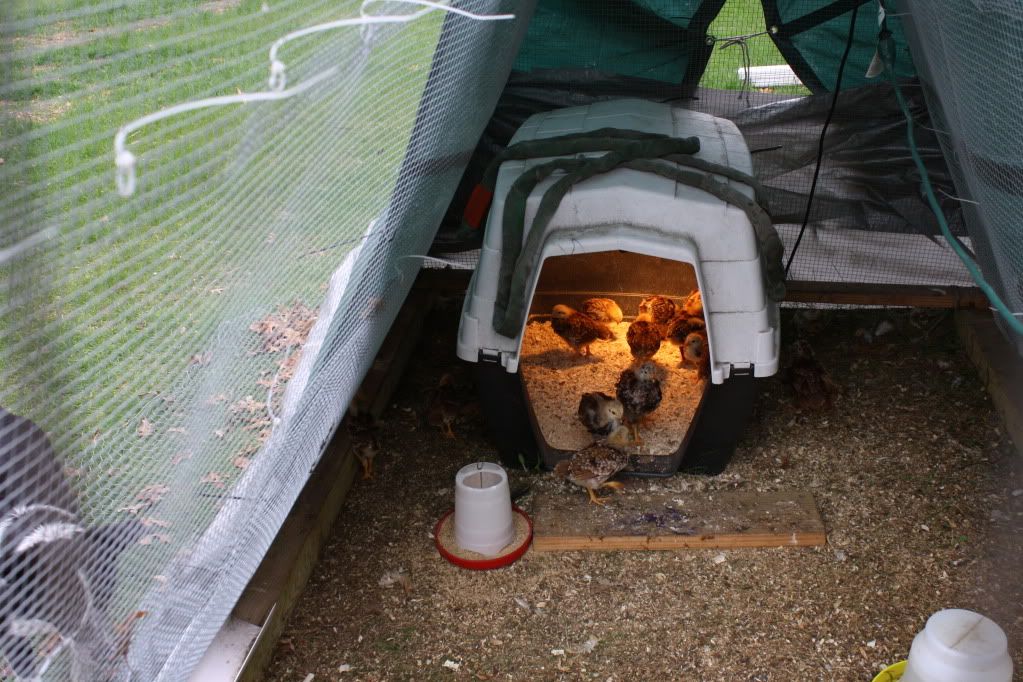 Two of my chickens on this weird little retaining wall that holds up the driveway, which would otherwise slope down towards the garden (oak grove in between). I have no idea what to do here. I don't want to rock it, but I don't want to plant anything here either because it occasionally gets driven on, and this is where my husband likes to have fires (it's a Minnesota thing...).
We had a HUGE oak tree fall, and because of it's sheer size and the fact that it fell in the late fall it was 6 months before we got everything cleaned up, and it killed a lot of this (the big tire thing is the well cover). I think a lot of it died also because it pretty much went from full shade to full sun. I planted my horseradish here because I could, but don't know if it was the best place to plant it, and don't know what else to plant here. I was just thinking of seeding wildflowers, but IDK.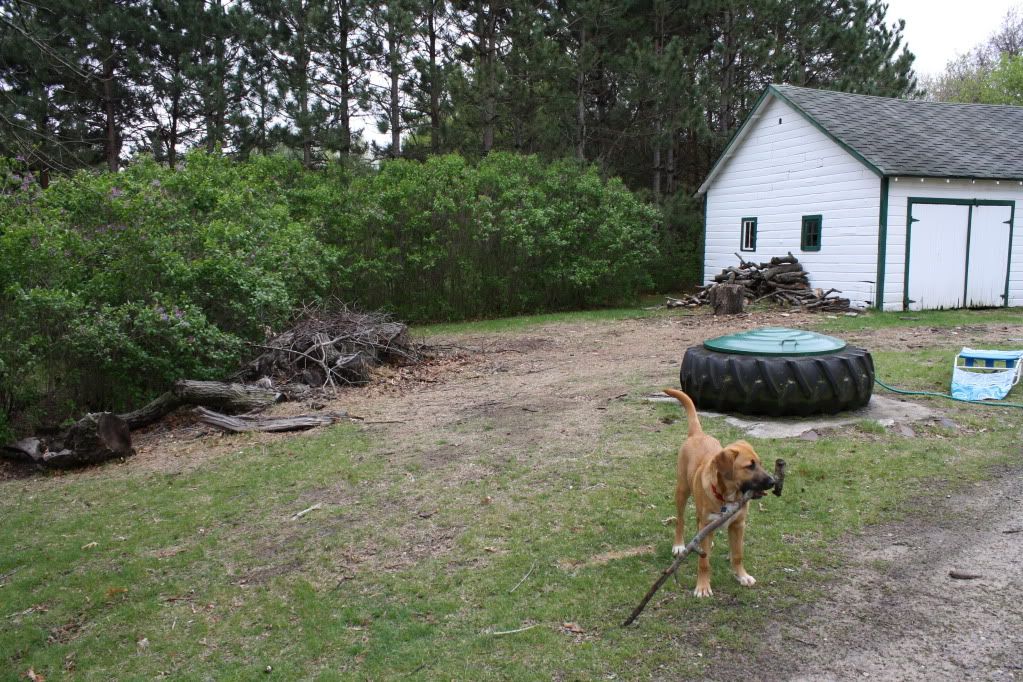 (obviously my dog likes having his picture taken!) I would really like to put a small
pond
here (more to the foreground) and do plantings in the bare spot behind the lilac bushes (the bushes in the upper right). The bare spot is the old compost pile, but it was too far from the garden so I was less enthusiastic about using and caring for it.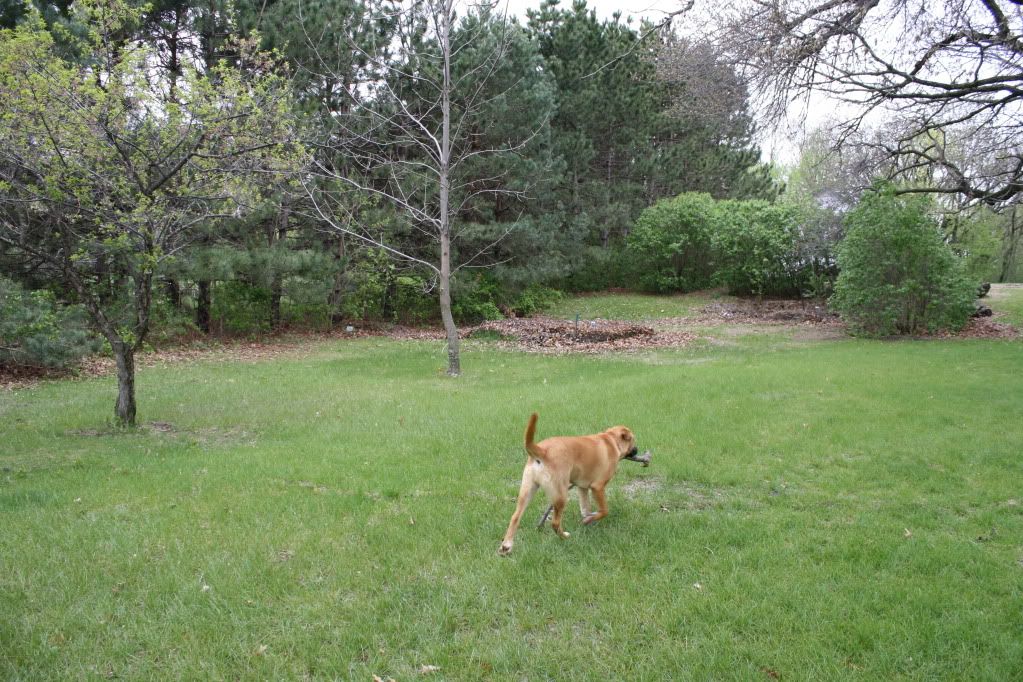 This is the walnut grove (spruce in the background). Tired of looking at grass yet? I have planted 4 elderberry bushes (you can barely see them- they have
tomato
cages around them so no one runs them over! I plan to eventually have a walnut guild going on here- I've ordered some of what others in MN have said work well in a walnut guild like goumi and I can't remember what else. I don't plan to do hackberry because they supposedly get really big here and I don't need any more big trees!
And last but not least, the oak grove and my kids' jungle gym. I will eventually mulch and plant this whole wooded area, from here to the walnut grove, so we will have about 2/3 less lawn. My husband insists on maintaining some lawn for resale (meh) and for the kids and dogs (I do agree with this). I keep telling him a low maintenance food forest is going to be a lot more appealing than a high maintenance lawn, but he refuses to believe me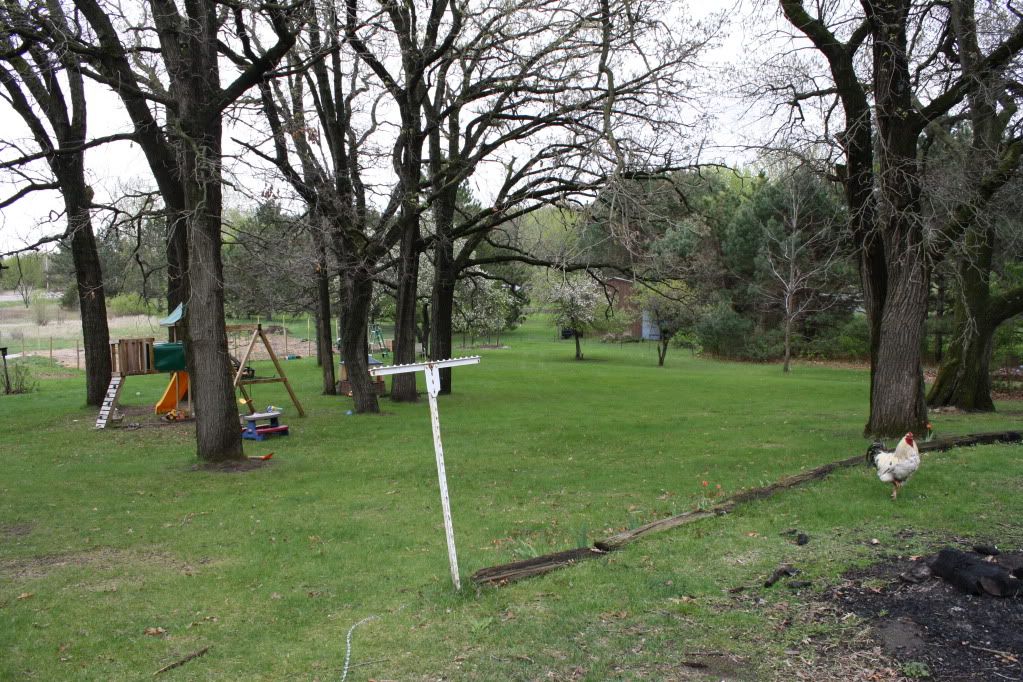 pollinator
Posts: 10057
Location: Central Texas USA Latitude 30 Zone 8
posted 6 years ago
Brandis Roush wrote: some wild violets
Edible and nutritious!
Posts: 37
Location: Central Minnesota
posted 6 years ago
Oh, and my goals and questions/concerns...
Goals: (specific and general)
1. Reduce lawn SIGNIFICANTLY.
2. Increase food production
3. Decrease needed maintenance needed.
...lol those are pretty general, huh...
4. Add
bees
.
5. Add a lot more to the understory.
6. Create more "rooms" like sitting areas in different areas. In addition to the one I mention in the backyard I want a small sitting area near the garden and jungle gym.
7. Build an herb spiral outside the front door. I figure this will happen in the next few weeks, as it will be cheap and a good beginner project.
Really I feel like a
permaculture
baby right now. I know just enough to know I know nothing, ya know? So I couldn't begin to ask all the questions I have. What I can remember right now:
How do I do this without breaking the bank? I can't find most of the understory plants I want locally, and they seem so pricey online. Where do you get your plants?
Anyone else with similar goals in MN or similar climate? A lot of the
permaculture
info I've found is specific to much warmer, arid climates. Obviously our needs are much different here, which is why I think there is less permaculture info- lawns here, in all honesty, take a lot less maintenance (we have never once watered our lawn, and the only fertilizer it gets is from my chickens- in addition to the free range layers I do meat chickens in tractors twice a year- you can DEFINITELY tell where they have been, the grass is 2x as green and thick!) so fewer people are motivated to kill their lawns in favor of "greener pastures," lol. There are a few places that teach permaculture classes in the twin cities, though, and I'm looking into them. But if anyone has advice for me re: climate I'm all ears!
What northern plants
should
I include in my walnut guild? Many listed aren't suitable to my zone and as I said Hackberry supposedly gets bigger here than in the south (apparently they like it up here too much!). I want to include a vine or two, as well, so be sure to include vine suggestions. I'm tempted to start some of the wild grape from cuttings and use that as the vine, but it is SO invasive and we have spent SO much time pulling it out, I think my husband might just divorce me if I do that!
Any other words of wisdom?
Posts: 37
Location: Central Minnesota
posted 6 years ago
Yes, those are barred rocks (I have four). I also have one mutt
rooster
(who I previously thought was a black laced wyandotte), one Orpington rooster, one lemon cukoo orpington hen, a silkie hen, a red frizzle hen, six Easter Eggers, and six Red Star layer hybrids. In addition to the 14 Buckeye chicks AND 12 more Red Star chicks. But don't get me started on chickens, when chicken people get started they NEVER STOP!
Did I mention I love the wild violets? I love them. Besides just straight up eating them I plan to make violet jelly... I'm so excited!
gardener
Posts: 7383
Location: Victoria British Columbia-Canada
posted 6 years ago
I think the photos add a lot to your description. I wish my phone took big shots like that.

Posts: 37
Location: Central Minnesota
posted 6 years ago
Thanks... they're from a 10mp Canon DSLR. I got a really good deal on it, but even then it was more than a person should spend on a camera. But that's why the pics are so good. Check out this one: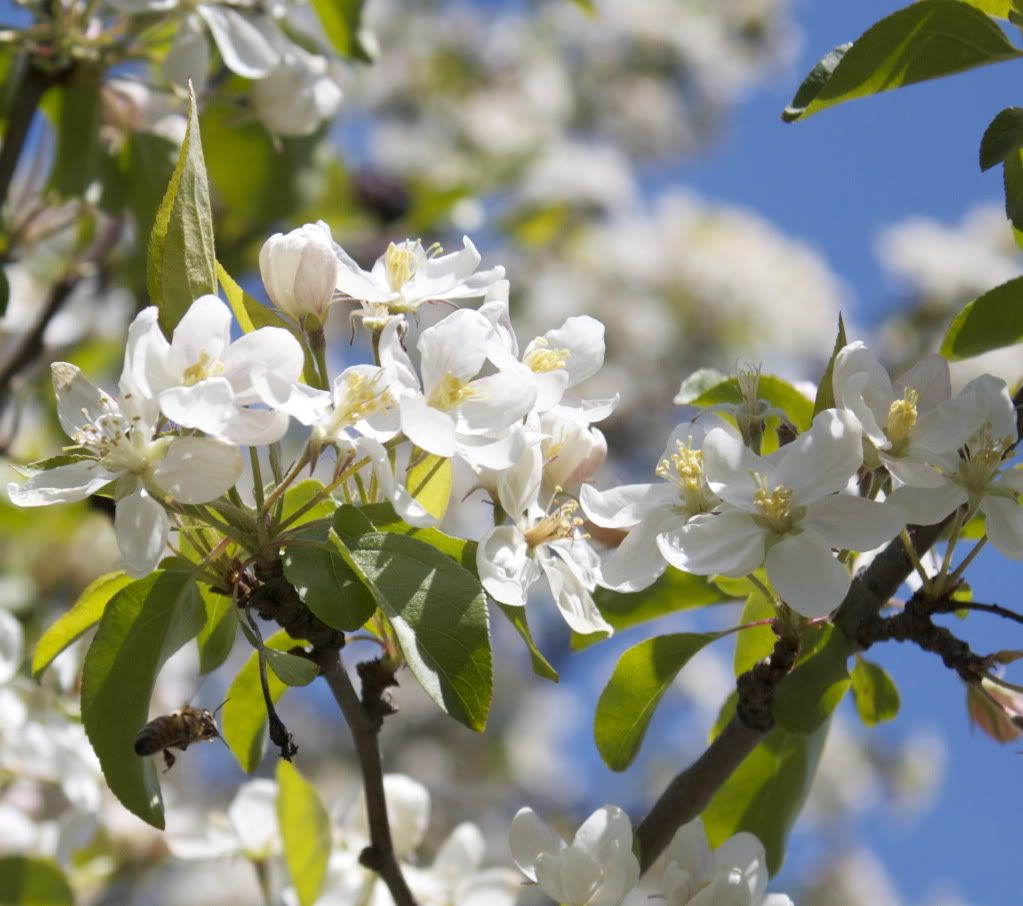 I actually meant to post that pic with the others above and forgot about it. Last week there were so many
bees
buzzing around my crabapple tree you could hear the buzz just standing below it, and there were tons of Moths (the pretty orange and black ones that look almost like Monarch butterflies) too. Very exciting, as earlier in the week I was worried I wouldn't have
fruit
at all since we had two nights of hard frost.
Posts: 37
Location: Central Minnesota
posted 6 years ago
Updates:
I've planted part of the hugelkultur bed with new potatoes. I'd take a picture but it looks pretty much the same as it did in the last picture. I am going to extend it a little, but I used grow biointensive spacing instead of traditional spacing, thinking it might be more appropriate to the setting, and it took a LOT less room than I planned for. So I'm going to build as I plant so I don't overdo it.
I built an herb spiral to the right of the front door. It was on my to do list but I was intending to do it later, once I had more of the bigger jobs done. But a variety of factors came together and reminded me that I need to focus on my zone 1 first. Now I've got all sorts of inspiration, so I'm excited!
I also planted 16 new trees and shrubs. I planted 4 more elderberry (total of 8 now- I really like elderberries!), two goumi, and two persimmons in my walnut guild, two American hickories in the soon to be oak guild, six nanking cherries in the hedge I am building up, and one paw paw on the South side of the house where I HOPE it will survive our winters. I wasn't thinking when I ordered it to check on pollination needs, so I'll have to order another sooner or later. Perhaps I should wait a year to see if the first one survives
I built the wattle fence along the Southern side of my property. It's sort of keeping my chickens in the yard. They still go around, but I'll have to deal with that because I have no intention of fencing the entire property.
I'm trying to decide what to do with this bed right in front of the house. It's really... square. Yes, I know it's actually a rectangle, but I was meaning square in the other sense of the word.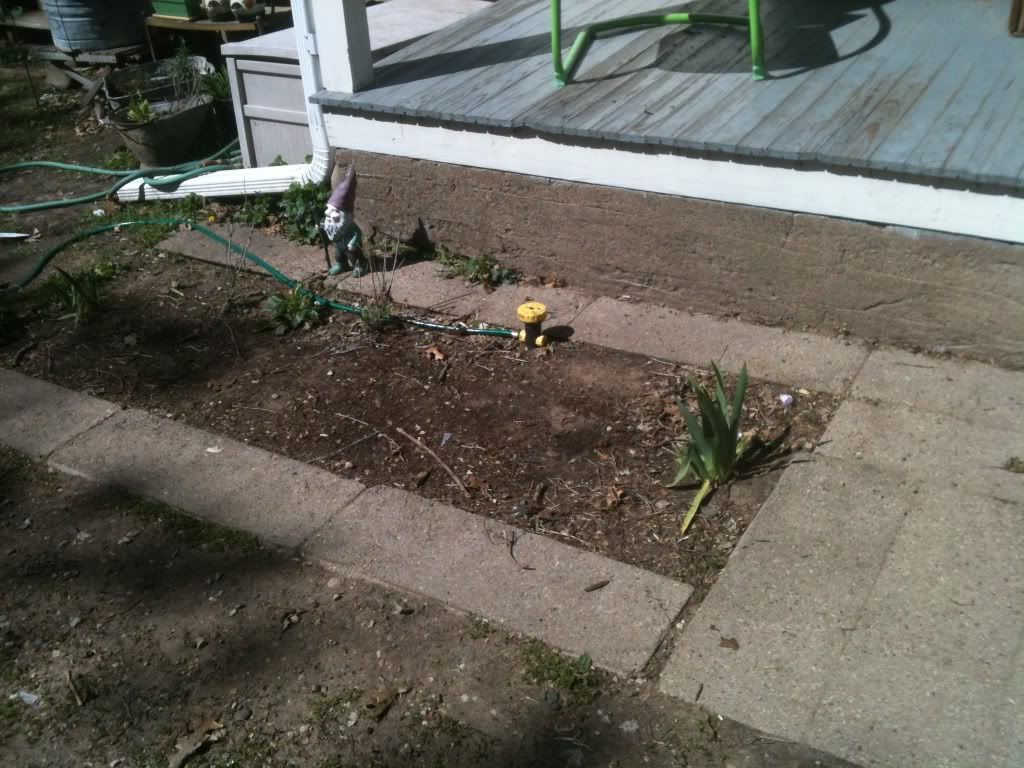 Obviously it's personal what I plant there, and I have to figure it out based on what I want/need. But I want it to be both beautiful and functional, and I'm at a loss. I want to plant a lot more edible leafy greens near the door, so maybe I'll plant a bunch of french sorrel with some flowers. IDK.
Posts: 14
Location: southern oregon
pollinator
Posts: 10057
Location: Central Texas USA Latitude 30 Zone 8
posted 6 years ago
Maybe sorrel and some
edible flowers
such as Violets, Borage, Nasturtium, etc? Plus maybe sneak in some pretty lettuces.....Flat leaf parsley is nice to have handy.....
Posts: 37
Location: Central Minnesota
posted 6 years ago
Thanks for the suggestions! I love nasturtium and borage... I have mentioned I don't to many flowers, but those have always had a place in my garden because they have so many obvious benefits. And the borage I planted the first year and it self seeds so readily, I just let it all come up and thin it where it comes up too thick or interferes with my plantings. It attracts so many beneficials I've had to warn my kids to be careful around it so they don't disturb and irritate the bees! Plus I love the light purple blossoms- they're so ethereal looking. I know both are edible, but I haven't eaten either. I don't know why, I guess I'm hesitant about how to incorporate them into our diet. I was going to make pickled nasturtium buds, but I only found like 15 so didn't have enough to make a batch. I guess that's a good reason to plant more!. But I already have seeds on hand for both, so that's easy! Now I just wish it would warm up for good. This mild winter was nice (well, for me, I know more snow would have been better for the soil, but we seem to be making up for it in nasty cold rain), but now it just seems like this cold nasty spring weather is just dragging on forever... I am thankful for the rain, though.
I have another question, even though I'm pretty sure of
the answer
... I live on what is essentially a pile of sand. We have pretty decent top soil for about a foot, but underneath it when you dig looks like beach sand. There must be some
organic
matter in it as it seems to hold moisture (it's always wet when I did down, anyway), but it looks like just sand. We also rarely have any dry season to speak of. I've never had to
water
our lawn (not that I would if it needed it- I would be out there yelling "die grass!"), and only watered the garden (besides light watering while waiting for seeds to germinate) a handful of times in the two summers we've lived here. There are rarely puddles- the water seems to soak right in, and the soil is always moist underneath the top layer.
So my question is, in my situation, would you still dig swales? Our whole property slopes down from west to east, starting with the house and coop (top of the hill) sloping down first to the oak and walnut groves then to the existing veggie garden, so it's obvious where I would put swales along the slope. But I'm intimidated by the idea of digging them and making them level. I feel like, in my case, the amount of work wouldn't translate into enough benefit, you know? But if I can be convinced that they would result in enough benefit I might change my mind.
I do plan on working in other water harvesting methods, like a small deep pond and rain barrels to harvest water that drains off the roof to water my zone one stuff (I have one barrel for the front, but the spigot is broken and I need to get that replaced). What say you, more experienced permaculture people- what would you do? I was thinking that when I build my pond I may dig channels to
feed
what little runoff there is into the pond...
Posts: 37
Location: Central Minnesota
posted 6 years ago
.... I'm trying to limit inputs (at least ones that cost money, lol!) but I'm thinking about building this up to be a raised bed. I think it would at the very least be more functional that way and add a little more visual interest. It was actually solid pavers until last summer, when I pulled the center pavers out to create the bed. I never properly loosened the soil, which was obviously well packed from the pavers. I may just pull out the rest and build something up with brick. I was meaning to go price brick this weekend anyway for some other zone 1 projects...

Posts: 51
Location: Bulgaria, Zone 7/8
posted 6 years ago
Wow, Brandis! I love the pictures an seeing what you're doing. And I personally think the grass looks so nice and lush and calm, and wish I could have some.
If you feel it's too much grass and want to create little areas, why not start with little mini gardens here and there on your lawn? You already have some borage, perhaps get some golden rod, and some yarrow, you can get those in the wild for free, or get some seeds from ebay. Just dig a hole, and add some compost and plant what you want. do little groups of 3 or 5 variations of plants. Combine some herbs with flowers. Parsley and mints are easy. Mint can be invasive, but on the other hand, I find it is easy to pull out when I need to, and can then plant something else there. Same with Lemon Balm.
A really pleasant way to get more plants for your garden is to look at other peoples garden's in your area, and if you see something you like, ring the bell and ask if you can have a cutting in exchange for something you have, and if you see a garden with LOTS of variety, become FRIENDS with that person
. Don't feel shy about it. Gardeners (on the whole) LOVE sharing and make great friends.
I've gone in the mountains here and picked up loads of roots and cuttings of what locals think is weed but they are actually herbs and beautiful wild flowers. In my garden they look GREAT. Always carry a secateur and little spade with you in the car. You never know when you're going to run into something that needs a trim or thinning, and that you can put in your garden.
Day lillies are usually cheap or easy to get and even when they are not blooming, they looks good and you can have clumps of them all over very quickly, by dividing them. When they are spent, I cut them back and the leaves come back again and it looks all nice and lush and the flowers are edible. Same with wild geranium, which likes shade and you have some areas with shade (can't eat them, tho).
Parsnips are Brilliant!, you can grow from seed (cheap) In the second year, they become quite tall, stately looking plants with beautiful greeny gold umbels, and make a great backdrop for Borage or other blue or purple flowers. They seed like crazy, and you'll have loads of parsnips. (If you don't know what to do with them, make them like mashed potatoes, with lots of parsley. You will never want to eat mashed potatoes again, it is so delicious!)
Lovage is another good tall plant with nice umbels. Mullein is pretty too.
My Queen Ann's lace is now about 14 feet tall.
Anyway, I LOVE what YOU have!
Can I ask, what is in the very big tire with the green lid on it
Looking forward to seeing more!
pollinator
Posts: 1452
Location: Midlands, South Carolina Zone 7b/8a
posted 6 years ago
Brandis, I'm having acreage envy! I have had larger pieces of property back when I had a stable but even then I found that I didn't actively use more than about 5-6 acres. Now I am on 1 1/4 and I am having to plan very carefully how to use my space.

I think 3 acres is a perfect size. Love your pics!
Posts: 1121
Location: Central Wyoming -zone 4
posted 5 years ago
sub'd to see the progress