pollinator
Posts: 928
Location: Melbourne FL, USA - Pine and Palmetto Flatland, Sandy and Acidic
posted 4 years ago
So I am pretty excited about using the Norwalk. I ordered the stainless steel version identical to the picture below. It
should
be coming in the next week or two. I had a hard time convincing my wife to make the investment of roughly $2,500 dollars understandably but I think further down the road she may soften to the purchase given usage. I am trying to take care of myself while I am young, and tough I definitely do not need a Norwalk to do this it does provide more means and motivation to do so.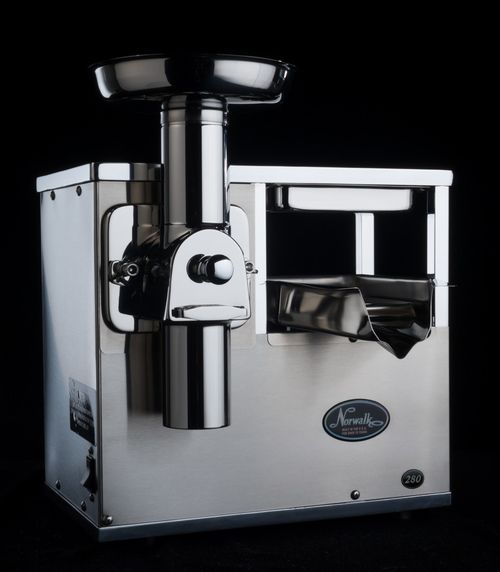 Those who hammer their swords into plows will plow for those who don't!
posted 4 years ago
Yikes! That's some serious iron.
I can't get past the price tag, though. For me the opportunity cost would be too high, I can think of too many other things for that cash that I need far worse (like a
tractor
, or an overhaul for my dead van). But I do understand that each of us in this world is at a different place on the curve of marginal utility per dollar of disposable income. And boy that looks like a lot of fun to have on your kitchen counter.
Posts: 3366
Location: Kansas Zone 6a
posted 4 years ago
That is a serious machine. You can extract more juice and, more importantly, juice from herbs and medicinals that other machines just can't get.

I will be stuck with my shop press version for a while, that is simply not in my price point.


"You must be the change you want to see in the world." "First they ignore you, then they laugh at you, then they fight you, then you win." --Mahatma Gandhi
"Preach the Gospel always, and if necessary, use words." --Francis of Assisi.
"Family farms work when the whole family works the farm." -- Adam Klaus
Posts: 724
Location: In a rain shadow - Fremont County, Southern CO
posted 4 years ago
please update us on how you like the juicer.
we have had the talk about buying a norwalk, and just cant seem to pull the trigger on a $2500 juicer when my daily commuter car cost only $3000...
they do have some scratch and dent items for ~$2100 if i remember right, but even that is a bunch of money.
i think in 5 years, you will look back and it will be money well spent, as is the case with our vitamix and kitchenaid.
http://www.cloud9farms.com/ - Southern Colorado - Zone 5 (-19*f) - 5300ft elevation - 12in rainfall plus irrigation rights
Dairy cows, "hair" sheep, Kune Kune pigs, chickens, guineas and turkeys
posted 4 years ago
What was your previous juicer?
pollinator
Posts: 928
Location: Melbourne FL, USA - Pine and Palmetto Flatland, Sandy and Acidic
posted 4 years ago
mark andrews wrote:What was your previous juicer?
A wooden press I made using sail cloth to filter the pulp.
Those who hammer their swords into plows will plow for those who don't!