steward
Posts: 2407
Location: Moved from south central WI to Portland, OR
posted 2 years ago
Just a couple of nights ago my family spent the night in
a lovely cob cottage we found on Air BnB
. I've been reading about
cob
houses for years, and I've helped make small things with
cob
, like walls and ovens, but I've never been able to sleep in a
cob
house. I'm glad I did - my whole family ended up enjoying it.
The thing about cob houses (as folks here know, but I'm copying my review here) is they require hundreds, probably thousands of hours of labor to build. They are wonderfully
organic
in shape, with lots of curves and little built ins. The location is so convenient to highway 5, I think anybody who can fit it into their trip
should
give it a try! So much nicer than a motel.
My girls (9 & 12) were suspicious of the plan, especially when I told them there wouldn't be a flush toilet, but the reality was much more comfortable than they were imagining. It's really a beautiful space, divided into multiple living areas by elevation and built in furniture versus walls and doors. I think this little house offers luxuriant living for one, cozy coexistence for two, but would maybe get a bit tight with 3 or 4 after a few days.
I just had to start a fire in the little handmade stove with a glass window (although once the fire was going I wished I had noticed the glass and scrubbed it a bit). I told myself it was a bit chilly in the cottage, and maybe it was, but boy it's easy to heat up the space! A three log fire was probably two logs too many - we ended up opening the top door, out to the deck, to lose some of the heat. The deck up behind the cottage is a wonderful place to stargaze. Everyone in my family is ready to return for another stay (at least for one night) and that's saying something.
I think this place would be great for a relaxing longer stay as well. The kitchenette looks minimal, but it really has everything you need and is well equipped. Oh, my 6'4" husband would like to point out that the building was quite obviously made by someone with less, um, altitude. He really had to watch his head. I'm 5'7" and my hair was brushing the ceiling in some locations. The main bed was fine for me, his feet sort of stuck out at the bottom (although I'd made the place so warm that was OK).
master steward
Posts: 4687
Location: Missoula, MT
posted 2 years ago
Woohoo! This was great to hear about and peruse the pictures. Paul and I use
Airbnb
or VRBO a lot and we're always looking for more
eco
options. You know, places
without
toxic fumes in the pillow cases at the very least, and even better to have a natural building!
I'm embedding one of the pictures here just in case the listing goes away or is changed.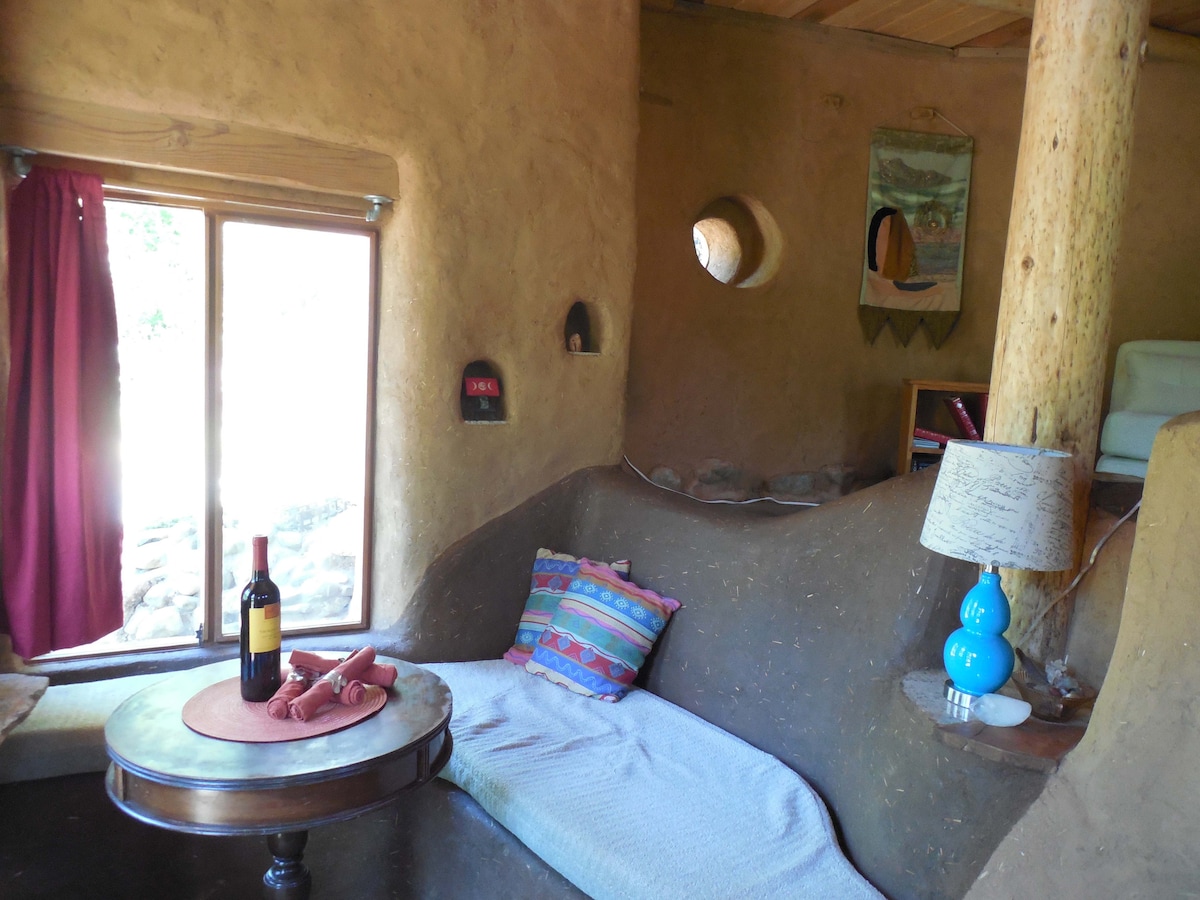 This is something for us to aspire to some day here at
wheaton labs
. We've got a lot of finish work and details to iron out before then!
steward
Posts: 2407
Location: Moved from south central WI to Portland, OR
posted 2 years ago
It's beautiful, but Paul will definitely spend most of his time ducking his head! The original resident was a petite woman, a musician.