posted 7 years ago
We all have some
tools
we reach for first.
My favourite is a Japanese Sickle similar to

this

It is really multi functional and holds an edge well.
I use it for a wide range of tasks including harvesting.
It just cuts better than my Brish made ones and the slicing action is more efficient.
geoff lawton
mentions a similar one in one of his videos - called a "Rice Knife" but I have found few references online.
Look at the folks using Scythes online and you will agree that some handtools are more efficient .
Jack
Posts: 308
Location: long island, ny Z-7a
posted 7 years ago
wow, that site has some stellar prices it looks like.  thanks for the link!
seems they getcha a bit on shipping for small orders.still great though its also totally bogging down my browser/pc ?
i remember geoff speaking about it too, think i need to pick one one 
some of my favorite hand tools are also japanese, my pull-saws and chisels mainly.
in the garden i suppose my most used hand tool is a trowel with a comfortably curved handle.
makes such a difference.  i also really like the aluminum scoop i picked up for spreading
mulch
and compost around. light weight and take a nice big load. it's been REALLY handy with all the heavy snowfall here in LI,NY lately. another 3 inches tonight. it's already ovr 2' high in my
yard
. 3' in some spots. the scoop is much better than a snow shovel for this.
pollinator
Posts: 4437
Location: North Central Michigan
posted 7 years ago
my favorite I think might be a potato type pitch fork..I use it for everything.
I broke mine so I had to look at garage sales to find a good one and ended up with 2..I have short forks with wide tines but this one is the narrow tined one, kinda bent up but I love it.
I use it to pry sod out of the ground when I'm preparing new beds (after cutting with a 1/2 moon edger)..then I just shake out loose dirt and put the sod in a new home..or compost it.
I use two to pry apart hug
e perennials like siberian iris and daylillies..back to back..works like a wonder (smaller ones work well for that too)
I use the fork to weed out quackgrass, shake the soil out and toss it onto a wheelborrow to remove to a safe distance from my home.
all kinds of other things..just love my fork
Brenda

Bloom where you are planted.
http://restfultrailsfoodforestgarden.blogspot.com/
Posts: 366
Location: Upstate SC
posted 7 years ago
My single most useful hand tool is a stainless digging knife I use for a lot of routine work in the garden. It has knife sharp edges, with one side serrated, so it it good for digging holes or furrows for sowing
seed
, cutting/digging weeds, cutting heads, leaves, or
fruit
for harvest, digging out small root crops, minor pruning, cutting string/cord for
trellis
construction, etc.
pollinator
Posts: 1528
Location: zone 7
posted 7 years ago
do we have to pick just one tool?
The ultimate goal of farming is not the growing of crops, but the cultivation and perfection of human beings. - Masanobu Fukuoka
Posts: 149
Location: sw pa zone 5
posted 7 years ago
I have 2 tools that I leave in the garden always. One is a spade shovel with a cracked fiberglass handle. I am triple digging the garden in sections and I always use that shovel. I have had some heart trouble and the cracked handle stops me fron working too hard. It is my safety valve. The second is a long handled Italian hoe. I use it to scratch in the seeds, level off planting areas, mark rows etc. The 2 points come in so handy, and the long handle makes it easy to use and not break your back.
Never doubt that a small group of dedicated people can change the world,  Indeed it is the only thing that ever has. Formerly pa_friendly_guy_here
posted 7 years ago
Soil
Aother favourite is a Round mouth shovel I found on the junk pile.

I put an extra long handle on it and find it very comfortable when shoveling finished compost or loose earth. It can take a pretty big scoop.

Close tined forks are indispensible when turning compost.
Still have to find a really good tool to use for turning compost easier. Its hard work.
Posts: 146
Location: St. Louis, MO
posted 7 years ago
At the stage I'm at now, I'm still clearing
trees
and brush all the time, so my most used and loved tool is a machete. I've tried half a dozen different ones ranging from Walmart, Cold-Steel(multiple varieties), Gerber, and Ontario. The Ontario 18" blade is by far the best for all purpose use. You need to feather sharpen the blade with a belt sander like with most new machete's, but after that it will be the strongest, easiest to handle, least fatigueing, least wearing, best machete you'll use. The first one I bought lasted 15 years before snapping while hacking a 10" tree down. The one I just bought has a junkier handle, but the design and weight balance and metal quality is still there. So far so good after using it on a bunch of coniferous hard
wood
.
Sorry, fuzzy pic.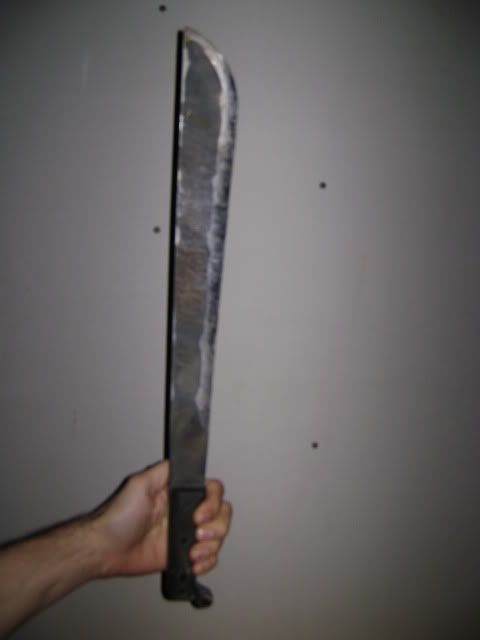 Posts: 383
Location: Zone 9 - Coastal Oregon
posted 7 years ago
This is going to sound glib, but it isn't meant to be. I am damn serious when I say my favorite hand tools are, well, my hands.
posted 7 years ago
I'm not sure if they're my FAVORITE hand tools; but the tools I tend to use the most are my Opinel no.8 pocket knife, and my Tramontina machete. The machete can hold an edge sharp enough to shave with, and the opinel has some of the best steel I've ever messed with.
The machete was great for cutting up marred/under-developed fruit and veggies from the garden, so the
chickens
could get to the juicy parts. I guess the weight in the head gives it plenty of follow through power. I think it ran me about $10, about the same as the Opinel.
I don't mean to put a plug in for Opinel, but they make a great knife.
Mushroom
knives,
gardening
knives, pruning knives, etc. They're pretty economical as well. Here's a link to some of their
gardening
knives.
http://www.opiknife.com/products.asp?cat=Opinel+Garden+Knives
If you try to please everybody, your progress is limited by the noisiest fool. And this tiny ad:
Binge on 17 Seasons of Permaculture Design Monkeys!
http://permaculture-design-course.com