posted 5 years ago
Listen Online
Download
Get all of the podcasts in convenient, giant zip files
Subscribe on iTunes
Summary
In this podcast Jocelyn and Paul chat about about
cast iron
cookware, particularly skillets.They start by talking about Paul's
cast iron skillet
article. He says that because people were still doubting his claims about eggs not sticking, he created
this video
to prove them wrong. They also mention the other video he has about
cleaning a cast iron skillet
.
Jocelyn asks what lead Paul to use cast iron initially and he says a lot of it has to do with his granddad using one. They go on to discuss the long list of reasons to use cast iron. A few of them are: the various toxins that come along with non-stick pans and the fact that cast iron lasts way longer.
They then jump into the details of
seasoning
the cast iron and Paul sums it up with, "Don't use an oven." They briefly touch upon kitchen
wood
care and continue to discuss different types polymerization you need to have. They talk about how to
get rid of seasoning
layers for various reasons.
For a while Paul and Jocelyn talk about the different types, brands, and prices of cast iron skillets. They move into discussing the ins and outs of which spatulas are necessary for cooking with cast iron skillets. Lastly, Paul busts some myths about using
soap
on cast iron.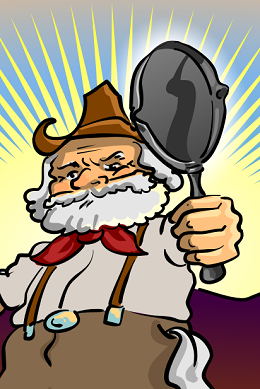 Resources
Cast Iron Skillet
Ebay.com
Spatula
Amazon.com
Amazon.ca
Relevant Links
Paul's Cast Iron Cookware Article
Paul's Wooden Utensils Care Article
Demo of frying eggs on a cast iron skillet how to tutorial
Cast iron skillet cleaning trick - how to
Support the Empire
Help support the empire and get all of the podcasts in bundles
here
To support production of these podcasts, make a donation
here at Paul's Patreon
page.

COMMENTS:
posted 5 years ago
Thank you for the information on cast iron cookware after reading and watching the video I went through my pans and discovered I have a Griswald and a Wagner I am so excited I never knew how to take care of cast iron skillets so they weren't used much now they will be my favorites.
Posts: 196
Location: Perkinston Mississippi zone 9a
posted 5 years ago
I think it was in this podcast, Paul talked about how hard it is to find a truly straight edged spatula. You would think a store that specializes in kitchen equipment would have one, but not around here.
Posts: 65
Location: Zone 9B Santa Rosa, CA
Posts: 297
Location: North Central New York
posted 3 years ago
Furthering Permaculture next to Lake Ontario.
www.oswego.edu/permaculture
gardener
Posts: 398
Location: Wisconsin, USA Zone 4b-5a