posted 9 years ago
I didn't see any glue. Did this guy do this depending entirely on the green
wood
shrinking?
posted 9 years ago
Nice, but he really
should
learn how to make a bodgers lathe.
posted 9 years ago
Tc20852, give us the recipe for a bodgers lath please.
posted 7 years ago
heh just my opinion here but that looked like way to much work for a flimsy doll chair (yeah you could upsize it my butt would break that toy, hey if you
sell
em for 30$ or so more power to you) i'd just as soon find a big round log and sit on that (backless chair/stool) or cut out the meat of it leaving a back, not big on wooden chairs myself  i'd just a soon fashion a hammock and swing to oblivion on some rope and fabric
on a side note any simple
sustainable
ideas for wood stains/seals? if i had to guess oils of any sort
The quieter you become, the more you are able to hear
Posts: 308
Location: long island, ny Z-7a
posted 7 years ago
yep he could do with a lathe there.
rose
. a bodger's lathe is a foot powered pole/spring lathe for woodturning.
i actually dont like this guy's lathe very much, its less efficient then traditional designs,and annoying with that pedal smacking each stroke. but you get the idea.
treadle lathes are another way to do it, and i've even seen combo pole/spring/treadle/great-wheel lathes! tons of other videos on YT, i just picked one quick.
i have some pdf
plans
for them that i found around the net.
here's one given free by the author.
http://www.manytracks.com/lathe/
and more here 
http://www.ebooklibs.com/pole_lathe.html
turning green wood is fun,and addictive.
atta.chairs like that sell for several hundred dollars in some places.
edited by moderator to remove copyrighted pdf
Tim.jpg
Posts: 4
Location: Bath, ME USA
posted 7 years ago
I highly recommend The Woodwrights Shop
http://www.pbs.org/woodwrightsshop/
I own two of his
books
. In his first he makes a bench from a tree with only hand
tools
.
Tell me and I will forget,
Show me and I will remember,
Let me do it and I will understand.
Posts: 308
Location: long island, ny Z-7a
posted 7 years ago
vtgreen wrote:
I highly recommend The Woodwrights Shop http://www.pbs.org/woodwrightsshop/
I own two of his books. In his first he makes a bench from a tree with only hand tools.

i'll second that, Roy underhill is great. entertaining and educational. i dvr his shows.
i started out woodworking with only powertools. no doubt they can be time savers.(sometimes they actually take more time with setting up etc)
but nowhere near as enjoyable or intimate as working with hand tools! and the nice thing is,you can find good quality hand tools at throw-away prices since most people dont want them or know their value. i once picked up a box of 10 bit-braces(large hand drill),5 eggbeater type drills and 30 or so long drill bits on ebay for about 30 bucks, its not all that uncommon.
some real nice hand planes on there too.
posted 7 years ago
They are great videos. I like shaved peices more than turned ones, there are so many bits of furniture with turned peices that it is nice to see somthing different . I saw some men in a show in England making furniture of split wood and it was so much easier than using a saw. rose macaskie.
Posts: 3366
Location: Kansas Zone 6a
posted 5 years ago
Roy Underhill and the Woodwright's Shop was FAVORITE show on PBS, maybe of all time. Yeah, Norm could do awesome stuff--but he had a quarter million dollars of power tools (in 1980 dollars) at his disposal. Roy did it old school, and had such a wonderful attitude about it. It has been an invaluable resource for my homesteading.
He has a set of
plans
floating around the internet for a treadle lathe built on modern 2x lumber.
http://www.bloodandsawdust.com/sca/lathes2.html
http://rizaydog.webs.com/treadlelathebuild.htm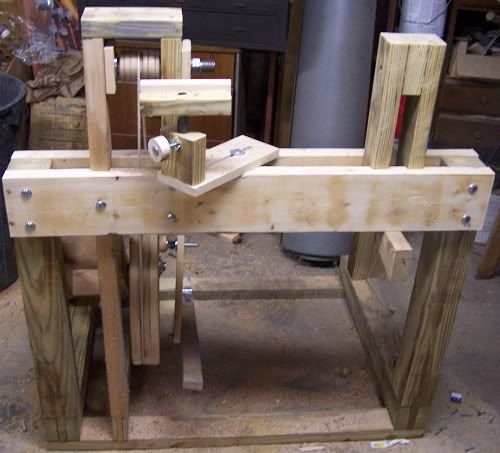 "You must be the change you want to see in the world." "First they ignore you, then they laugh at you, then they fight you, then you win." --Mahatma Gandhi
"Preach the Gospel always, and if necessary, use words." --Francis of Assisi.
"Family farms work when the whole family works the farm." -- Adam Klaus
Posts: 66
Location: Newbury, VT (Zone 4)
posted 4 years ago
Nice
thread
-- just discovered it today after Paul hi-lighted it.
RE: Cherry Log to Country Chair:
Nice work, which can be scaled up to a full sized chair.
Notice that at 2:57 the guy nearly chops the fingers off his left hand!
Needs to find a different way to split the slats with his froe!
Spring Pole Lathes:
The videos and links about building and using a spring pole lathe are great. John Lucas in the first video is a friend of mine from wood turning circles -- he's using a small, portable pole lathe and the slapping could be addressed with a larger, stronger spring pole, and a higher "kick" so it didn't smack against the base board on every down stroke. Yes, indeed, a treadle lathe is a continuous turning motion instead of a reciprocal turn, but unless they have a pretty massive flywheel, they can't match the power of a pole lathe for rough turning or taking bigger cuts. They're great for small work like bobbins or pens, but only with a big, heavy wheel can you make the heavier cuts.
I'll have a spring pole lathe set up at my home and try to post some photos of a larger spring pole lathe in the next few weeks.
TIP for spring pole lathe turners or those trying it out:
If you leave a little extra length on something you are making (can be cut away later), reduce the diameter at one end where the string wraps around the workpiece. By wrapping the string or rope around a smaller diameter, the piece will turn faster, and also make more revolutions per cycle. If the string wraps around a fatter part (say 2"), you might get 2 turns at say 50 - 60 RPM; if you reduce the diameter to about 1", you'll get twice the revolutions at twice the speed, which will speed up the work.
Clear skies,

Brad Vietje
Newbury, VT
Posts: 53
Location: Ozarks of MO
posted 4 years ago
these are some pretty cool video's
Patrick Roehrman
MT Knives
posted 2 weeks ago
lovely to see a proper bit of bodging.