posted 3 years ago
There is a clearing in my woods and I want to establish a Forest Garden there. Location is Hampshire, England (hardiness Zone 9).
At the weekend I planted 4
apple
trees
, 2 plum trees and 1 cherry tree, nicely spaced. In between I want to grow
perennial
berries and vegetables, no-dig style. I'm using
books
by Patrick Whitefield and Martin Crawford as my guide.
Problem: my woods are popular with the
local
deer
population (mainly roe but occasional fallow). They usually eat hazel leaves but I'm sure they would destroy my (as-yet unplanted) vegetables if they got a chance.
Solution: I'm going to put up a deer
fence
.
Question: is this something a first-timer can do easily?
The fenced area will be 33m x 20m, so 106m of fencing is required. I'm thinking of using a product called Tenax. The posts will mainly be larch trunks obtained from a neighbour, about 10cm diameter, sharpened with an axe and banged in with a sledgehammer. I haven't worked out how to get high enough to do that yet. The ground is soft. Some posts will be trees.
I haven't worked out how to put a door in it yet (so I can get in and out).
If anybody has any
experience
with Tenax or other deer fencing products (especially those in the UK) I would love to hear from you. I have no experience in fencing but I am otherwise fairly practical.
Cheers,
Paul
Posts: 669
Location: Porter, Indiana
posted 3 years ago
I haven't done deer
fence
, but I have put in chain link. Instead of trying to drive the posts into the ground with a sledgehammer, you might want to consider getting a post digger. Around me, you can usually find one for under USD$10 on Craigslist. Once the posts are in, stretching chain link is fairly easy (if you have the stretcher tool thingy) so I would imagine light weight deer fencing would be even easier.
posted 3 years ago
I have built an 11
acre
deer fence, and I plan on building one around ~7 acres here shortly. I have not used Tenax but I expect that the principals are similar.
The technique used here in Oregon for vineyards goes like this: Use a 6' metal mesh fencing product. The grid pattern is more dense towards the bottom to prevent smaller critters from getting in. Then a wire (14 gauge, high tensil) wire is string across the top of the posts from post to post. You can also install a tensioner on this wire to keep it tight. The corners have H braces or possibly two H braces if it is a very long run (e.g., > 400 ft or so. You'll have to convert that to metric
). The fence is 7 feet high when it's done. Gates get H braces on each side or if you can, incorporate them into the corners so that you don't have extra H braces. It is best to put the doors in the corners anyways because when a deer gets in, you'll have to chase him/her out and the best way to do that is to shoo them into the corner and out the doors. Down the length of the fence line we have a series of wooden posts (single ones, not H braces) every 100 ft, and then metal T posts every 20 ft between the wooden posts.
To construct it, pick your corners and then start building one H brace at one corner. You'll use the far corner (the corner that you're building towards) to line up the H brace posts - the more "in line" (straight toward the far corner) that you get the posts the better. You'll fasten fencing material to the H brace and then roll out the fencing to the other corner or an intermediate H brace (which will be necessary for abrupt elevation changes, for example). The fence material will then need to be stretched and attached to another H brace. To stretch it, I use a "come along" attached to a
tractor
. I am not sure how you would do this without attaching the come along to some large heavy thing. The locals here have a term for the stretching process: The fence
should
be "singing tight"; meaning that it will resonate when you tap it.
The wooden posts are typically 4"-5" treated posts that are 10 ft long. The metal posts are similar in length and have a spade on the bottom.
If you construct the fence in sections, it will give him for the deer to get used to it so they will be less likely to try and get in. If they are determined to get in, they will; especially if there is some resource that they're used to accessing. In any case, you'll need to slowly make it inconvenient for them to access the grounds where you would like to fence off. Then they will forget about going there and slowly stop trying to access it. If your forest is the only place around that has
water
, then you may continue to have issues with intrusions...
Anyways, hopefully I've provided some wisdom that could be of use.
steward
Posts: 4397
Location: Zones 2-4 Wyoming and 4-5 Colorado
posted 3 years ago
Great post Chris, that sounds like it is pretty heavy duty, how would a deer still get into that?

Do you think that putting a shorter fence about five feet outside the tall fence might help? Maybe even fill the gap between the two with shrubs or trees ?

I have heard that two fences close together discourages them from jumping the first fence as they do not have enough room to get a jump on the second.
posted 3 years ago
Well, There have been obvious attempts that deer have tried to get through my fence; however, the only times when I have caught deer in there was when someone left the gate open. So, I suspect that a deer got caught inside the fence at some point and struggled to get out. When I say "obvious attempts", I mean that the metal wire fence was slightly distorted and it was sagging a little. This can be rectified by hand easily though by straightening the bent vertical wires in the mesh.
(On a side note, I think that the metal fencing product was cheaper than the plastic fence when I was looking into it)
I have never seen anyone have two fences right next to each other. I was thinking that one approach could be to add shrubs on the outside of the fence so that deer don't have a clear shot at trying to jump the fence.
Another tip to consider is that it is easier for deer to jump in if there is a higher elevation on the outside of the fence than where the bottom of the fence is. in other words, if you have your fence at the bottom of a hill, the deer can walk up up-slope and jump from there. Conversely, if the inside of the fence is up-slope it will basically be impossible for anything to jump in.
Finally, I forgot to mention how I put the posts in. I have a 3.5" auger bit with a one-man auger (these can be rented for tool rental places). I auger a hole in the ground and then kind-of move the bit around to widen the hole a little. The hole should be about 1.5 to 2' deep. Then I insert the post. The hole will likely cave in a little causing the pole to not be settled at the bottom of the auger hole. I then use the front loader on my tractor to push/tap the post into the ground. I usually have a "helper" holding the post level during this exercise. This person is given a hard-hat for their efforts.
This project also gave me a great deal of appreciation for people who can line things up by sight. It's an amazing thing that not everyone can do this naturally!! Remember that light always travels in straight lines - otherwise we'd be screwed.
Chris
Posts: 121
Location: Brighton, Michigan
posted 3 years ago
I construct two electric fences space 3 feet apart the fences are approximately 3 ft. The inside fence has two strands of wire. if you go to the Gallagher electric fencing website they have the design pattern. This helps me fence in about 5 acres of sweetcorn a year. It does require some prior training of the deer and construction of the fence prior to having a problem otherwise the deer can still learn to go through it. Works on the principle of the depth perception between the two wires. Works on whitetails however red deer I believe are more like our elk. The advantage of this Fence is that it is cheap and temporary easy to take down and put back up the disadvantage is that it works entirely on psychology.
posted 3 years ago
At least in VA, deer go under a fence as often as jumping it. For the past 3 years, we've been using "Nite Guard" rather than going through the expense and labor of putting up & maintaining a fence. These are small
solar
boxes (about the size of a pack of cigarettes) and hang from a wire nail. For deer, they are set 4' off of the ground (there are different setting for various animals including
bear
, for you beekeepers). At dusk, they emit a red flashing light all night until dawn. They have to be moved around every 2 weeks so that the deer do not become accustomed to it. We have about 15 acres of
fruit
forest with wire nails all over the place. It only takes about 15 minutes every 2 weeks, to move these boxes around. We have a huge animal population, being in the middle of a forest on a small river, and these work. I have several friends that are beekeepers and they have done away with their electric fences and are using these as well with great success. The best spot to get them is Amazon.com. We have about 20 of them on our farm.
Marianne

check us out @ www.cricketscove.net
posted 3 years ago
I don't understand how the Nite Guard would work. It would seem that this is based on the assumption that deer are only foraging at night? In any case, it sounds like an interesting alternative.
posted 3 years ago
It does only work at night. There is plenty of people activity in our gardens during the day and our dogs are always outside with us. Dusk and dawn were our biggest problem times and the
lights
are going strong then. With really lousy eyesight, these bright lights spell danger to deer and they avoid those areas.
Marianne

check us out @ www.cricketscove.net
Posts: 14
Location: Mariposa, California, USDA zone 7b
posted 3 years ago
I make 6' cylinders of
chicken
wire that are about 18-24" in diameter. I roll out a 6-7' length of
chicken
wire, cut it, then roll out second 6-7' length
side by side
with it. I wire them together, so I have a sheet of chicken wire about 6X7 square. I then roll it into a cylinder shape and wire it closed using the cut ends folded around each other. The cylinders go around my new trees and are held in place with a 7' T-post. Here's a pic of my trees protected with CW.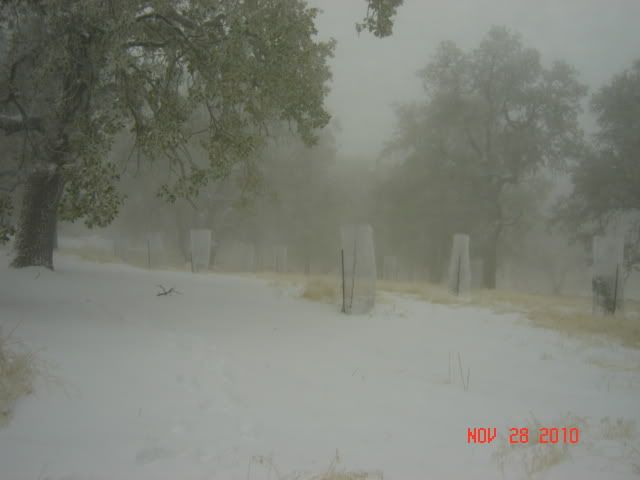 Shop around. I found that 36" stucco wire is actually cheaper per foot than actual chicken wire, and the wire gauge is slightly more substantial.