There have been a lot of individuals that have expressed interest in a sub-6" system. Either for space concerns, heat output/BTU, or portability.
I think that such a system can be made to work. I know that there are concerns with such issues as draft velocity, laminar restriction, gas friction, etc. Plus, at what point does the idea of down-scaling the principles of an
RMH
become a moot venture simply because the reduced output of a smaller system would take longer to 'charge' a thermal battery anyway, thereby requiring the same amount of fuel as a slightly larger system.
Bearing all of this in mind, I still think that such a system has merit and that a lot of these perceived limitations could be designed and tinkered out.
I think the first place to start is to re-think the format a bit. Rather than trying to simply design a smaller version of the 55-gallon, two-ton mass, cobbed-in bench style system, the 4"
RMH
is going to need a different approach-- one that accommodates for the smaller system's shortcomings by reducing its limitations yet still create a robust system that could effectively heat a <500sq.ft. area, maybe slightly larger.
I've been banging this whole concept around in my head for months now... I've gone through good ideas, bad ideas, different sketches, possible solutions, possible failures, built many little J-tube and L-tube stacks and risers in my back
yard
and fireplace, ranted on and on about Bernoulli, Heisenberg and Venturi to my eight-year-old while driving him to school... and after all of that, I think I have something worth kicking around the table. I finally took the time to put something together in SketchUp so that I can throw it out here and see if it floats
.
So far, this project still seems feasible, and I've amassed almost all of the necessary materials, so the first phases of construction are not far off, but I think open discussion is in order before that takes place. Of
course
, I will document all of the construction here as this moves forward.
In my experimentation with burning in small draft systems, the major issue I noticed with all of them is
ash
build-up-- smaller CSAs become occluded quite easily. This convinced me that a smaller system is going to require a grate/ashpit of some kind and an effective ash collector.
I also noticed that it is quite easy to choke down a smaller system while trying to get enough fuel into the
feed
tube to achieve high temps and a good re-burn in the riser and that some type of draft control and/ or draft induction would be needed to ensure proper draft and maintain higher temps.
Now, the main case brought against a 4" system is that it doesn't have the oomph to drive a downdrafted exhaust through a horizontal bench mass to achieve the same efficiency as a typical 6" system. Well then, here's my solution: quit expecting too much from a 4" system-- decrease its mass load, decrease its horizontal run and give up a bit on the efficiency side of the equation. Look at it this way... if the typical
answer
to a small footprint/small space/lower output problem is a 'pocket rocket', which is much less efficient than an 'average' RMH (if there is such a thing:)), then there has to be some middle ground.
First off, let me say that I just got my hands on SketchUp, so I'm no master and some of the more subtle details are not hashed out in this model, but this is good enough to get the main ideas across.
I have a 16" x 22" steel civil defence issue
water
barrel that is the intended container for the project. Everything in the barrel will be cast inside of a mix of fireclay, alumina fibers, sharp sand, and perlite. I've test fired this material and it comes out light and hard. I have no real idea at this point what the final mass will be, but I'd be willing to shoot in the ballpark of <100lbs. The parts that are to be the feed tube, burn tunnel, coal pit, and lower part of the riser, will be made from a
cardboard
form that, after it is cast into the system, will be burned out before the actual heat riser is installed. The heat riser will be made of alumina/fireclay mache wrapped around a piece of sched.40 steel pipe that may, or may not, burn out, while everything else will be steel 4" duct. You can see that the feed tube and the burn tunnel have been rotated 45 degrees: this is so the system is somewhat self-cleaning. Ashes and embers fall into the coal pit where they are allowed to burn completely before sifting into the ash box which will have a removable drawer for easy cleaning during operation. There will be a cover of some kind on the ash drawer to control the bottom-draft. The radiant exchange will be a section of 8" single wall black stove pipe with an endcap. The exhaust chimney will be a 6' section of double-wall classB gas vent.
Here's a detail of the intended function: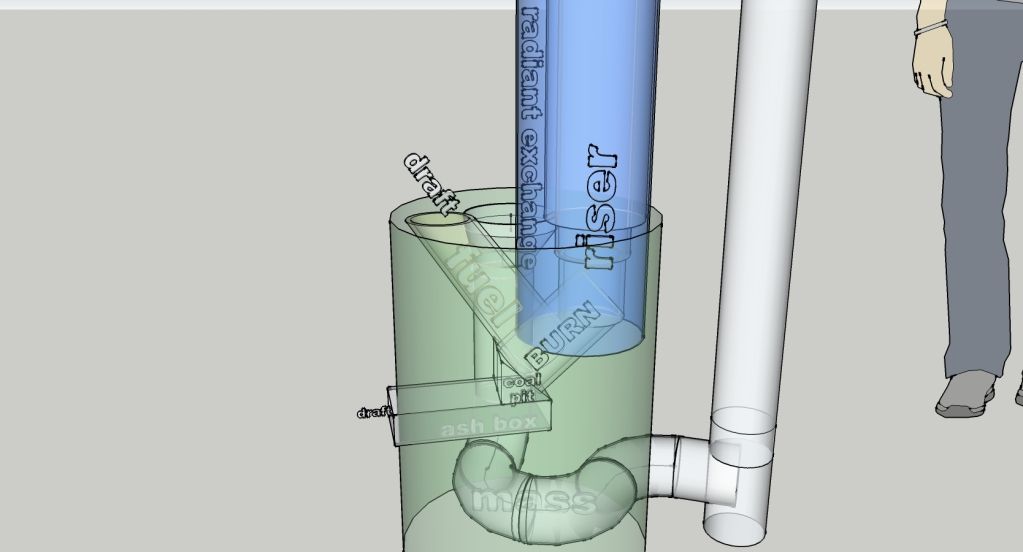 Questions? Comments? WTFs? All are welcome.