posted 5 years ago
Hi everyone my names Andy I found your awesome website about a week ago. I have been reading everything about
rocket stove
. So I built one to boil
water
to make beer. I was wondering if anyone can make a suggestion. I started it and was able to fire it up but all the
wood
I had was wet so I could get a great fire going and it's pitch black out so I could find any stick.
Is this design ok? Do you think it will function well? I still have to insulate it and weld the top and the legs on.
Thanks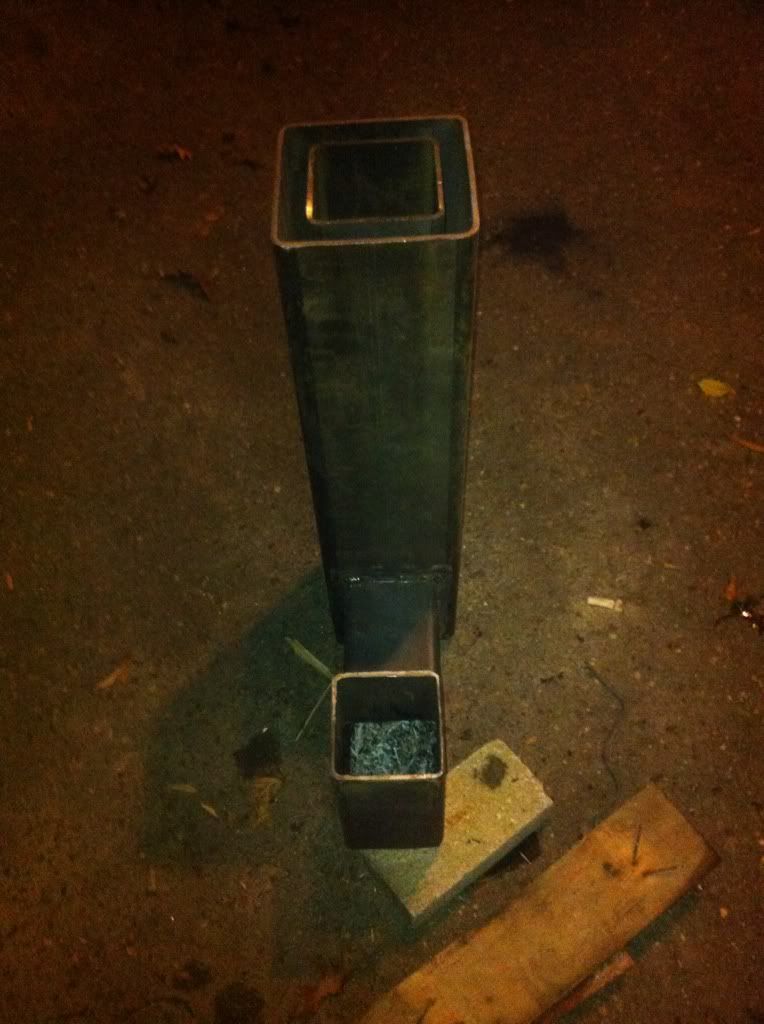 pollinator
Posts: 4154
Location: Northern New York Zone4-5 the OUTER 'RONDACs percip 36''
posted 5 years ago
Insulate , Insulate, Insulate ! What is your C.S.A.? There is a Nascar tradition that said 'run what you brung!' You brought great welding/fabrication skills to your build- very impressive ! Your piping being a dense thermal mass will take a little longer to get up to temps, and start Rocketing, And may be one of those builds helped by a low-speed fan on start-up ! The good news is it
should
last forever !
Success has a Thousand Fathers , Failure is an Orphan

LOOK AT THE " SIMILAR THREADS " BELOW !
posted 5 years ago
Thank you very much! what is csa? Can I use sand to insulate I know I should use perlite? Should I put a ash drop in the bottom? Or should I cut off the L and make it straight and weld and plate 1" high. I couldn't get the fire out of the top unless I burned leafs the fire was sucking inwards and no smoke was coming back the wood I had was wet so I couldn't really give it a great test run I hope with better wood I can use the stove to cook and boil water for beer.
posted 5 years ago
Here is the dimensions. It's all built out of 1/4 steel.
Posts: 54
Location: Eastern edge of the Blue Ridge Mnts. Virginia
posted 5 years ago
From what I see you have used 4" sq. tube? I would (for simplicity) weld a piece of tube to the bottom of the fire chamber and drill holes to allow ash to pass. CSA is cross sectional area. Your exhaust must have the same CSA or a bigger CSA than any other single part in the fire/flame areas of your stove. I am as new as you to this site, but I have a little technical
experience
. If you are using this to cook with, I assume you are not really needing any more mass? Once you put your cook top/barrel over your heat/flame riser I would just be concerned about moving the exhaust and heat away from your cooking area. Increase your exhaust size to say 6" sq. tube and you should,t have much trouble. Your stove is on par with this one...
http://www.iwilltry.org/b/build-a-rocket-stove-for-home-heating/
check it out and I think you will be able to finish your stove and be quite happy with it.
Live long, Live free and Love every minute!
posted 5 years ago
I will post some new pictures tomorrow. I was wondering should I do a 10x10 mass around the 6x6 I was gonna weld a 1/4 plate stainless steel on the top of the 10x10. Do you think it will be enough? Or should I leave the top open to cook on and boil water?
I'm sorry about all the questions
gardener
Posts: 1244
Location: Okanogan Highlands, Washington
posted 5 years ago
Hi Andy,
Thanks for sharing your project - questions is what these forums are all about.
If you are thinking of doing a full
rocket mass heater
, vs. a cooking
rocket stove
, you may need to eventually move away from the 4" metal channel prototype.
6" diameter (5.5" square) is about the smallest system that can push exhaust through a downstream heat exchanger.
Masonry does a much better job of maintaining the different heat in different places that you need for it to siphon/pump. Metal is too conductive, once the system has some downstream drag to overcome. You want the
feed
relatively cool, the horizontal burn chamber and heat riser extremely hot, and then a relatively rapid cooling downdraft area under the barrel.
With proper insulation between the heat riser and barrel areas to maintain the temperature differential (hot up, cool down - since the 'cool' downdraft in the barrel is around 600-1000 F, the insulation has to keep the 'hot' heat riser up closer to 1800-2000 F or hotter. Some well-insulated heat risers get hot enough to forge-weld in the flame path (2800+ F). Another reason we tend to use firebrick rather than steel in this area. There also seems to be some benefit for mixing and complete combustion with the slightly rough surfaces of the brick around the flame path.
That said, I remain curious whether a shorter 4" heat exchanger, with less drag, could be made to work. It might need to be only a few feet long, and in a short building or outdoors so it can have a short 4" chimney, rather than doubling back within the thermal mass like we do with the larger systems.
Many of the 4" systems that people have built so far also had other things wrong with them, like going up and down in size or being optimistically long. So there was additional drag and stagnation to overcome.
I'd like to hear whether it works for you. I'd define 'working' as running continuously for 3-4 hours without smokeback or other problems. If you can achieve that, with a mass on a horizontal exhaust before going vertical to exit the bench/mass, it will be quite something. (If you do reach equilibrium between feed tube and heat riser, or between heat riser and barrel, it usually shows up as a distinct new smokeback problem that begins some time into the burn cycle, like 20 minutes to an hour or so after lighting the fire. Short test-firings that don't bring the whole system up to working temperatures can be deceptive.)
There's no reason the exhaust should be larger than the firebox; the gases are shrinking rather than expanding as they cool. Making them the same size seems to work well with the larger systems. But maybe it would help overcome some of the drag... just watch out for the gas stagnating and failing to flow in an oversized exhaust.
Look forward to seeing more updates,
Yours,
Erica W
posted 5 years ago
Thank you very much!
I picked up a piece of 10x10 box tubing. So should I cut open the side of my stove and cut the 4" out of the middle and keep the 6x6. Or keep it all together and weld the 10x10 around the 6x6 and my plan was to hing the top plate of 10x10 so I could stick a pot on top to boil water and I was going to use a 4" tube to vent it. My plan is to build a nice
rocket mass heater
for my garage this one I was just playing around with and maybe get a little bit of warmth in my garage
Thanks again
posted 5 years ago
I'm going through the same deal. My heater is slated to be a twin to yours. I'm now thinking about what Erica said. So because of the theory sounding good, I'm thinking about cutting my riser off at about 2" and building the rest o the riser out of refractory brick. Say about 28" tall, same as you have in the picture.
posted 5 years ago
you must not be making too big of batches of beer. I am also a home brewer and i know that 5 gallons of wort is hard to bring to a boil. I do 10 gal batches on an all elec setup.
posted 5 years ago
Andy -- looks very neat and well designed. Also, when you install your secondary chamber, it will not only increase your surface are for heat radiation, it will also provide you with a well-suited chamber between your riser and secondary wall that will lend itself nicely to the mounting of copper coils for water heating. My boiler has coils directly around the heat riser (insulated with perlite), and in the secondary chamber, as well. I have yet to see my exhaust gas temp exceed 90 degrees F. I believe that qualifies it as a "condensing boiler". Not a bad thing...
posted 5 years ago
I gave up on making beer with a rocket stove, I'll just stick with my electric brewing, now I know how it works and how well it works I'm going to build me a big one for my shop, thanks everyone that helped me through this