posted 2 years ago
Having had zero luck with dating sites, the right combination of Google search terms has brought me here.
I live on 13 acres in So IN but have a day job in Louisville.
My property is a blank slate, and I have great aspirations, but nobody to share in my hopes and dreams of the farming and family life.
I've planted an orchard, built a
greenhouse
, raised
chickens
and hogs, done lots of gardening...but Im burned out going at it alone.
In my "spare" time Ive built an inspected commercial kitchen attached to the house, and have aspirations at a farm to fork food truck catering the Louisville area.
The
local
food movement in Louisville is taking off like a rocket. There is great potential for my little "farm". There is great potential in me!
Im not here looking for a business partner, I dont need anyone's financial investment.
I am here looking for a life partner. I would love an emotional investment.
If thinking about farming and growing things and raising animals and someday children makes you feel happy, thats a good place for us to start.
Consider reaching out to me at
kensaric@yahoo.com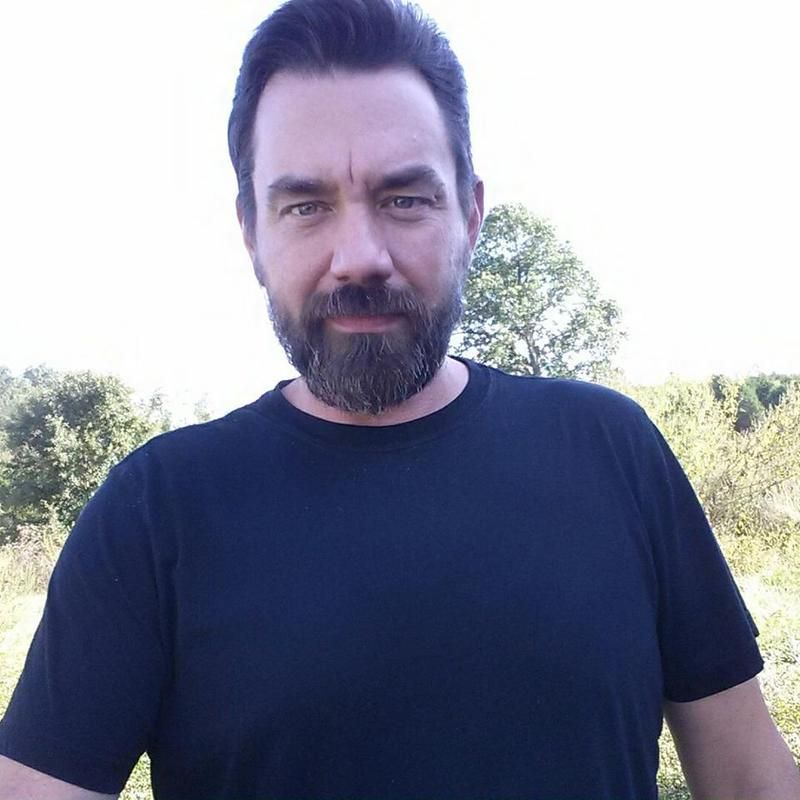 posted 2 years ago
Its been over a month, nearly 4k views, and 2 emails received.
Thank you to the two nice women with whom I did chat a little bit with, but the lack of interest can be a blow to one's
ego
, let me tell you.
Maybe this picture with me and my new glasses will make me look more serious about making some progress this year!
photo.jpg
posted 2 years ago
I don't see why you don't have more comments
I am in Cinci, with situations. If you would settle for a friend, you can check out my post here:
http://permies.com/t/55516/WWOOF-organic-farm-volunteers-interns/Seeking-LiveIn-Farm-Homesteading-Situation
Either way, best of luck to you
Tara
posted 2 years ago
Bump. Still single.
master steward
Posts: 4896
Location: Pacific Northwest
posted 2 years ago
I'm very happily married, but I got to say, Single Ladies, look at that clean laundry room! This looks to be a man you won't have to clean up clothes after, and that's a huge plus! He can build, care for animals, grow things, and pick up after himself. That's pretty impressive!

Also, I've noticed a lot of people come on here looking for significant others, but I don't see too many success stories. I don't know why that is. Maybe they just keep their relationships to themselves, but it might be because everyone is following their own dreams and homesteads, and getting in a relationship often means leaving their homestead for another's. Anyway, just so you know, it's not just you that it seems this is happening to!
pollinator
Posts: 247
Location: Unincorporated Pierce County, WA Zone 7b
posted 2 years ago
but it might be because everyone is following their own dreams and homesteads, and getting in a relationship often means leaving their homestead for another's. Anyway, just so you know, it's not just you that it seems this is happening to!
No, it's not and it seems the more independent and capable a person is, the harder it is to take the time/effort to connect with new prospects. Or, in my case, the ones I have been interested in are so wrapped up in their own projects that getting their attention has been impossible. And given how wrapped up I am in my own, I can't really get all that upset about it. After the internet told me that I
should
basically only be dating lawyers, engineers, or members of the military, I decided that maybe the algorithms weren't for me.
Point being, your profile looks nice. Don't let the lack of responses indicate a lack of your value.
Don't let perfect be the enemy of good.
posted 1 year ago
Having the same problem mate...I used to live out in Washington and the women there were much more interested in homesteading then they are back here in the Midwest. I had no luck on the dating sites either but I'm not the tall or handsome type, 80% of them just want free meals/drinks, help paying the bills at their house or taking care of their kids. Get a few horses...the ones that call themselves country seem to like that around here (Michigan). I even have the same
plans
of a commercial kitchen someday. Best of Luck!
Posts: 235
Location: West Midlands UK (zone 8b)
posted 1 year ago
I feel kind of guilty now for stopping by and not posting, but "it's not you, it's me..." as in I have kids already, too old to start any more, and I'm the wrong side of the Atlantic! But I'd echo what others have said, can't see anything wrong with your profile. Maybe it'll never happen. Maybe it'll happen next week. Enjoy life in the meantime...
posted 1 year ago
Fellow Hoosier, like Babe Ruth.....keep swinging at baseball.....perhaps you'll hit your homerun. Turkey Run, Brown County, IN contrasts with Mount Baldi, Indiana Dunes where I grew up.
Beef
up your social media networking may help.
posted 1 year ago
I will admit, if I wasn't happily married for 35 years plus, you would rate a second look. Don't give up dude. I'm sure you will find someone. This will also bump your post up to current.

I think sometimes it's fate, serendipity, and the lightning bolt from the blue, on how you connect with THAT person. Self and spouse were certainly like that. Making our way on our two acres in town in rural nowhere here. Big thing, relax, be yourself, and the bolt hopefully will hit you too. Please update this as well, it will help in getting it in front of more....
Posts: 70
Location: Baton Rouge, Louisiana
posted 1 year ago
Man, people think I'm crazy when I tell them this...
I'm 38yrs old, dirt poor, live with my parents, and have no desire to be status quo...my life is great, tons of volunteering, tons of
gardening
, tons of helping people...but as you can see from the things I wrote, I have almost nothing to offer any woman that's looking for something long term and serious. My "stay-at-home-farmer-teacher-dad" fantasy grows more distant by the year it seems...haha!
That said, I had great luck meeting women on "Millionaire Match". I don't pretend to be rich there, in fact I am very blunt about my life and lifestyle and my desires in a person. The women I talked to are from all over, they are neat, most are mid-30's to 40's and divorced, most have kids. 75% of them are "basic b****es", but 25% of them are really nice women seeking at least good conversation from someone that is interesting and nice. The women outside of the US are looking to move here in many cases (whenever their profile is in English, basically.)
You're a handsome dude with a better job than me, with
land
, and closely attainable goals. Don't bother becoming a member unless the $70mo is no big deal to you...if you become a member you'll get 100x more attention.
I got lucky and a girl messaged me on Instagram, just happened to be a girl that I had a crush on and she lives less than a mile away, so that's going well so far!
Wishing you the best and joyful love.
www.yardenofeden.org
Where Philosophy meets the Farm: an approach to sustainable living.

Posts: 70
Location: Baton Rouge, Louisiana
posted 1 year ago
About meeting people on Millionaire Match:

I met one of my best friends on there 4 years ago, we've met in person too, she's an amazing and wonderful human being. We could be in a relationship but I don't feel that level with her, though I love her dearly and know its mutual and we tell one another that. I joined again 2 months ago, not as a paid member, and was talking to 6 (not all as romance interests) people before I met the girl I'm now dating.

If you decide to join and want tips on how to navigate let me know, got pretty good and clever with it.

The weird thing was that I wasn't really looking for a girlfriend, just wanted to talk to interesting people and to keep that attractive feeling up...was pretty happily single then *OH MY* someone hooked me!
www.yardenofeden.org
Where Philosophy meets the Farm: an approach to sustainable living.

posted 1 year ago
Thanks for the continued interest in this post.

I did meet a pretty fantastic woman from this site and we spent some time living together but ultimately parted ways.

Regrets, I have a few, but then again too few to mention.


pollinator
Posts: 250
Location: Colville, WA Zone 5b
posted 1 year ago
For what it's worth, I will say that it seems to be kind of a crapshoot on here. This is a relatively small venue (the singles forum here on Permies) and it's also an international site so while people will look, the chances of it being someone in your area are pretty low. And the curse of being a permie is we tend to be independent and often have our own land!

I'm not on the market just yet (not fully finished muddling through my divorce yet) but I can tell you it's going to be tough because I have my own property, my own home, I have kids, and I'm very set and established where I'm at and I suspect that a lot of people are in that same psition...
Just me and my kids, off griddin' it - follow along our shenanigans at our YouTube Uncle Dutch Farms.