posted 11 months ago
Just a mom, trying to do best by her kids.
posted 11 months ago
I totally don't have the skill to make a cake like this
and so tacos seemed like a lot easier idea, but I just don't know what type to make!
Just a mom, trying to do best by her kids.
posted 11 months ago
Reaserch suggests that gir bot like "crazy tacos"
master steward
Posts: 10641
Location: Left Coast Canada
posted 11 months ago
Who hear noticed that gir now has a bumper sticker (blue picture next to their name) saying he loves tacos?
posted 11 months ago
I honestly have never watched Invader Zim (though, my three-year old and I watched Paul's clip. My son wanted to watch it over and over and over again). But, anyway, since Gir seems to be our mascot here, I did some research on the Invader Zim wiki. It appears he likes
bacon
(so much so that he put it in some soap...though since soaps used to be made with lard,
bacon
in the
soap
isn't too far-fetched), as well as
pizza
, and the burritos, tacos, salty lemonade and
poop
soda sold at
Krazy Taco
.
The wikia says that Krazy Taco is based on Taco Bell, so I guess that rules out authentic Mexican tacos (though Gir might like those, too). Since Gir likes bacon, pork tacos would probably be enjoyed by him. Maybe even add some bacon bites to make them "crazy"!
Other fun things for your party might be some bacon
soap
.
This bacon soap
looks affordable and fun, even if it doesn't have actual bacon in it. Having a bar in the bathroom might be a hit with the kids, though! I know you said you weren't good at cooking, but I did find a recipe for making bacon soap (
https://sustainablescientist.net/2013/03/04/making-bacon-soap/
) if anyone else is interested in putting their bacon grease to use in honor of Gir Bot.
You could also get some soda or kombucha and put labels on it to say "Poop Cola." Or, wrap chocolate bars with labels to say Poop on them, like this: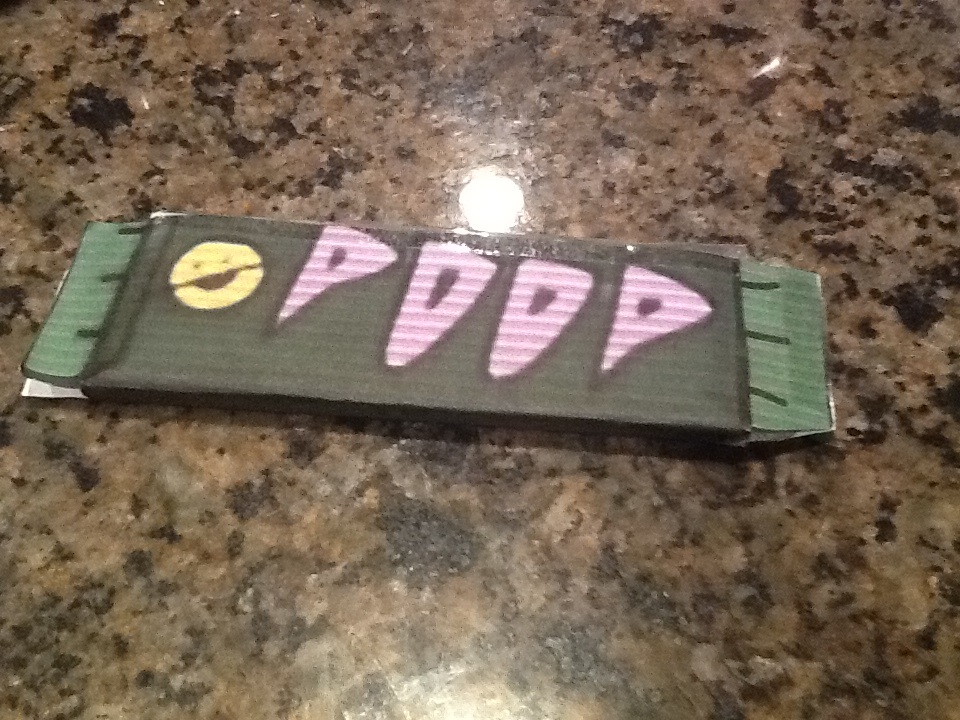 This
appears to be the templet for the above candy bar, though I'm sure just taking some green cardstock and writing on it would work, too.
Even more affordable, you could make some lemonade and add some salt to it, to make "salty lemonade." I went looking for recipes, just for fun, and found that Salty Lemonade is a traditional Vietnamese drink, also called chanh muoi. I found a recipe here:
http://wanderingchopsticks.blogspot.com/2007/06/chanh-muoi-vietnamese-salty-lemonade.html
I hope that helps, and I really hope your son's birthday party goes well!
posted 11 months ago
Oh my goodness, I just found these tacos! They are too cute! I don't know how much time you have, or how many guests, but maybe just make one for the birthday boy, and everyone else gets to build their own tacos, with either green spinach shells or yellow corn shells?
The recipe:
http://nerdist.com/invader-zim-tacos/
posted 11 months ago
I think there is a subtle joke that is being missed here ....

So there are two drinks: "poop" brand soda pop and "salty lemonade" .... I suspect that this is suggesting "poop and pee".


gardener
Posts: 1504
Location: Virginia (zone 7)
posted 11 months ago
Gir like his tacos byte size.
Great post Nicole! Lots of fun ideas there. Michelle, I hope the party turns out girrrreat!
With forty shades of green, it's hard to be blue.
Garg 'nuair dhùisgear! Virtutis Gloria Merces

posted 11 months ago
Bacon in the soap:
This turns out to be undesired. As a result, zip gets a big pimple. And it turns out that people cannot help but stare at the pimple and the pimple has hypnotic powers. In time, Zim gives the pimple clothes and proceeds to hypnotize people:
In time, pustulio grows and grows ... and there is a predictable, gross conclusion to the life of pustulio.
posted 8 months ago
Being on permies today made me wonder, "How would Gir Bot would celebrate Christmas?" Which, of course, reminded me of this thread. How did the party go? Did everyone love their tacos and the Gir Bot theme? I hope you and your family had an awesome party, and wonderful holiday season, too!