posted 5 years ago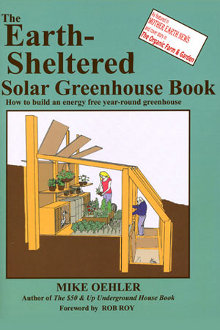 Summary
The Earth-Sheltered
Solar
Greenhouse
Book teaches you how to design and build a
greenhouse
that is six times more effective than the common
greenhouse
.
Most greenhouses rise up into the air where they lose heat at night and in the winter from four sides and the roof, while gaining heat from just the earthen floor.
The greenhouses described in this book overcome this problem; and the book explains how to build an earth sheltered
greenhouse
, using
mike oehler
's PSP building system, which will allow one to grow vegetables year round without supplemental heat.
You can now purchase the digital download of The Earth Sheltered
Solar
Greenhouse
Book here. Pay with Paypal and the link will appear at the bottom of this post. Enjoy!
Where to buy the physical book
Related Books and Magazines
The $50 and Up Underground House Book by Mike Oehler
Related Podcasts
Paul Wheaton Permaculture Podcast 091 - WOFATI Eco Buildings
Paul Wheaton Permaculture Podcast 215 - Glenn Kangiser on Oehler Structures
Related Videos
Related Articles
Wofati eco building Article
Related Threads
The Official Mike Oehler Thread
Trench greenhouse thread at Permies
Wofati and earth berm forum at Permies
Greenhouse forum at Permies
Related Websites
Mike's Website -UndergroundHousing.com
COMMENTS:
posted 3 years ago
I think this book is a surprisingly good read. The cover is simple, but tells what you are about to be reading clearly enough. Once inside, the tone is very conversational. I am not sure what I expected precisely, but I somehow expected it to focus more on numbers.
This is not to say the book doesn't handle the science associated with the design well, but that you never feel like someone is just reading a list of parts or trying to see how quickly they can make the reader go cross-eyed with their math skills. Instead it feels more like listening to a very real person telling you how they came up with their idea and what they did to make it a reality.
As the chapters progress, you see how each iteration of the idea grew and expanded into an impressive working design. You see each step of logic and get to follow it instead of the final product as many books do. All too often a book will spend half of the first chapter on the idea and the rest of the book just showing aspects of the finished product. That's not good or bad, but it is different. I suspect that this style will resonate with a lot more people.
You read one aspect at a time, get to digest it and really understand before moving on. I believe that when you then go to apply the ideas, you can find much greater success. Without a 'this is the exact way' feel, the reader can be more comfortable adjusting the design ideas to suit their own
land
and needs.
Most appealing to me was the tone of the book. As I mentioned, it is somewhat conversational and for me, that drew me in and made me feel like I knew the author personally. If I have one complaint about the book it is that I don't know if someone who finds it is going to read it unless they already have an interest. The cover is fairly plain, despite being informative and if someone just flipped through the book I can't imagine any one area is going to catch their eye. If they do take the time to read a page, I am sure the tone of the author would draw them in however.
Having said all this, I am going to have to say I give the book 9 out of 10
acorns
. Excellent read in my opinion and tons of useful ideas in there.
posted 3 years ago
Just an FYI: You can now get the Underground House Workshop and Survival
Shelter
Seminar 3 DVD set PLUS The Earth Sheltered Solar Greenhouse Book PLUS The $50 and Up Underground House Book for only $55!
Click Here For More Details!
These books are both HALF OFF what they normally cost!
posted 2 years ago
Oh and
Here
is the physical version of special #3.
Posts: 514
Location: North-Central Idaho, 4100 ft elev., 24 in precip
posted 2 years ago
I give this book 9 out of 10 acorns.
Mike's style takes a little getting used to but his ideas are ingenious. The entire set of books and DVD's was given to me as a
gift
years ago before I'd even heard the word
permaculture
, much less thought about implementing it into my life. The Greenhouse book is well organized and easy to read (a little less scattered than his Underground House book, and a lot less so than the DVD presentation, although I think they are all great!). Get them if you have the means, you won't be sorry. I used many of the concepts Mike taught in this book in my more conventional hugelkultur/greenhouse implementation(link in my signature line to an article on it's construction and my results so far). The sunken walkway/cold sink makes perfect sense and
should
be a part of every greenhouse build. I can't wait to get my hands on a nice piece of south facing slope to see what a proper install will do!
pollinator
Posts: 1793
Location: Wisconsin, zone 4
posted 1 year ago
I give this book 9 of 10 acorns. I absolutely loved this book. Simple, well explained, and entirely readable, I have read it cover to cover a number of times. Mike hit it out of the park with this book. Anyone should be able to build a good functional greenhouse after reading this book, for little cost. It will not allow you to grow food year round in my climate, but it will extend your growing season a great deal with no heating costs. I love the way Mike explains the thought process that
led
him to the building techniques in this book. Mike will be sorely missed.
"People may doubt what you say, but they will believe what you do."
No matter how many women are assigned to the project, a pregnancy takes nine months. Much longer than this tiny ad:
Binge on 17 Seasons of Permaculture Design Monkeys!
http://permaculture-design-course.com