posted 1 week ago
In 2018, near Missoula, Montana,
wheaton labs
will be hosting a
new
permaculture design course
! The course is designed for hands-on learning for people low on funds but with plenty of time. We are calling it the Peasant
permaculture design course
.
Tuesday, May 22 through Thursday, June 21, 2018.
View the official Peasant
Permaculture
Design Course page
HERE.
Each day of this course involves four hours in the classroom and another four hours of hands-on project work at Wheaton Labs, an experimental
permaculture
space in the beautiful Rocky Mountains.
The
peasant pdc
will have a strong focus on projects and building hands-on
experience
at Wheaton Labs. The course will be taught by Erica Wisner, with assistant Lily Elison, alongside numerous guest instructors from around the region. You will learn a plethora of different skills such as the identification of useful plants, making of healing salves, and how to apply Permaculture to everyday life. You will also become adept in numerous subjects such as soils,
water
, community living, forestry, building, and appropriate technologies.
A
PDC
is a life changing event for both students and instructors. It can be one of the most intense learning and networking experience of your life. Surrounded by like-minded people, you will learn the framework to thrive in a rapidly changing world. You will also develop the skills to heal damaged landscapes while providing for your own needs.
The Peasant PDC will be roughly 300 hours of total immersion into permaculture and communal living over the course of 33 days.
In this course you are designing from the get go. Every new piece of information, every new concept, is delivered in sequence so that it is immediately relevant and applicable. Your design unfolds in step with the day's subjects. This helps the learning to really take root in your mind.
The Peasant PDC is a training ground for new PDC instructors, and for those who want an in-depth, hands-on experience. Days will be full. Plan for 10 to 12 hour days, split between
Class
time, Project site work, and Self-care activities at the individual and group level.
COST:
Purchase your tickets
HERE!
Early Bird price:
$480 January to February
Regular Price:
$700 March to May
Purchase your tickets
HERE!
Instructors: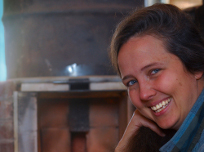 Erica Wisner - 2018 Peasant PDC Instructor
Erica is a science and
art
educator, curriculum developer, writer, illustrator, researcher, and
rocket mass heater
innovator. She loves making things from scratch - anything from blueberry scones to the
oven
itself. Erica is a skilled educator and project coordinator, with over 20 years of experience building teamwork and leading hands-on learning. Her and Ernie have taught numerous workshops on natural building and rocket mass
heaters
. Erica has written multiple
books
on rocket mass heaters, fire making, and survival
shelters
. She is featured in many videos, documentaries, and
podcasts
on rocket mass heaters.
Lily Elison - 2018 PPDC Instructor
Lily is a 4th generation Montanan who promotes
local
resilience in the Pacific Northwest. She took her PDC in 2013 here in the Montana Rockies before heading to Costa Rica for training in massage therapy. Lily is the steward of a ¼ acer community food forest in Missoula, MT called the Community Collision. She also manages her own massage business, Health and Harmony located within the Missoula Academy, a shared community space. She worked at the Place of Gathering near Dayton MT, Medicine Pouch Farms outside of Bozeman MT, Wheaton Labs, and many other private operations in Montana, Washington and Oregon. Last year she was on the board of AERO (Alternative Energy Resource Organization), a Non-Profit working to promote
sustainable
agriculture and energy in Montana. Last year she also received a sustainability award from ASUM (Associated Students of the University of Montana) for her work in the Missoula community. Lily graduates this spring from the University of Montana's Geography department with a degree in Community and Environmental Planning. Lily is now working full time to insure Montanans have healthy and enriching lives through localized living.
Fred Taylor - 2018 PPDC Project Instructor
Fred Tyler is the
land
manager at Wheaton Labs. Originally from New Mexico, Fred has moved around the country many times, settling the longest in Minnesota (15 years). Fred still has ties to New Mexico and returns there every winter for a business he has in the pecan harvest. Fred has been at the Labs learning permaculture through hard work since May of 2015. He runs the
permaculture bootcamp
, where people can gain the skills and experiences needed for homesteading in exchange for workshops or land. He completed a worktrade with Paul for two acres of land on which he is excited for the chance to build a house and express his vision in seed and soil.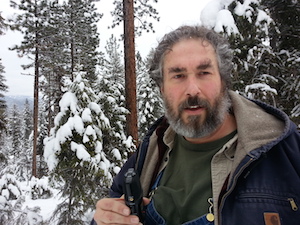 Paul Wheaton - 2018 PPDC Guest Instructor
Paul Wheaton, the bad boy of Permaculture, was proclaimed by
geoff lawton
in 2012 the Duke of Permaculture. He is the creator of two on-line communities. One is about Permaculture, permies.com, and one is about software engineering, CodeRanch.com.
He is a powerful advocate of
sepp holzer
's techniques, which a recent study showed to have the ability to
feed
21 billion people without the use of
petroleum
or irrigation. He also promotes the use of
hugelkultur
, which sequesters
carbon
and eliminates the need for irrigation, and polycultures, which reduces the need for pest control and improves the health of plants. He wrote several articles about
lawn care
, raising
chickens
,
cast iron
, and
diatomaceous earth
. Paul regularly uploads permaculture videos and permaculture podcasts.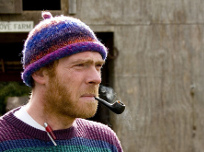 Ernie Wisner - Guest Instructor
Ernie is a botanist, educator, writer, researcher,
rocket mass heater
innovator, natural builder, and boat aficionado. He served in the merchant marine, Navy, and fisheries, and has tremendous experience with hydraulic and
hot water
systems. His family's sea time stretches back "since Noah was a babe," all over the 2/3 of our planet from which quitters can't walk home. Ernie is semi-retired due to a disabling injury, but still makes time for the occasional workshop or fascinating prototype project. He co-authored multiple books with his wife, Erica, and he is featured in many videos, documentaries and podcasts. Ernie is a wealth of knowledge; there are not many topics on which he does not have an opinion.
Visit the official page
HERE.
Purchase your tickets HERE!
COMMENTS:
Posts: 15
Location: Chicago-land Area, Illinois, USA
posted 3 days ago
Man! I wish I were free to do this! This sounds super awesome!!!

Quick question:
The description doesn't state whether meals will be provided (i.e. included in the cost) or whether they will be extra. I saw that there will be people that will need to help with prepping the meals, but the description doesn't indicate if this is included in the cost. Could you please clarify?

Just trying to help make this a huge success!

--matt
posted 2 days ago
At the very bottom of the page it says
Participants will be responsible for their own food throughout the course. We hope you share our preference for all-organic foods, and encourage you to bring along your favorite staples or your own local produce if you can. Past groups have organized potlucks and communal meals, kitchen rotations, and treats. Sometimes individuals opt out for reasons of diet or budget. Those with special diets, please bring what you need.
Is there another part of the page that confounds that?
I think that that key is that, officially, food will not be provided. But! I do know that Lily is already lining up some
organic
staples. Not sure if it will end up being oodles of food, or if it will be just a little. Lily also
plans
to teach folks a bit of foraging so that some of the food that students eat will come from foraging. I know that I am donating a five gallon
bucket
of organic peanut butter (we ordered too much peanut butter for an earlier event). I also get the impression that there might be some other folks stopping by during the event that will want to make sure that there is oodles of food for the students and boots - it's great to be loved!
I kinda get the impression that this might be just the beginning - there might be lots more food.
So, officially, food is not provided and all students
should
prepare to feed themselves. And, I know for sure, that there is at least a little food that will be here. And there might end up being more than a little.
Plus, a big part of the work being done during the peasant pdc is to grow the food so that there will be lots of food for next year's peasant pdc.
I know that that takes everything from one flavor of confusion to a totally differerent flavor of confusion. I hope it helps.
gardener
Posts: 484
Location: Whitefish, MT
posted 2 days ago
"Why 'Peasant' PDC?"
Well, one of the first things most people notice about a conventional Permaculture Design Course is the price tag. $1200 to $5000 for a 2-week course, or 8 to 10 weekends. There are good reasons for those costs - but it still puts these fundamental land-care and people-care trainings out of range for a lot of folks who don't have a high-status job or independent wealth.
Another word for peasant is "Yeoman." (We love the Yeomans' Plow which you'll learn about in the course, but would hardly feel right stealing that name.) In a traditional land- and status-based economy, these folks are a cut above slaves and pages, but their lives are based on service and productive skills, not cash. They are folks who apply some cleverness and a lot of elbow grease to building solid skill, the ability to survive and bring forth bounty from the land.
Whether you own your land like a yeoman or some peasants, or rent like other peasants and tenant farmers, it's a place of humble beginnings but fundamental economic importance.
To some people, "peasant" has connotations of poverty or primitive living conditions. The living will certainly be primitive for this course. And while folks who can afford to take 5 weeks out of their lives and pay a few hundred bucks for a self-enriching course are not exactly poor, we did design this course format with the idea that it would be more affordable for folks who may not yet own their own land or have a high-paying job.
If the word "peasant" sounds insulting, think of who you imagine using it that way.
"Ignorant Peasants!" Does that person have an expensive and useless pet? a lot of odd-looking jewelry? an annoying and pompous self-expression? and no clue about where the food on their plate actually comes from?
Do you want to be that person?
Would you even want to spend much time with that person?
Or do you want to be someone with skills to fall back on?
Not just as a wage slave, but to be able to bring forth abundance from the stores of nature itself?
Folks often come to their first permaculture event or PDC because they want a more wholesome, sustainable, connected-to-the-dirt lifestyle. Some of these folks are highly educated, good wage-earners, but are sick of the rat-race. They could easily drive a fancy car and sneer at beat-up farm trucks... but instead, they find themselves envying cool old
tools
and the people who know how to use them. We are uneasy owing our allegiance to a system that offers money and "status" at the expense of impoverishing our life (and life on earth).
It's become kind of an inside joke among
city
folks who study permaculture that it is "Peasant Training." Schools give us the basic skills to compete for wages, and wealth gives us the basic necessities of life without much effort. But we dream of going back to a more fundamental definition of "basics" - growing our own food, building our own shelter, co-creating our own communities, and aligning our efforts with greater awareness to foster a thriving natural world. When you live that way, connected with the greater whole while living in the immediate moment, money and status are almost afterthoughts.
We thought about calling it the "Project PDC," or the Extended Format PDC. While those are true descriptions, they just didn't grab us the way "peasant" did. We hope you get what we mean.
If not, don't let the name bother you. The course certificate will simply say "Permaculture Design Certificate" and look all fancy and professional, a nice status symbol for you, your family, or your business team.
Only you and your classmates will know that it was earned with boots on the ground and elbow grease, as well as brains.
Josiah Wallingford - PermaEthos.com
posted 9 hours ago
Does the web page look okay? Any typos or grammatical errors? Any way we can add some polish to it?
pollinator
Posts: 222
Location: Sierra Nevadas, CA 6400'
posted 6 hours ago
On the webpage, there's some conflicting information on pricing:
For your participation on the site projects, the price has been dropped from $1000 to $550, and course has been extended from two weeks to five.
Right Now (through February) Early Bird Price - Only $480
Regular Price: $700
The mountains are calling, and I must go — John Muir
posted 6 hours ago
Kyle Neath wrote:On the webpage, there's some conflicting information on pricing:



For your participation on the site projects, the price has been dropped from $1000 to $550, and course has been extended from two weeks to five.





Right Now (through February) Early Bird Price - Only $480
Regular Price: $700
I took that little bit f text out until we can word it a wee bit better. Thanks for spotting that! Here's an
apple
!