I think if we get a lot of input from everyone here, this could be a super valuable resource for figuring out which
fruit
trees
and berries will grow best in your area.
You are in the right spot if you are in a
Oceanic/Mediterranean Climate Zone 8
- more average temperatures, not too hot in the summer or cold in the winter, usually has rainy winters and dry summers.
(source)
If you think you are not in the right spot or you want to check your climate zone and hardiness zone for sure, click on the main
thread
to find out and get additional information
Fruit Trees and Berries that Grow Best in Your Area Naturally
and it will have a link to your specific climate zone and hardiness zone for you to post!
Familiar places in this area...
Salem, OR, USA
(source)
This list won't be perfect, as there are so many different factors that affect a fruit tree's growth, but it
should
be a good help by seeing which trees do well for others in a similar area who have had success with a particular variety. By growing trees that are already slightly adapted to your area, saving the seeds, and growing new fruit trees, you could help create many more new varieties that are very adapted to your specific area!
Hardiness zones are one important factor and show the average annual minimum temperature for a location. You can click on
https://garden.org/nga/zipzone/index.php?zip=27822&q=find_zone&submit=Go+%3E
to find your exact hardiness zone, and there are also links to lots of other good information.
(source)
Fruit tree nurseries usually list hardiness zones for their fruit trees, but I've often found they tend to exaggerate the growing zones and are often unreliable.
They often leave out one very important aspect...
climate zones.
What is a climate zone you may ask?
A climate zone takes other important things into consideration, such as humidity and rainfall. There are many different subsets and climate zones, but I believe this
website
does a great job of simplifying it into a few main climate zones of A-D below, and I'm adding Oceanic/Mediterranean due to their unique climate...
A) Tropical- hot and humid, average temperatures are greater than 64°F (18°C) year-round and there is more than 59 inches of precipitation each year

B) Dry- dry (not humid) and little precipitation

C) Temperate- warm and humid summers with thunderstorms and mild winters

D) Continental- warm to cool summers and very cold winters. In the winter, this zone can experience snowstorms, strong winds, and very cold temperatures—sometimes falling below -22°F (-30°C)!

E) Oceanic/Mediterranean- more average temperatures, not too hot in the summer or cold in the winter, usually has rainy winters and dry summers (source)


If you live in the US, you should be able to tell your general climate zone based on the map below and the descriptions above of what it should be like there.
I couldn't find a great general map for Canada and other countries, but you should be able to generally tell from the descriptions above. If you want to find out your exact climate zone, you can check out a cool map here
World Climate Zones
to find your zone with links at the bottom of the page based on the color, that you can click on with detailed information of your climate zone.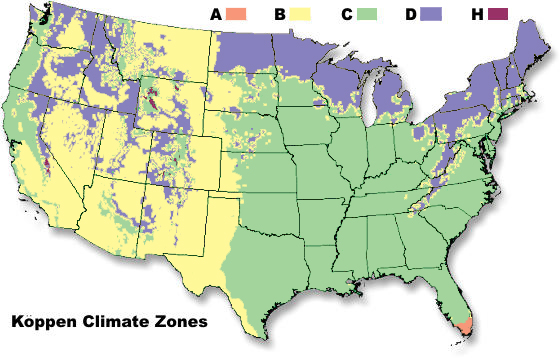 (source)
This should be a huge help to others with that same climate and hardiness zone to help them decide what to plant!
If you could post your general location in your state or country with your reply, that would be an awesome help!
The trees should be able to grow well naturally without extensive disease or pest control.