Posts: 176
Location: Washington Timber Country
posted 2 years ago
It's the end of summer. Time to can up all the
tomatoes
you can get your hands on for the long winter ahead. I put this in cooking rather than
food preservation
because I'm going to gloss over the actual canning part - I don't want your botulism on my head. Just do it the way granny taught you and you'll be fine. My focus is the easy, low-effort way I make the sauce itself by roasting everything in the
oven
. No boiling over, no burning on the bottom, minimal stirring.
Preheat your oven to 350. Start by coarsely chopping about 6 lbs of tomatoes (cut out the stem ends and any ooky bits) and an onion. Put everything in a big lidded roasting pan and add a few garlic cloves, a couple tablespoons of salt, a glug of olive oil, and a glug of balsamic vinegar.
Put the lid on the roaster and bake for an hour or so. When you open it up, you'll have something like this: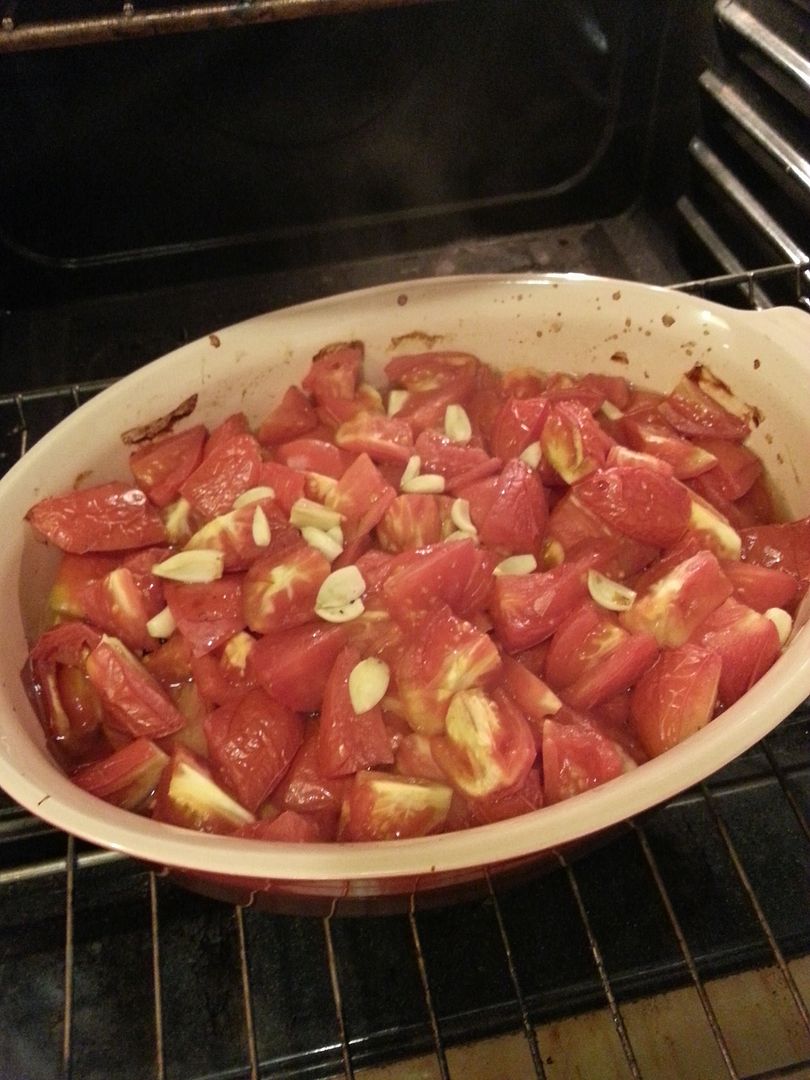 Doesn't look like a lot has changed, but give it a stir and it's more like this (cameo by the
spoon
my sweetie made me):
Leave the lid off this time, and give it another half hour in the oven to break down and condense.
Now it's time to add a handful of fresh basil or herbs of your choice and hit the whole thing with the immersion blender. You could also blend in batches in a regular blender, or maybe do a coarse mash with a potato masher, but I like my tomato sauce pretty saucy and smooth. Give it another half hour with no lid in the oven.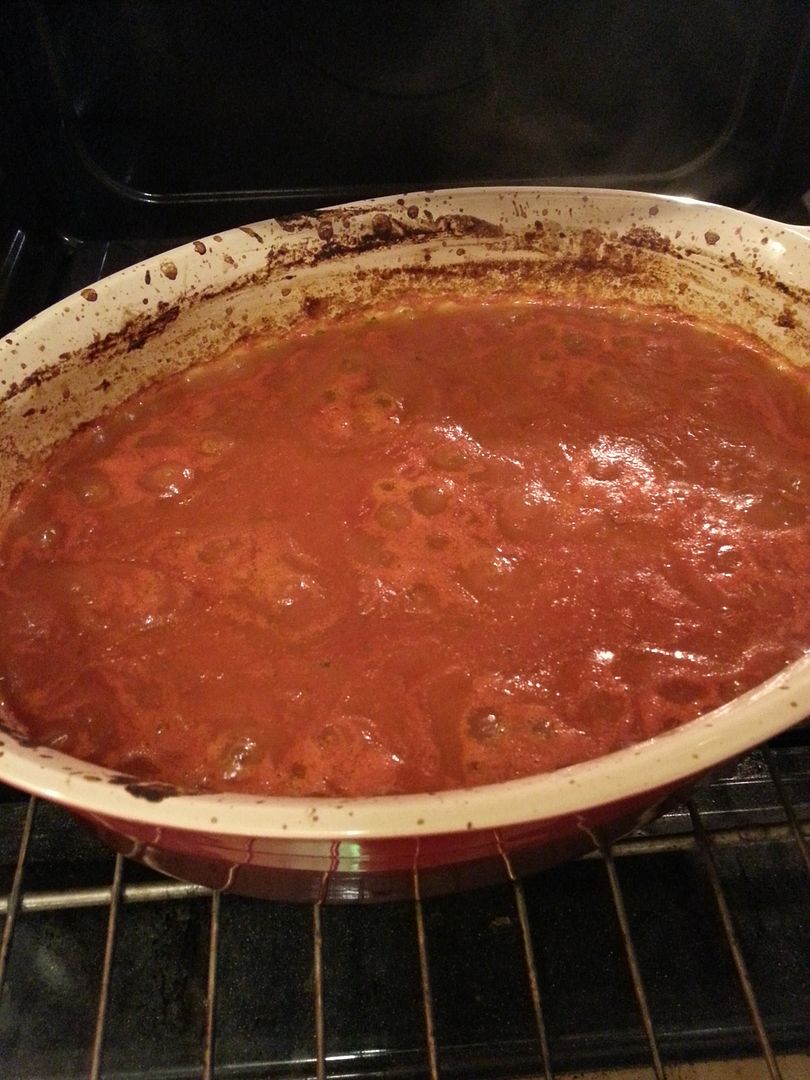 Now, time to taste and check your seasoning levels. Adjust as necessary, remembering that herbs can become more pronounced in storage. Probably better to go light now and add more when you cook. It's also time to check pH because some tomatoes can teeter on the edge of safety for
water
bath canning, and you did add some onion and garlic and stuff. I use cheap litmus paper and just barely touch the back of the paper to a little sauce on a spoon to wet it. You don't want the color of the sauce itself confusing your reading. You want a pH around 4. If you're higher than that, add acid in the form of vinegar, lemon juice or the like a little at a time until you're where you want to be.
Give it one last half hour in the oven to condense a little more, and for the seasonings to blend in. In the mean time, get your canning kettle boiling and your jars ready. When it looks like this, take it out of the oven, give it a good stir, and can the way granny or the internet taught you.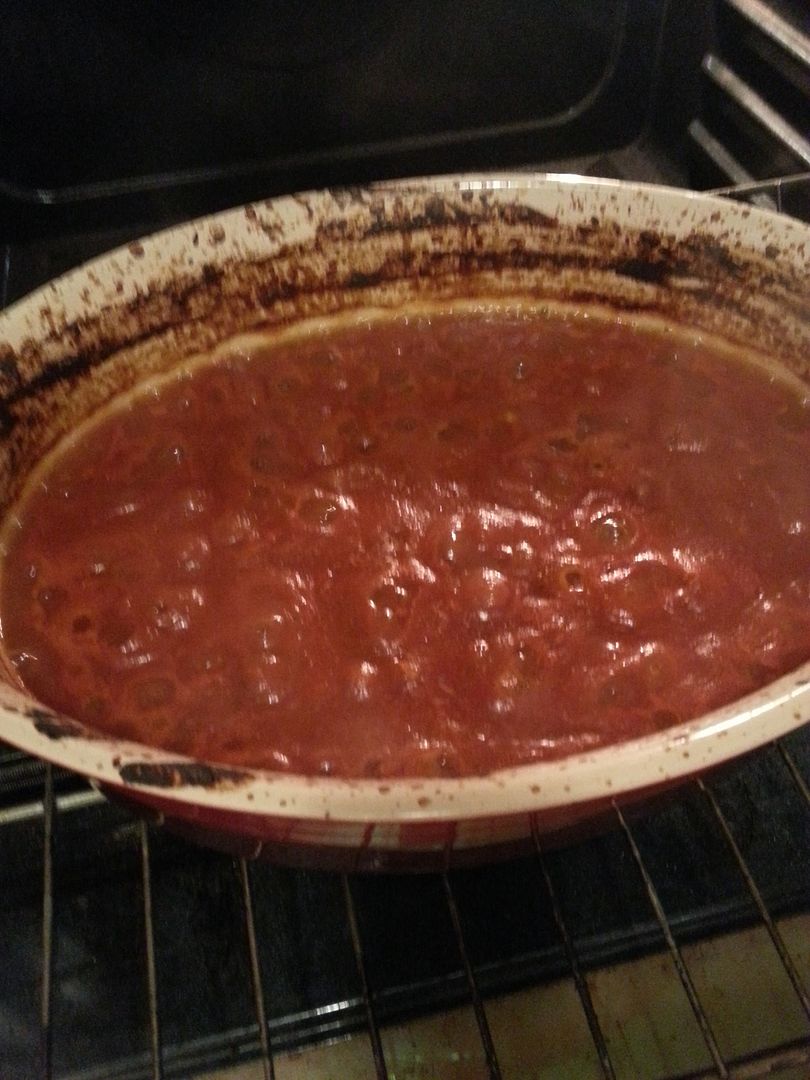 Makes about 5 pints.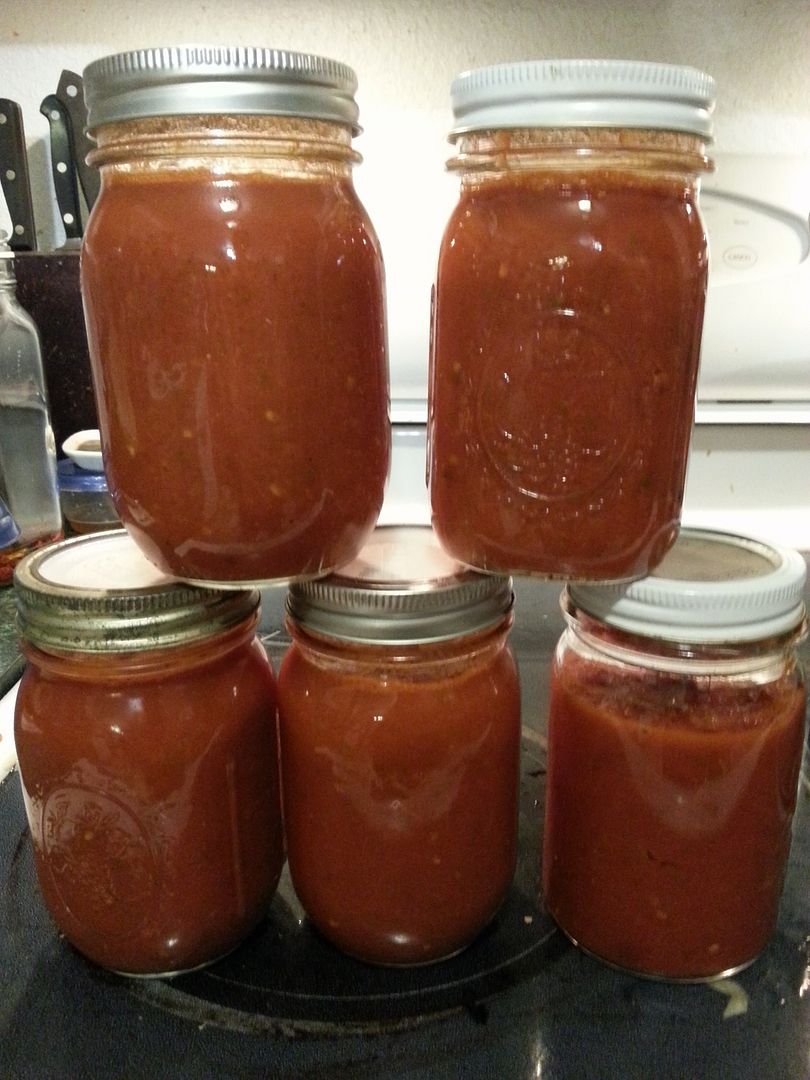 So yes, the cook time is about two and a half hours, plus canning time, but you only have to get up four times to tend to it and you don't even have to think about it between timer beeps.
Posts: 4
Location: Watford, UK
Posts: 176
Location: Washington Timber Country
posted 2 years ago
My only concern with bell peppers would be one of pH. If you puree them in, you'll probably need more acid in the mix to keep the pH around 4. If you leave them in chunks, I would worry about whether the acid in the sauce was fully permeating the chunks. Probably best to go for a pressure can if there will be chunks.

*I am not a food scientist, just a home cook*