What You Get with PIE
Superpowers on your permies.com account
Discounts and special offers from vendors that want you to have PIE
Access to a private forum just for people with PIE
A collection of freebies just for people with PIE
Your account is highlighted with a piece of pie, showing that you are part of the inner circle
ability to give PIE to others
ability to buy certain items with PIE
Access to special discounts with our vendors
Here's some of the vendors offering discounts to our PIE members: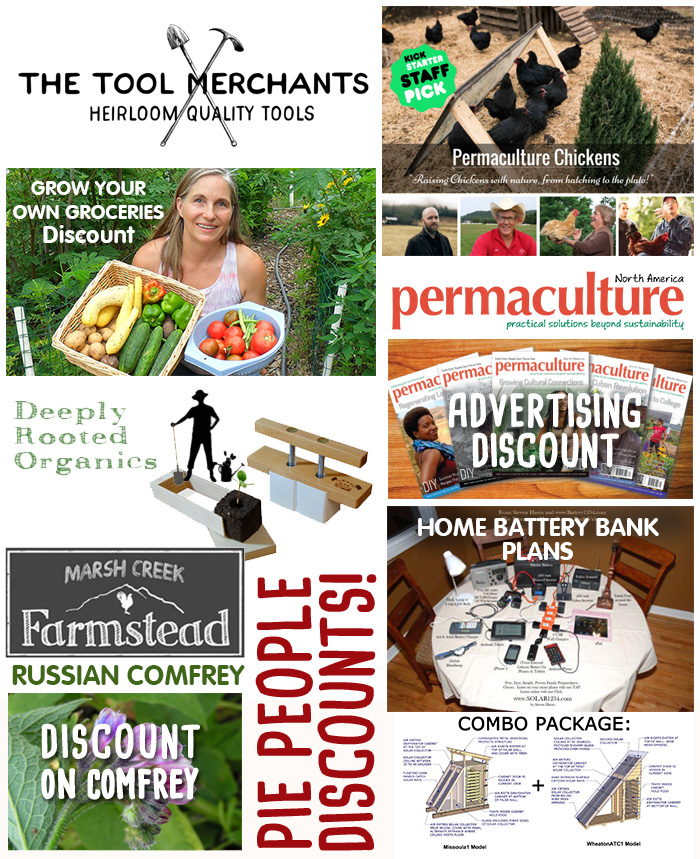 How to Make Your Own Emergency Home Battery Bank by Steven Harris
Permaculture Chickens film by Justin Rhodes
Grow Your Own Groceries DVD set by Marjory Wildcraft
Comfrey/Irripan Root Cuttings by Marsh Creek Farmstead
Permies' Media Rich Thread creation by Cassie Langstraat
Advertising Discount by Permaculture Magazine, North America
Chinese Chestnuts by Legacy Polycultures, Nursery
Quality Homestead Hand Tools by The Tool Merchants
Kitchen and Garden products by Deeply Rooted Organics
Organic Permaculture Themed T-Shirts by 4Ward
Comfort Filling products by The Natural Filling Store
If you want to see your biz on this list, click here.
To find details specific to each offer click here.
Here are features available only to PIE people:
view and post in the pie forum
get free stuff that is currently in the pie forum, stuff that is normally not free

get discounts from businesses that love PIE people (see the list above)
highlight one thread with a pie (does not cost pie)
give pie to a good post (costs pie, highlights the thread with pie, and the author gets pie)
send pie to others (costs pie)
have 5 more bumper stickers
add more forums to a thread
ability to add two thumbs up; ability for thumbs down
private user notes
show thread starter in list of threads
show registration date for users under their name instead of as hover text
show last commenter in list of threads
extra features you can control from your profile
turn off the wood background

hide the site logo

larger signature

turn off ads

show the pie icon next to your display name

keep track, thread-by-thread, of what you have and have not yet seen

hide your email/PM info

show time in customizable time zone rather than "2 hours ago"

ability to show, in a thread, how far you have viewed in the past
How Pie Works
PIE stands for Permaculture Inner Circle Elite - it's a special classification for members on this site that gives you access to great discounts from our vendors, as well as the private Pie forum, and a variety of handy little features in the forums too, just because we love you.
The idea is that you can get pie in a variety of ways:
you buy pie here.
somebody gives you pie (usually for a really informative post)
you earn enough apples to get pie
Once you have received Pie, you can access all of those spiffy features and discounts. You'll get an email by default (unless you adjust your settings) when you get a piece of pie, and you can track you pies under 'Pie' at the very tippy top of your forum screen.
This thread
is a great place to ask about pie and make suggestions for pie for the future.