Permaculture Design Course
June 13th - 26th, 2021
Near Missoula, Montana
Early Bird Prices end January 31st!!!
An Advanced PDC:
A proper
Permaculture Design Course
(PDC) has a well defined syllabus. Most PDCs are crafted for beginners - and a lot of professionals get bored. Our PDC assumes that the student is desring a course with a bit more substance and grit. This PDC is designed for scientists, engineers, educators or people with a lot of current knowledge of
permaculture
.
Alan
Booker, an engineer himself, has developed a format that caters to these people. Alan's course will cover everything a PDC normally covers, but is packed with information that can help advanced or expert students take their knowledge to the next level.
Technical Permaculture Design:
The focus of this PDC is on the technical aspects of
permaculture
and on professional landscape designing for clients. You will be surrounded by like-minded people, and together you will not only learn the framework to survive in a rapidly changing world, but to thrive. You will also develop the skills to heal damaged landscapes while providing for your own needs.
In this course you are designing from the get go. Every new piece of information, every new concept, is delivered in sequence so that it is immediately relevant and applicable. Your design unfolds in step with the days subjects. This helps the learning to really take root in your mind. Learn how to make really good effective decisions. We can't emphasize how important this is if you want to make effective long-lasting change in your life.
Every student will work through the entire design project individually, but always with the support of their design group and the instructors. Students will have multiple chances to present their design ideas and get feedback throughout the course of the first 13 days, building to the final design project presentations on the last day. During these final presentations, each student will present their own design project to the group as if they were presenting to a professional client.
This course is designed to help you really start thinking like a designer. Even if you have a lot of practical
experience
is various aspects of homesteading already, the Homesteaders PDC will move you past simply thinking in terms of isolated systems and into designing integrated, whole landscapes.
Course Schedule
This is the official schedule. It is possible that a few details might change.
Day 0: Check In (Saturday, June 14)
Check-In: 9:00am - 7:00pm MST
Get Settled In: Find your camp site and setup.
Tour of the Lab: starts promptly at 9:30am
Tour of Base Camp: after lunch starting at 1:30pm
Sleep: Try to get plenty of rest. We start early and you have a full day jam-packed with information tomorrow.
Day 1: Introduction and Overview (Sunday, June 15)
Session 1: Introduction and Overview
Session 2: Ethics in Design
Session 3: Design Concepts 1
Session 4: Design Concepts 2
Design Session: Design Project Overview
Evening Session: Group Design Charrette
Day 2: Methods of Design (Monday, June 16)
Session 1: Methods of Design Part 1
Session 2: Methods of Design Part 2
Session 3: Methods of Design Part 3
Session 4: Methods of Design Part 4
Design Session: Design Property Tour
Day 3: Understanding Pattern (Tuesday, June 17)
Session 1: Pattern Understanding Part 1
Session 2: Pattern Understanding Part 2
Session 3: Pattern Understanding Part 3
Session 4: Pattern Understanding Part 4
Design Session: How to Conduct a Client Interview
Evening Session: Group Design
Workshop
Day 4: Climate and Trees (Wednesday, June 18)
Session 1: Climate Factors Part 1
Session 2: Climate Factors Part 2
Session 3: Trees & Their
Energy
Transactions Part 1
Session 4: Trees & Their Energy Transactions Part 2
Design Session: The Client Interview
Evening Session: Introduction to Ecology
Day 5: Water and Soil (Thursday, June 19)
Session 1: Water Part 1
Session 2: Water Part 2
Session 3: Soils Part 1
Session 4: Soils Part 2
Design Session: Software Design Tools
Evening Session: Soil Analysis with the Microscope
Day 6: Soils, Compost, Crops and Seeds (Friday, June 20)
Session 1: Soils Part 3
Session 2:
Compost
&
Aerated
Compost Tea
Session 3: Annnual Crop
Gardening
Session 4: Seeds & Seed Saving

Day 7: Break (Saturday, June 21)
No required sessions. Instructors will be available during the afternoon to help with design projects.
Optional Bonus Evening Session: Herbal Medicince
Day 8:
Earthworks
(Sunday, June 23)
Session 1: Earthworks Part 1
Session 2: Earthworks Part 2
Session 3: Earthworks Part 3
Session 4: Earthworks Part 4
Design Session: Gathering Climate & Land-form Data
Evening Session: Conservation and Circular Design
Day 9: Humid Tropics & Drylands (Monday, June 23)
Session 1: Humid Tropics Part 1
Session 2: Humid Tropics Part 2
Session 3: Dryland Strategies Part 1
Session 4: Dryland Strategies Part 2
Design Session: Building a Base Map
Evening Session: Movie Night
Day 10: Temperate Climates & Pasture Systems (Tuesday, June 24)
Session 1: Temperate Climates Part 1
Session 2: Temperate Climates Part 2
Session 3: Pasture Systems & Rotational Grazing
Session 4: Food Forests and
Perennial
Production Systems
Design Session: Sector & Zone Analysis, Designing Water & Access
Evening Session: Learning the Plants of Your Biome
Day 11: Appropriate Technology (Wednesday, June 25)
Session 1: Working with Energy Flows
Session 2: Natural Building Methods
Session 3: The
Permaculture
Kitchen
Session 4: Sanitation & Health
Design Session: Siting Mainframe Forestry, Buildings, and Permanent Fencing
Evening Session: Question &
Answer
Night - Alan Booker and
Paul Wheaton
Day 12: Aquaculture and Animals (Thursday, June 26)
Session 1: Aquaculture
Session 2: Animal Systems Part 1
Session 3: Animal Systems Part 2
Session 4: Food Storage & Seasonal Eating
Design Session: The In-fill Mosaic and Aquaculture
Evening Session: Design Project Work Time
Day 13: Structures, Community and Economy (Friday, June 27)
Session 1: Designing Invisible Structures
Session 2: Legal Structures & Community Organization
Session 3: Economics & Money Systems
Session 4: Village Development & Human Scale
Design Session: Preparing for the Design Presentation
Evening Session: Design Project Work Time
Day 14: Design Project Presentations (Saturday, June 28)
Morning Session: Design Project Workshop
Afternoon Session: Student Presentations of Design Projects
Evening Session: Student Talent Night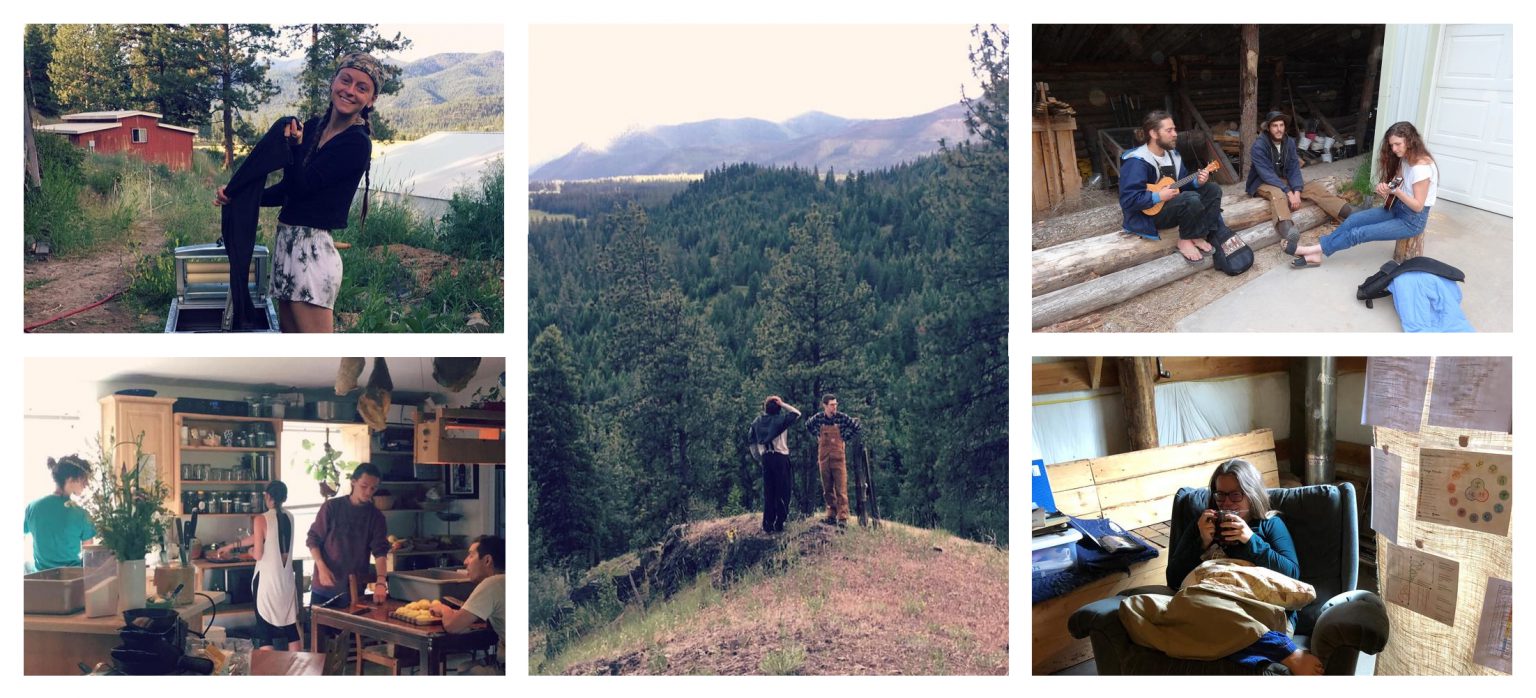 Instructors
Alan Booker -- Instructor
Alan Booker is the founder and executive director of the Institute of Integrated Regenerative Design, which trains professional design practitioners to create systems that are ecosystemic, biocompatible, and regenerative. With over 30 years experience in engineering and 20 years in
sustainable
design, Alan is the author of multiple
books
. In addition to teaching PDCs, he also provides consulting and workshops on earthworks, soil remediation,
composting
, forest
gardening
, holistic management of pastureland, keyline design, aquaculture and aquaponics, off-grid energy systems, and natural building systems.
Paul Wheaton -- Host/Instructor
Paul Wheaton
, The Duke of Permaculture, is an author, producer, and certified advanced master gardener. He has created hundreds of youtube videos, hundreds of
podcasts
, multiple DVDs, and written dozens of articles and a book. As the lead mad scientist at
Wheaton Labs
, he's conducted experiments resulting in rocket stoves and ovens, massive earthworks,
solar
dehydrators and much more.
Helen Atthowe -- Instructor
Helen has an MS in Horticulture and Agricultural Ecology from Rutgers University; worked at Rutgers in tree
fruit
IPM; studied natural farming with Masanobu Fukoka. She famrs a 211
acre
farm in eastern Oregon with her husband, where they have a mixed fruit and hazelnut orchard, small grain and dry bean production, vegetable gardens, high tunnels, and
greenhouse
.
Thomas Elpel -- Instructor
Thomas is an author, natural builder, educator, and conservationist. He has authored multiple books: Foraging the Mountain West, Botany in a Day, Shanleya's Quest and numerous others about plant identification, wilderness survival, and sustainable living. He has multiple videos: Building a Slipform Stone House from the Bottom Up, How to Make a Grass Rope, Build Your own Masonry Fireplace - Masonry Heater - Masonry Stove, and many more. Thomas regularly teaches classes on plant identification, primitive skills and natural building. He is founder/director of Green University, LLC in Pony, Montana.
Chase Jones -- Instructor
hase Jones is a permaculture designer and consultant with a background in anthropology, conservation archaeology, ecology, and geospatial analysis. He is the co-founder of Biodesic Strategies, a permaculture design and construction service that offers ecological design and green infrastructure installation. For the PDC, Chase will bring both his practical consulting experience and background in the geospatial sciences to the process of helping students understand the tools needed to capture site data, synthesize an accurate base map, and develop a working understanding of any design site
Tickets
Work Trades for Permaculture Technology Jamboree, PDC, and SKIP
Work 7 weeks in Bootcamp for a ticket to the PDC!
Early Bird Prices end January 31st!!!